How to buy Baidu shares?
Baidu is also known as the Google of China. The market of China is of course enormous and a lot of profit can be made from this. Besides a search engine, Baidu also provides various other internet services. Are you thinking about investing in Baidu? In this article you will read everything you need to know before buying Baidu shares. You can also consult the current stock price of Baidu here.
Where can you buy Baidu stocks?
Do you want to buy Baidu shares? You can directly trade in Baidu stocks with one of these reliable brokers:

| Brokers | Benefits | Register |
| --- | --- | --- |
Investing actively in a stock like Baidu can be interesting. The share has been quite volatile over the past period. The share has risen in a short period of time, sometimes by tens of percents, but then has fallen again. By actively investing you can focus on these decreases as well as increases. For example, you can take a position when Baidu comes up with an interesting new project or with an interesting new functionality.
A good way to actively invest in Baidu is by using CFDs. You can trade CFDs with a party like Plus500. Plus500 is a reliable party where you can directly speculate on price increases and decreases of the CFD Baidu share. Would you like to try trading Baidu as well? Use the button below to open a free demo account:
What is the current stock price of Baidu?
Are you curious about the current share price of Baidu shares? Understandable! Below you can see the current share price of a CFD Baidu. You can also use the buttons to place an order directly.
Is it wise to invest in Baidu?
The answer to this question used to be a resounding yes: Baidu was seen for years as the most promising Chinese technology share. These high expectations were not fully met: the company faces a lot of competition from other companies that also sell advertisements on the internet. When you want to buy Baidu shares, it is therefore important to keep a close eye on the competition from Baidu.
Tencent as a competitor
An example of a major competitor is Tencent. Tencent's platform, WeChat, has no less than 1.2 billion monthly users. Other examples of widely used platforms in China are the applications of ByteDance and the media platform Bilibili. As Chinese residents use more and more different media, it is becoming more and more interesting for companies to spend their advertising budget with other parties. This is of course at the expense of Baidu's profitability.
Moreover, the WeChat application is a major threat to Baidu in terms of functionalities: for example, the application can be used to make payments, order food, search for a cab and read news. Because of this, people need to use a search engine less often.
Losing projects
The company's income is also decreasing due to loss-making projects. The best known example of this is iQiyi: the video platform costs Baidu a lot of money. Meanwhile, the platform also has to compete with Tencent Video and Youku Toudou, published by Alibaba.
Baidu tries to distract attention from all these problems by putting their new projects in the spotlight: think of the growth of the cloud services & ai capacities and the self-propelled cars. However, these concepts are also loss-making and therefore not a good reason to buy Baidu shares.
Despite these problems, an investment in Baidu can be interesting. After all, investing in China can work out well because of the enormous growth. However, it is important to ask yourself whether Baidu is the best option: some competitors of this well-known search engine perform better and may offer more opportunities for growth.
About the company Baidu
With a market share of 70%, Baidu is the most popular search engine in China. This large market share is probably partly due to the blockade of Google by GWF (Great Firewall of China). The company does not only offer a search engine: Baidu also offers dozens of internet related services and products. Moreover, the company has a strong focus on artificial intelligence. The headquarters of this company, founded in 2000, is in Beijing.
Google has tried to take over Baidu in the past. So far, Baidu has been successful in countering these takeover attempts. It is not strange that Google is interested in the Chinese market. With the Baidu search engine, tens of billions of searches are entered every month. Baidu earns a lot of money by selling advertisements.

Some activities of Baidu
The activities of this Chinese technology giant include an app store and an advertising platform. The company's app store has over two billion users worldwide. The advertising platform, similar to Google Ads, provides the majority of the company's revenue. This advertising platform had 126 million daily users in 2017.
A third activity of Baidu is the video streaming service iQiyie. This video channel had 420 million active users every month in 2017. The company wants to create its own content and can therefore compete with Netflix.
Self-propelled cars
Starting in 2017, Baidu will focus on the development of self-propelled cars with the so-called Apollo Project. This project focuses on the development of autonomous driving and Al-programs. Hundreds of well-known companies work on these projects: examples are Microsoft, Nvidia, Daimler AG and Hyundai.
An encyclopedia
Baidu also has its own encyclopedia. This encyclopedia is a competitor of the Chinese Wikipedia. Unlike the Chinese encyclopedia, the encyclopedia is not disturbed by the Chinese authorities. This is not the case because this encyclopedia does self-censorship. The encyclopedia, which is called Baidu Baiku, already contained 90,000 articles three weeks after its launch.
Manufacturer of smart speakers
Baidu is currently (2019) the second largest manufacturer of smart speakers. Google was surpassed in 2019. With 4.3 million speakers delivered, this company has a market share of 16.9%. The 4.5 million intelligent speakers delivered by Baidu in the second quarter of 2019 account for a market share of 17.3%. Market leader Amazon has a market share of over 25%.
Sales are mainly achieved in China
This Chinese company generates 98% of its turnover in China. In 2017, the search engine related activities generated a turnover of more than 10 billion dollars. In that year, the video stream services generated a turnover of 2.7 billion dollars. The revenues mainly come from advertising fees paid by users.
To determine whether an investment in Baidu is currently interesting, you need to look at the Chinese market. Do you think the Chinese economy will continue to grow? Then it may be interesting to invest in Baidu shares.
Author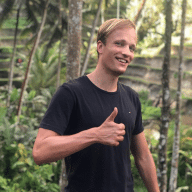 About
When I was 16, I secretly bought my first stock. Since that 'proud moment' I have been managing trading.info for over 10 years. It is my goal to educate people about financial freedom. After my studies business administration and psychology, I decided to put all my time in developing this website. Since I love to travel, I work from all over the world. Click here to read more about trading.info! Don't hesitate to leave a comment under this article.