How to buy Baidu shares (2023)? – invest in Baidu stocks
Baidu is also known as the Google of China. The Chinese market is of course enormous and can be very profitable. In this article, you will learn how to buy Baidu shares and we will discuss the strengths and weaknesses of the stock.
When you buy Baidu shares, it is important to select a reliable stock broker. Below you can see where to buy Baidu stocks:

| Brokers | Benefits | Register |
| --- | --- | --- |
| | Buy without commissions. Your capital is at risk. Other fees may apply. | |
| | Speculate with CFD's on increasing & decreasing prices of ! 82% of retail CFD accounts lose money. | |
| | Benefit from low fees, an innovative platform & high security! | |
| | Speculate on price increases and decreases of with a free demo! | |
What is the current stock price of Baidu?
Are you curious about the current price of Baidu shares? In the graph below, you can see how Baidu shares are performing. Moreover, with the buy and sell buttons, you can start trading Baidu stocks right away.
Company information of Baidu
Below you can see the most important company information of Baidu.
Analysis of Baidu stock
Before deciding whether to buy or sell Baidu shares, it is important to analyze the stock thoroughly. In the overview below, you can see how Baidu has developed over the past period.
Stock prices of the last 5 days
In the table below, you can see the stock prices of Baidu for the last 5 days:
What is the performance of Baidu in 2023?
Are you curious about what analysts think Baidu will do in 2023 and the years to come? We have combined the predictions of analysts with the data from Alpha Vantage. Don't forget that this figure is just a prediction of the price trend of Baidu and this prediction does not have to come true. Always do your own research!
What are the strengths of Baidu stocks?
What are the biggest competitors of Baidu?
What are the main activities of Baidu?
Tencent as a competitor
One example of a major competitor of Baidu is Tencent. The platform of Tencent, WeChat, has 1.2 billion monthly users. Other examples of widely used platforms in China include the applications of ByteDance and the media platform Bilibili.
As Chinese residents use different types of media, it becomes increasingly interesting for companies to spend their advertising budgets on these new platforms.
In addition, the WeChat application is a major threat to Baidu in terms of functionalities: for example, the application can be used for making payments, ordering food, searching for a taxi, and reading news. This means that people do not have to use a search engine as often.
Loss-making projects within Baidu
The company's revenues are further declining due to loss-making projects. The most well-known example of this is iQiyi: the video platform costs Baidu a lot of money. Meanwhile, the platform also has to compete with Tencent Video and Alibaba's Youku Toudou.
Baidu is trying to distract attention from all these problems by emphasizing new projects. The company mentions the growth of cloud services and AI capabilities and the self-driving cars. However, these concepts are also loss-making and are not a good reason to buy Baidu shares.
Despite these problems, an investment in Baidu can be interesting. Investing in China can be profitable due to the enormous growth. However, it is important to ask yourself whether Baidu is the best option: some competitors of this well-known search engine perform better and may offer more growth opportunities.
About the company Baidu
With a market share of 70%, Baidu is the most popular search engine in China. This large market share is likely due to Google's blockade by the GWF (Great Firewall of China). The company does not only offers a search engine but also dozens of internet-related services and products. Moreover, the company focuses strongly on artificial intelligence. The headquarters of this company, founded in 2000, is located in Beijing.
Google has attempted to acquire Baidu in the past. So far, Baidu has been successful in thwarting these takeover attempts. It's not surprising that Google is interested in the Chinese market. Baidu's search engine processes tens of billions of searches every month, which earns the company a lot of money from advertising.


Some Unique Activities of Baidu
Among the activities of this Chinese technology giant are an app store and an advertising platform. The company's app store has over two billion users worldwide. The advertising platform, similar to Google Ads, generates the majority of the company's revenue.
A third activity of Baidu is the video streaming service iQiyi. The company plans to create its own content and compete with Netflix.
Self-Driving Cars
Since 2017, Baidu has been working on the development of self-driving cars. This is the so-called Apollo Project, which focuses on developing autonomous driving and AI programs. Hundreds of well-known companies are involved in this project, such as Microsoft, Nvidia, Daimler AG, and Hyundai.
In 2018, Baidu introduced technology that allows cars to park themselves. In the meantime, the company also operates a self-driving taxi service called Apollo Robottaxi.
An Encyclopedia
Baidu also has its own encyclopedia. This encyclopedia is a competitor of Chinese Wikipedia. Unlike the Chinese encyclopedia, this encyclopedia is not blocked by the Chinese authorities. This is not necessary since this encyclopedia practices self-censorship. The encyclopedia, called Baidu Baike, contained 90,000 articles just three weeks after its launch.
Smart Speaker Manufacturer
Baidu is currently (2019) the second-largest manufacturer of smart speakers. In 2019, it surpassed Google. This company has a market share of 16.9%, with 4.3 million delivered speakers. The 4.5 million intelligent speakers delivered by Baidu in the second quarter of 2019 account for a market share of 17.3%. Market leader Amazon has a market share of over 25%.
How to invest in Baidu stocks?
Buying and selling Baidu shares is often a straightforward process. You first need an account with a reliable stockbroker. Before you can invest real money, you usually need to upload a copy of your passport and address.
After your account is activated, you can deposit money. Then, search for the Baidu stock and enter the amount you want to invest. With a market order, you buy Baidu at the current price, and with a limit order, you set a price that you are willing to pay.
In the past, the answer to this question was a resounding yes: Baidu was seen for years as the most promising Chinese technology stock. These high expectations were not entirely met: the company faces a lot of competition from other companies that also sell advertising on the internet. When buying Baidu shares, it is important to keep an eye on Baidu's competition.
There is no objective answer to the question of whether you should buy Baidu shares. Ask yourself if Baidu's risk profile fits within your investment strategy.
Author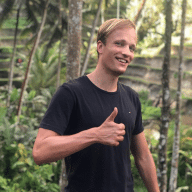 About
When I was 16, I secretly bought my first stock. Since that 'proud moment' I have been managing trading.info for over 10 years. It is my goal to educate people about financial freedom. After my studies business administration and psychology, I decided to put all my time in developing this website. Since I love to travel, I work from all over the world. Click here to read more about trading.info! Don't hesitate to leave a comment under this article.