How to buy eBay shares (2023)? – invest in eBay stocks
As more and more people search for bargains online, auction sites like eBay thrive. Do you consider investing in eBay by buying shares? Then read on & discover how & where to buy eBay stocks!
How to buy eBay stocks?
Online platforms are likely to perform well in the future. The new generations are used to online shopping and are less likely to leave their homes. On eBay, you can also find original items, which can attract more visitors. The growth potential of a website like eBay is therefore good.
Are you looking for a broker where you can buy eBay shares? Then take an overview at the best brokers for buying eBay stocks:
| Brokers | Benefits | Register |
| --- | --- | --- |
| | Buy eBay without commissions. Your capital is at risk. Other fees may apply. | |
| | Speculate with CFD's on increasing & decreasing prices of eBay! 82% of retail CFD accounts lose money. | |
| | Benefit from low fees, an innovative platform & high security! | |
| | Speculate on price increases and decreases of eBay with a free demo! | |
What is the current eBay stocks price?
Investors always keep a close eye on the current share price of a company. In the graph below, you can see the price development of eBay shares. You can also use the buttons to directly open a buy or sell position.
Company data of eBay
Below, you can see the most important company data of eBay.
Analysis of eBay stocks
Before you decide whether to buy or sell eBay shares, it is essential to analyze the stock thoroughly. In the overview below, you can see how eBay developed over the past period.
Stock prices of eBay of the last 5 days
In the table below, you can see the stock prices of eBay for the last 5 days:
Are you curious about what analysts think eBay will do in 2023 and the years after? We have combined the predictions of analysts using data from Alpha Vantage. Remember that this figure is only a prediction about the price development of eBay and that this prediction does not have to come true.
Strong brand: eBay is a strong brand known for its safe and user-friendly platform for online shopping.
Diversification: eBay offers a wide range of products and services, including auctions. This makes the platform very popular for selling products.
Strong financial position: eBay has a strong financial position and is still growing.
International presence: As eBay operates in 190 countries, it has access to different economies and is not dependent on one region.
Investment in technology: eBay invests in artificial intelligence, machine learning, and blockchain to improve the platform. These investments could have a positive effect on the eBay share price.
The risks of investing in eBay stocks
Competition: eBay faces strong competition from other e-commerce companies, which could lead to a loss of market share.
Dependency on sellers: eBay is highly dependent on sales by third-party sellers. When these sellers leave eBay, profitability can come under pressure.
Dependency on PayPal: A large portion of payments are processed through the payment platform PayPal.
Security: Hacks can have a negative impact on eBay's reputation.
What are eBay's competitors?
Investing in eBay stocks in 6 steps
Step 1: Compare stockbrokers
You can easily invest in eBay shares by following six steps. First, you need to compare the different broker platforms.
Step 2: Open an account with a reliable broker
Next, you need to open a brokerage account. This usually takes a few minutes. You can first practice with a demo, or you can choose to deposit money right away.
Within the platform, you must then find the eBay share. You do this by searching for the ticker symbol: EBAY. With the price history, you can then decide whether it is wise to open an investment in the company.
Next, determine whether you want to buy the share directly or later. With a limit order, you set a price at which you would like to buy the share. This allows you to enter the market at a moment that seems attractive.
Step 5: Determine the amount you would like to invest in eBay
Next, you must decide how many eBay shares you want to buy. With a broker that does not charge commissions, you can also invest in eBay shares with a small amount of money. However, it is important to remember that you are unlikely to get rich with a small investment.
Step 6: Evaluate your investment in eBay
Finally, it is essential to keep an eye on your investment. Periodically evaluate whether your eBay shares still fit within your overall investment portfolio.

What is eBay's business model?
The internet auction company eBay was founded in 1995. The eBay company is divided into three segments: Marketplaces, Payments, and GSI.
The platform offered by ebay.com offers product auctions. This platform is used annually by more than 100 million accounts and eBay receives a fee for providing this service.
History of eBay
From a back room in San Jose, California, eBay was founded in 1995. The founder of eBay wanted to bring buyers and sellers together on one internet platform.
The founder's programming experiment is now the largest trading marketplace in the world. The successful company has branches in the United Kingdom, France, the Netherlands, China, India, and Australia.
Acquisitions of companies by eBay
eBay has acquired several companies. For example, in 2001, the French company iBzar was acquired, and in 2002, the popular payment site PayPal was acquired.
The acquisition of PayPal was a smart move, as 50% of PayPal users were already using eBay. This made PayPal more popular than their payment system, Billpoint. In 2015, PayPal was spun off as a separate company and went public.
In 2004, eBay acquired the well-known Dutch auction site Marktplaats.nl for $225 million.
These types of acquisitions have contributed to the global success of the auction site. As an investor, it is wise to keep an eye on whether the company is considering new acquisitions.
Should you buy eBay stocks?
An investment in eBay shares can be interesting. The e-commerce market is still growing and eBay has built a strong position. eBay operates in 190 countries and constantly develops new technologies, which can make it interesting to buy eBay shares.
However, it is important to investigate eBay's weaknesses. For example, eBay is heavily dependent on its sellers; if they switch to other platforms, the company's growth may come under pressure. Therefore, compare how eBay performs relative to the competition before considering an investment in eBay stocks.
Ultimately, there is no correct answer to whether you should buy eBay shares. Whether eBay shares fit within your investment portfolio depends heavily on your personal financial position.
Author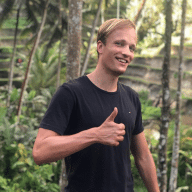 About
When I was 16, I secretly bought my first stock. Since that 'proud moment' I have been managing trading.info for over 10 years. It is my goal to educate people about financial freedom. After my studies business administration and psychology, I decided to put all my time in developing this website. Since I love to travel, I work from all over the world. Click here to read more about trading.info! Don't hesitate to leave a comment under this article.