How to buy eBay shares?
eBay is known worldwide. With more and more people looking for bargains online, an auction site like eBay can perform well. Are you thinking about investing in eBay by buying shares? Then read about the steps you need to take first!
Do you want to buy eBay shares? You can directly trade in eBay stocks with one of these reliable brokers:

| Brokers | Benefits | Register |
| --- | --- | --- |
How can you actively invest in eBay?
You can actively trade eBay's prices online. This allows you to respond to the latest trend. A good example of such a trend is the corona pandemic. Because people had to stay home more, online sales increased sharply. A company like eBay can respond to this trend. Because of these developments, the share price of eBay rose considerably.
If you want to trade actively, it is important to use a platform on which you can quickly respond to the latest developments. Plus500 is very suitable for this. With Plus500 you can use CFDs to speculate on share price declines and share price increases. You can try the possibilities at Plus500 for free with a demo. Use the button below to directly open an account:
Investors always keep a close eye on the current share price of a company. In the graph below you can consult the price development of the eBay shares. You can also use the buttons to directly open a CFD buy or sell position.
Investing in eBay in 6 steps
You can easily invest in eBay by following six steps. First you have to compare different broker platforms. By comparing the different brokers you can find the most reliable & cheap party which will improve your trading results.
After you select a broker you need to open an account. This often takes a few minutes. You can practice with a demo first, or you can choose to deposit money directly.
You must then find the eBay share within the platform. This is done by searching for the ticker symbol: EBAY. With the price history, you can then decide whether it is smart to open an investment in the company.
After you studied the share, you will have to decide whether you want to buy the stock immediately or later. With a limit order, you set a price at which you want to buy the stock. In this way you can enter at a time that seems attractive to you.
Then you have to decide how many eBay shares you want to buy. With a broker such as eToro, you can easily buy two eBay shares. This does not increase the relative transaction fees. However, it is important to remember that you probably won't get rich with such a small investment.
Finally, it is important to keep an eye on your investment. Periodically evaluate whether your investment still fits within your overall investment portfolio. Sometimes you have to say goodbye to your share. Always make your investment decisions based on a strategy and not out of panic!
What is eBay's business model?
The Internet auction company eBay was founded in 1995. The company eBay is divided into the 3 segments Marketplaces, Payments and GSI. The platform offered by ebay.com enables trading in different products. This platform is used annually by more than 100 million accounts. These are accounts of small and large companies as well as private individuals. eBay receives a fee for providing this service.
Major auction site
On the auction site eBay, one of the largest auction sites on the internet, anyone can offer new or second-hand items. It is a global trading platform. Sometimes bizarre products are offered on this website. This auction site is being used more and more often. In 2007, the turnover was 8.1 billion dollars. In 2013, the total turnover was already 16 billion dollars. Do you think this growth will continue? Then it can be wise to invest in eBay.
History of the company
From a backroom in San Jose, California, eBay was launched in 1995. The founder of eBay wanted to bring buyers and sellers together on one internet platform. They clearly succeeded. The founder's programming experiment is now the largest trading platform in the world. The successful company has branches in the United Kingdom, France, the Netherlands, China, India, Australia and other countries.
Acquisition of other companies
eBay has taken over several companies. In 2001, for example, the French company iBzar was taken over. In 2002, the popular payment site PayPal was bought. That was not without reason. It turned out that 50% of the users of PayPal were already using eBay. This made PayPal more popular than their payment system Billpoint. eBay remained the owner of PayPal until 2015. In 2015 PayPal went public.
In 2004 eBay bought the well-known Dutch auction site Marktplaats.nl. eBay paid 225 million dollars for it. Skype was sold for 65% to Silver Lake Partners in 2009. In March 2001 eBay took over GSI Commerce for 2.4 billion dollars. This company offers a platform on which other companies can sell their products.
This type of acquisition contributed to the global success of the auction site. As an investor, it is smart to keep an eye on whether the company is considering new takeovers. If this is the case, you can consider buying eBay shares again.
Worldwide trade through eBay
eBay makes global trade possible. After all, users of eBay can buy goods worldwide.  Unfortunately, in this global trade it is not always possible to verify the quality of the products and the reliability of the seller. Products can deviate from the description or sometimes they do not even arrive. These can be threats to the popularity of eBay.
Author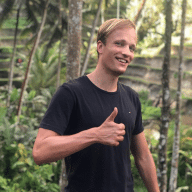 About
When I was 16, I secretly bought my first stock. Since that 'proud moment' I have been managing trading.info for over 10 years. It is my goal to educate people about financial freedom. After my studies business administration and psychology, I decided to put all my time in developing this website. Since I love to travel, I work from all over the world. Click here to read more about trading.info! Don't hesitate to leave a comment under this article.