How to buy Gilead Sciences shares?
Gilead Sciences was known worldwide for its potential help to corona patients with Remdesivir. In addition to this drug, Gilead Sciences is also working on many other drugs. Therefore, it may be interesting to invest in Gilead Sciences by buying the shares. But what is the best way to do this?
Where to buy Gilead Sciences stocks?
Do you want to buy Gilead Sciences shares? You can directly trade in Gilead Sciences stocks with one of these reliable brokers:

| Brokers | Benefits | Register |
| --- | --- | --- |
How to actively invest in Gilead Sciences?
Pharmaceutical companies can be very suitable for the active investor: Investors often react quite emotionally when news about new medicines comes out. If it is mentioned that a company has had a positive result to a test, the price of a company such as Gilead Sciences can suddenly rise considerably. If the drug does not work, the stock price collapses again.
As an active trader, you can respond to this by placing orders at the right time. CFDs are ideal for active speculation on a stock like Gilead Sciences. At Plus500, you can take positions on rising and falling prices without paying commissions. Use the button below to open a free demo at Plus500:
What is Gilead Sciences' stock price?
Are you curious how Gilead Sciences' stock price is doing? In the chart below you can see at what price you can buy and sell the CFD shares:
About Gilead Sciences, the company
Gilead Sciences wants to improve care for patients suffering from a life-threatening illness in the world. To meet this medical need, the company discovers, develops, and commercializes all kinds of innovative therapies. The drugs the company develops are used, among other things, to treat HIV, hepatitis B, hepatitis Cm and flu. The biopharmaceutical company is headquartered in Foster City, California.
History of the company
Doctor Michael Riordan founded the company Oligo Gen in June 1987. The company initially focused on developing antiviral drugs. That was not without reason: because Michael Riordan had contracted dengue, he was particularly committed to finding a cure for it. From its inception in 1987 to 1996, he was chairman of the company's board.
In developing innovative medicines, the company worked closely with three scientific advisors: Peter Dervan of Caltech, Harvard University-based Doug Melton, and The Harold Weintraub Cancer Research Centre's Fred Hutchinson. The company's name was changed to Gilead Sciences in 1988.
Gilead Sciences goes public
The company was listed on the Nasdaq in 1998. The shares can be found there, in the S&P 500 stock index. In the third quarter of 2020, the share performed well because of the drug Veklury developed by the company to treat patients with the coronavirus, a drug formerly known as Remdisvir.
That does not mean that it is wise to buy the stocks. The company itself warns of high stock market volatility and uncertainty about the drug's potential earnings. It is therefore important to keep a close eye on the company's developments when considering an investment in Gilead Sciences.
Gilead Science developed a drug to treat COVID-19
In April 2020, a report was published that patients with corona in an American hospital are effectively treated with the drug Remdisvir developed by Gilead Science. At the university hospital in Chicago, this drug worked well in a test of 113 patients with corona. Almost all patients treated with Remdisvir could go home within a week. Following the announcement, the share price rose 16% after the close of the stock market. The mostly positive results make the analysts cautiously optimistic. The company also stressed that no conclusions should be drawn to the results of a test.
It is always important for a company like Gilead Science to keep a close eye on this: When the company comes up with a new, promising drug, the stock price can rise considerably. It may then be interesting to buy the stocks temporarily. These kinds of hypes can then lead to a falling share price again if expectations are not met.
Author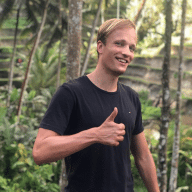 About
When I was 16, I secretly bought my first stock. Since that 'proud moment' I have been managing trading.info for over 10 years. It is my goal to educate people about financial freedom. After my studies business administration and psychology, I decided to put all my time in developing this website. Since I love to travel, I work from all over the world. Click here to read more about trading.info! Don't hesitate to leave a comment under this article.