How to buy Hewlett-Packard (HP) Shares?
The U.S. company Hewlett-Packard is commonly known as HP. This company is one of the largest U.S. technology companies. HP is among the top 3 computer vendors. Hewlett-Packard provides simple components, software and services, among other things. As of November 2015, the company will be divided into Hewlett-Packard Enterprise (HPE) and HP Inc. (HPQ). Do you want to invest in HP? In this article we will show how you can buy Hewlett-Packard shares. You can also view the latest stock price here.
Do you want to buy Hewlett-Packard shares? You can directly trade in Hewlett-Packard stocks with one of these reliable brokers:

| Brokers | Benefits | Register |
| --- | --- | --- |
| | Buy Hewlett-Packard without commissions. Your capital is at risk. Other fees may apply. | |
| | Speculate on price increases and decreases of Hewlett-Packard with a free demo! | |
| | Benefit from low fees, an innovative platform & high security! | |
How can you actively invest in HP?
HP has purchased several companies with varying degrees of success in the past. When a company makes big decisions, you can benefit from this as an active trader. By actively trading in the shares of the company, you can benefit from both falling and rising prices.
A good company where you can actively trade in Hewlett-Packard shares is Plus500. Plus500 allows you to speculate on price differences by using CFDs. You can even choose to use leverage. Your potential profit as well as your potential loss will increase significantly when you apply a leverage. Would you like to try active trading for free? Use the button below to open a free demo with Plus500:
What is HP's stock price?
Are you wondering what the HP stock price is? The chart shows the current CFD price of the HP stock.
Strategy HP
HP tries to introduce new products and services on a regular basis. For example, they introduced instant ink in 2013, which regularly delivers new ink for a monthly fee. You can see this as the Netflix of printer inks!
The computer segment is still a growth market. As a result of the corona pandemic, working from home has increasingly become the norm. Of course, computer companies benefit from this: consumers are more likely to buy all kinds of office supplies.
However, it is important to keep a close eye on competitors. In China, for example, Lenovo is a major player. Other competitors you should definitely analyse before buying HP stock are Dell, Apple and Acer. By doing so, you can determine whether another computer company might be a more interesting investment. You can also choose to invest in several computer companies. In this way you reduce the risk of your investment.
History of the company
HP was established in a garage in Palo Alto, California, on January 1, 1939. The two founders were William Hewlett and Bill Packard. The company made scientific instruments. During World War II, the company made radars, sonars and radios for marine and aeronautical applications.
The HP company became famous for its calculator in 1968. The calculator made at the time is considered to be the first personal computer. HP released the first fully functioning computer in the early 1980s. Initially, these computers were intended for businesses and universities. In the 1990s, they were also intended for individuals. Starting in the mid-1980s, HP also introduced laser printers and inkjet printers.
The Hewlett-Packard company split up
On the 1st November 2015 the company split up into two companies. Of these two companies, HP will focus on the personal systems and printer market. HPE focuses on the storage, server, software and service markets.
In terms of turnover, the companies are roughly equal. HP's printer division generated revenue of 56 billion in 2014. In that year, HPE achieved sales of $55.6 billion. However, HPE is more profitable. It is also showing a higher growth rate.
Acquisition of companies
Hewlett Packard has taken over several companies. By taking over other companies they hope to increase their market share. They bought other companies that offer different products. Some examples of acquired companies are:
In 2002, the company Compaq was taken over. With the acquisition of Compaq, HP became the market leader in both the server and PC markets. The acquisition nearly doubled HP's sales. Annual sales increased from $47 billion to $87 billion. The number of employees increased to 145,000. The acquisition brought HP's Compaq, Digital Equipment corporation and Tandem Computers brands into the company.
In 2011, the company acquired UK software company Autonomy. This company provides infrastructure software to companies that provide web-based cloud services. This acquisition made HP a bigger player in the business software field. The acquisition was unsuccessful. The positive prospects of this acquisition could not be realized. HP management accused the former Autonomy board of directors of financial errors. It was alleged that questionable financial information was provided during the acquisition. In 2015, HP took the matter to court.
Infrastructure specialist SimpliVity was acquired by HP in 2017. HP paid $650 million for this company. The company operates in the hyper converged infrastructure appliance sector.
Author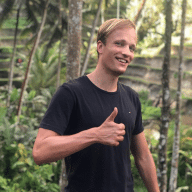 About
When I was 16, I secretly bought my first stock. Since that 'proud moment' I have been managing trading.info for over 10 years. It is my goal to educate people about financial freedom. After my studies business administration and psychology, I decided to put all my time in developing this website. Since I love to travel, I work from all over the world. Click here to read more about trading.info! Don't hesitate to leave a comment under this article.