How can you invest without risk?
Many people are looking for risk-free investments. But does risk-free investing really exist, and how do you go about it? In this article, we look at how you can best invest with minimum risk.
Does risk-free investing exist?
Risk-free investing with real money is unfortunately not possible. Investing and risk are inextricably linked. However, as a new investor, you can choose to invest risk-free with a demo. In this way, you will not lose any money.
How can you invest without risk?
Would you like to invest entirely without risk? You can! Nowadays, several brokers offer the possibility to try investing without any risk by means of a demo account. Opening an account with a broker often only takes a few minutes, after which you can immediately start investing.
eToro
It is also possible to try buying and selling shares without any risk. At eToro, you can use a demo account to start buying shares with a fictitious amount without risk. Use the button below to open a demo account directly at eToro:
Plus500
At Plus500, you can try CFD stock trading risk-free with a demo. Once you open an account, you will immediately receive a $40,000 notional amount into your account to try out the possibilities. Use the button to open an instant account at Plus500:
Relationship between risk and return
Have you read somewhere on the Internet about a strategy that you can use to invest 100% risk-free? Then ignore the site and click away immediately! There is no such thing as risk-free investing with real money.
When you start investing, you will soon discover that risk and return are linked. Speculative investments have a higher potential return, but also a higher rate of return.
There is actually a spectrum of investments where bonds are seen as relatively safe options and derivatives as very risky. Which way of investing suits you best depends entirely on your perception of risk.

Investing without loss
The long-term goal of investing should therefore not be risk-free investing. No, the goal should be investing without loss. It is not possible to guarantee this, but as an investor, you should aim for a positive return in the long term.
It is important to draw up a good trading strategy, this way you will increase the chance of obtaining a positive result. An important part of this strategy is a good vision on the relation between return and risk. In this part of the article we will discuss a few options which you can use to manage your risks in a smart way.
Diversification
It will not be risk-free, but by applying diversification in a smart way, you increase the chance of a good return. By spreading your investments over different sectors, moments and products, your portfolio becomes less volatile.
If, for example, you invest only in the oil industry, a falling oil price can immediately put all your investments in the red. If this is only a small part of your portfolio, positive results in other categories can compensate.
Hedging
Another technique that reduces the risk of falls in your portfolio is hedging. With hedging, you look for securities with a negative correlation. This means that one security often rises when the other falls. You can then, for instance, invest in the US dollar and the gold price at the same time. When the economy is not doing as well and the dollar is falling, you often see people flee into gold.
When you invest in shares, you can, for instance, buy shares of cyclical and anti-cyclical companies. Cyclical companies do well when the economy is growing, while countercyclical stocks do less well.
Limit your exposure
When actively trading, it is advisable to limit your exposure within one position. When actively trading, your investment balance is the asset you are working with: if you lose everything, you are literally 'out of business'.
You can limit your exposure by risking a maximum percentage of your investment account on each investment. For example, if you never risk more than one or two per cent on a single trade, you have a lot of room to manoeuvre.

Use a stop loss
Risk-free investing is still not possible, but with a stop loss, you can at least limit the risk. First, investigate whether the stop loss offered by the broker is guaranteed. With some parties, the price can still drop considerably if the stop order cannot be executed immediately.
A stop order automatically closes your investment position when a certain loss is reached. In this way, you can manage your investments well even when you are absent.
Evaluate your investments
Finally, it is important to regularly evaluate your investments. See if the decisions you have made are working out. If not, it may be wise to change your approach. After all, as Einstein said, insanity is trying to do the same thing and expect another result. Therefore, don't be stubborn, accept that you are wrong and look for a better solution.
From risk-free to low-risk
In this part of the article we will discuss what you can invest in with little risk. It may not be risk-free, but it comes pretty close.
Savings
Of course, you can put your money in a savings account. In theory, saving money in a bank account is risk-free; in practice, however, you can be sure that your assets will slowly lose value under the influence of inflation and taxes. Depending on your definition of risk-free, money in a savings account is not without risk at all.
ETF
A good way to invest with relatively low risk is to buy ETFs that follow a large basket of shares. An ETF passively tracks a particular market and by tracking the world you are really only dealing with systematic risk (the chance that the entire market collapses).
To deal with this risk as well, you can choose to step in staggered. By periodically depositing a fixed amount in the ETF, you avoid losing a lot of money by investing at the top. At DEGIRO, you can invest in ETFs completely free of purchase and sales costs. Use the button below to immediately open an account at DEGIRO:
Bonds
If you want to receive a periodic fixed payment, bonds can be a good choice. With a bond, you periodically receive a fixed interest payment and at the end of the term, you receive the sum of the bond back. However, bonds are not completely risk-free: if the institution behind the bond goes bankrupt, you still lose your deposit.
Tip: how to start?
After you have opened an account, it can be difficult to know where to start. With your demo, you can try investing with fake money. To achieve good results with investing, it is important to develop your investment system. In this article, I will explain how I invest myself with a practical example.
Please note that the example in this article fits my investment system. At the end of the day, everyone has a different investment style, and it is important to experiment, so you can discover which way of investing suits you best: you can do this by investing a small amount.
Looking for key levels
In my investments, I make a lot of use of technical indicators. Before you delve into complicated indicators such as moving averages and Fibonacci levels, it is wise to start with only important levels. Important levels are levels which the price does not seem to be able to break through.
Discovering these levels may not make it possible to invest entirely without risk: however, it does increase the chances of success. To discover an important level, it is wise to zoom out a little, by zooming out you get a better idea of the market situation and can discover these levels.
Example: investment on AUD USD
At the time of writing (16 June 2013), the price of the Australian dollar against the US dollar is at a crucial low level that has not been broken since 10 November 2010, as the weekly chart below shows.

When this level was tested on 11 June and the price then rose again, I took a buying position on AUD USD. You then make money when the price rises. Last time the price moved up after hitting this level. By placing the stop loss just below the crucial level and by placing the take profit much higher, I either earn a lot or I lose a little.

By using a similar strategy, you can increase your profits! Of course, risk-free investing is not possible, but by starting with a small amount you can discover whether you can invest profitably.
This example is not investment advice: always do good research and remember that you can lose money with investing. When you start investing with real money, it is not possible to trade without risk in for example shares.
Author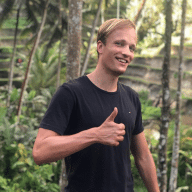 About
When I was 16, I secretly bought my first stock. Since that 'proud moment' I have been managing trading.info for over 10 years. It is my goal to educate people about financial freedom. After my studies business administration and psychology, I decided to put all my time in developing this website. Since I love to travel, I work from all over the world. Click here to read more about trading.info! Don't hesitate to leave a comment under this article.