How can you invest without costs?
Do you want to invest without costs? At many brokers you pay a fixed commission when you invest. When you invest a large amount of money, this is often not a problem. However, when you invest with small amounts, the costs increase significantly. Fortunately, you can also invest without fixed costs. But how do you do this?
Where can you invest without costs?
Below you can find an overview of the brokers where you can invest without fixed costs. Try the different options and discover the best party to invest 100% without costs.
eToro is strong & reliable broker for the cost conscious investor. At this broker you can buy shares at no cost. By investing without costs, you can increase your potential return. In addition, at eToro you can benefit from social trading. With social trading, you can track other investors and automatically take over their investments. Use the button to open a free (demo) account directly:
Plus500: CFD trading without commissions
Would you prefer to actively trade derivatives? Then Plus500 is a good choice. Plus500 also allows you to trade in CFDs on shares and commodities with no fixed commissions. Plus500 also offers the option to actively trade CFD options. You can try out the possibilities at Plus500 entirely without risk through an unlimited demo. Read the review here or sign up directly using the button below:

DEGIRO: free investment in investment funds from the core selection
At DEGIRO you can make one buy or sell transaction on a selection of trackers every calendar month without paying transaction fees. If you want to invest cheaply in ETFs or mutual funds, DEGIRO is certainly a good choice. Use the button below to directly open an account with DEGIRO:

Try investing completely free
There is really only one way you can invest 100% for free: by doing it with fake money. Nowadays, there are several brokers where you can try investing for free. Because you haven't deposited any money yourself, every investment costs you nothing, while you do learn exactly what kind of effects your decisions would have had.
Would you like to try investing with fake money for free? Use the button below to directly compare the best demo accounts:
Is investing free of charge really free?
We check with each party whether free investing really is 100% free.
Can you invest free of charge at NAGA?
At NAGA we have researched whether you can really invest free of charge. Buying shares is indeed completely free of set commissions.
However, we did find annoying hidden costs. If you want to withdraw money, you have to pay a fee of $25. This is very high and also quite unusual. This makes trading with small amounts at NAGA a lot less attractive.
Can you invest with Plus500 without costs?
We have also reviewed the terms and conditions at Plus500. Plus500 does not charge any commissions. There are also no hidden fees.
However, you should be aware that you are trading CFDs with Plus500. CFDs are derivatives that are partly financed by the broker. This has the advantage that you can apply leverage, allowing you to open larger trading positions.  You then pay a financing interest on your position if you leave it open for more than a day. Plus500 is therefore a good choice, but only for short time trading positions.
Can you invest with DEGIRO free of charge?
At DEGIRO you can indeed invest free of charge in a selection of core funds. However, it is important to investigate whether the investment fund you want to invest in is also available for free. Not all funds are included in DEGIRO's free selection. Also, you can only join for free in each fund once per calendar month. That is why it is important to plan your investments well; this way you avoid paying transaction fees on your transaction.
Last but not least
The fact that a broker does not charge a fee does not necessarily mean that investing is completely free. On the stock exchange, there is always a difference between the buying and selling price of a share. We also call this the spread. In the rest of the article we look at how to calculate these costs.
What costs do you pay?
When brokers say they don't charge fees, it usually means they don't charge commissions. This means that you don't pay a fixed percentage of transaction costs on the shares. However, you still have to deal with the so-called spread. The spread is always present when you trade on the stock exchange.
But what exactly is the spread? The spread is the difference between the buy and sell price of a stock and these are also transaction costs. When buying a share costs $1,5 and selling it costs $1,52, the spread is 2 cents. The total transaction cost is then 2 cents multiplied by the number of shares you buy or sell.
Without elaborating too much on the technical aspects of the spread we can conclude that this way of calculating costs ensures that the costs are relative. This also allows people who invest with a lower amount of money to trade stocks at low transaction costs.
Would you like to know at which broker buying and selling shares is cheapest? On our page about cheap investing we compare the different costs of investing:
How can you invest cheaply?
When you want to invest, it is unfortunately not possible to invest completely without costs. However, there are always methods to limit the costs as much as possible. In our article about investing cheaply, we have already extensively compared the different brokers and when we bought 30 Philips shares, the cheapest broker was no less than seven times cheaper than the most expensive provider!
Especially modern online brokers perform well in this regard. This is because they charge absolutely no commission costs. Trading shares with local banks is often so expensive because you pay a fixed amount per transaction. This makes buying a handful of stocks simply unprofitable.
Do you want to know with which brokers you can invest cheaply? Take a look at our overview of best brokers directly:
Calculate what is more beneficial
It is always wise to calculate which cost structure is the most advantageous. Banks often charge a fixed amount per order plus a (lower) relative percentage of the total order value. With some modern online brokers you only pay a relative fee for each separate share.
By determining the moment of crossing, you can determine from which amount it is more advantageous to trade with the other broker. You can calculate this point by drawing up the cost formulas in which you set the number of shares equal to X, for example:
0,1X = 6,5 + 0,05X
0,05X = 6,5
X = 130
For 130 shares, the local broker with commission in this example would be cheaper than the online broker. You need to replace the amounts in the formula with the correct cost structure as indicated by the broker you are investigating with.
In conclusion: where can you invest for free?
In this last part of the article we will list where you can invest in certain investment products free of charge.
Where can you invest in stocks free of charge?
At NAGA, you can buy & sell shares without paying commissions. This is attractive for investors who invest a small amount of money.
Where can you actively trade without commission costs?
Plus500 allows you to trade CFDs on equities, commodities, index funds and Forex pairs free of commission. This allows you to take advantage of the latest market developments.
Where can you invest in ETFs free of charge?
At DEGIRO you can invest in a large selection of investment funds free of charge. This way you can save a lot of money on your periodic investments.
Author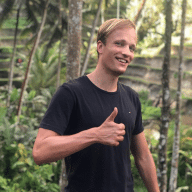 About
When I was 16, I secretly bought my first stock. Since that 'proud moment' I have been managing trading.info for over 10 years. It is my goal to educate people about financial freedom. After my studies business administration and psychology, I decided to put all my time in developing this website. Since I love to travel, I work from all over the world. Click here to read more about trading.info! Don't hesitate to leave a comment under this article.