How to buy Irish shares? - invest in Irish stocks (2023)
Investing in Ireland can certainly be a good idea. Examples of well-known Irish companies include Tesco, Ryanair, and Anglo Irish Bank. It is definitely possible to buy Irish shares through online brokers. But how & where can you invest in the Irish stock market?
Where can you buy Irish stocks?
You can buy Irish shares through an online broker. Pay attention to transaction fees:  nowadays, with some brokers, it is possible to invest in Irish stocks without paying any commission.
In the table below, you can see my favourite brokers for buying and selling stocks:

| Brokers | Benefits | Register |
| --- | --- | --- |
| | Buy Irish shares without commissions. Your capital is at risk. Other fees may apply. | |
| | Speculate on price increases and decreases of Irish shares with a free demo! | |
| | Benefit from low fees, an innovative platform & high security! | |
Trading on the Irish Stock Exchange
The Irish Stock Exchange is traded as Euronext Dublin and is best known for bonds: more than 35,000 bonds are listed on the exchange! However, you can also invest in several well-known Irish stocks on the Irish Stock Exchange.
The most popular Irish shares are listed on the ISEQ20 index. The ISEQ20 index includes the 20 stocks with the largest market capitalization. If you want to invest in the largest Irish companies all at once, you can buy an ETF on the index. An ETF passively tracks the index of the Irish Stock Exchange. Want to learn more about investing in ETFs? Read this article!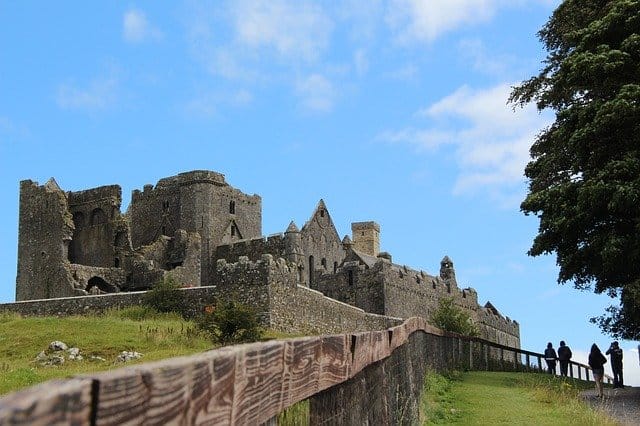 Investing in Ireland can be interesting!
How to invest in Irish shares?
You can invest in shares on the Irish Stock Exchange with an online broker. With a broker account, you can buy and sell stocks.
An important first step is selecting suitable stocks. You can, for example, consider:
The ratio between the price and earnings
The company's competitive position
The overall performance of the sector in which the company operates
Once you have found a stock that you want to buy, you can place an order. You do this by clicking on the "buy" button within the platform. You then need to enter the following information:
Quantity: how many shares do you want to buy?
Order type: with a market order, you buy shares at the current price, with a limit order, you buy shares at a fixed price.
After you have placed the order, it will be sent to the Irish stock exchange.
What to consider when investing in Ireland?
It is strongly advisable to pay attention to the economic situation in Ireland. Ireland is often highly dependent on the economic situation in the United Kingdom, so it is also recommended to keep an eye on the situation there.
Furthermore, it is important to pay attention to the taxes that you pay as an investor in Ireland. Irish stocks are typically subject to a stamp duty. This amounts to 1% of the value of a share. The share price must then rise significantly to achieve a good return.
Why do people buy Irish stocks?
Inflation: by buying stocks, you can protect yourself against the effects of inflation.
Income: stocks sometimes pay dividends, allowing you to build an income.
Pension: by investing in Irish stocks, you can build a pension.
Monitor the exchange rate
It is also important to consider the exchange rate when investing in Ireland. Irish stocks are listed in euros. If you invest in a different currency, the exchange rate can affect your results.
The exchange rate can also improve or worsen a company's competitive position. For example, a company that exports many products can benefit from a cheap euro. They can then export products more cheaply to countries that use a different currency.
Tip:
click
here
to view the opening hours of the Irish stock exchange.