How to buy Stripe shares (2023) – invest in Stripe
Stripe is an Irish payment company that has grown significantly and is conquering market share in an increasing number of countries. In this article, we discuss how to invest in Stripe by buying Stripe stocks.
How to buy Stripe stocks?
If you have confidence in Stripe's future plans, it may be attractive to buy Stripe shares for the long term. However, do sufficient research first and determine if this is the best time to invest in Stripe.
Are you looking for a reliable broker to buy Stripe stocks? Take a look at the overview with stockbrokers:
| Brokers | Benefits | Register |
| --- | --- | --- |
| | Buy Stripe without commissions. Your capital is at risk. Other fees may apply. | |
| | Speculate with CFD's on increasing & decreasing prices of Stripe! 82% of retail CFD accounts lose money. | |
| | Benefit from low fees, an innovative platform & high security! | |
| | Speculate on price increases and decreases of Stripe with a free demo! | |
After Stripe goes public, you can buy stocks directly from one of the popular stockbrokers.
Stripe IPO
Stripe will go public on the NASDAQ. It is unclear on which date Stripe will go public. After the IPO, as an investor, you can immediately start buying and selling stocks. On this page, you will then read the extensive analysis of Stripe stocks.
The value of Stripe during the IPO is estimated to be between $74 and $95 billion dollars. However, it is questionable whether this value will hold under current market conditions.
Why could it be smart to buy Stripe stocks?
Growing market: The demand for online payment services is still growing rapidly.
Customer base: Stripe has a growing customer base. Many small to medium-sized businesses choose Stripe for processing transactions. More than a million websites in America now use Stripe's services.
User-friendly: Stripe is easy to use and can be integrated into popular e-commerce platforms.
Innovation: Stripe regularly releases new features, which can make the platform an interesting investment.
White label: Parties can also offer Stripe's payment services under their brand name, which can contribute to growth.
Market leader: Stripe is much larger than the closest competitor, Adyen.
Competition: Stripe faces a lot of competition from companies such as PayPal and Square. Furthermore, there are also increasingly traditional parties entering the market.
Dependency: Stripe is highly dependent on a few large customers, with a large portion of the revenue coming from Spotify.
Limited expansion: Stripe is mainly used in America and Europe, but has not yet broken through in other markets.
Limited earning potential: Large companies have a strong bargaining position and can ask Stripe for significant discounts.
High valuation: A high valuation at the IPO can deter investors.
What are Stripe's biggest competitors?
PayPal: this global payment provider enables users to make online payments.
Square: users can also make online payments with Square.
Adyen: this Dutch company performs well in the e-commerce business.
Braintree: this American company offers various payment options.
Worldpay: this global payment provider processes payments for businesses.
About Stripe
Stripe is a company focused on processing payment transactions for businesses in the B2B and B2C sectors. The company was founded in 2010 and has amassed a fortune in ten years. According to the American news agency Bloomberg, Stripe is expected to go public for 23 billion euros.
Stripe's Customers
Stripe primarily offers payment services and expertise. As a result, Stripe can only grow as more businesses and enterprises use the payment service. Currently, Stripe has quite a few large companies in its clientele, including holiday provider Booking.com, online auction house Catawiki, and energy company Vandebron.
Stripe is also a major player in the United States. Companies like Facebook and Amazon use Stripe for processing payments. Just through these contacts, the relatively young entrepreneurs who founded Stripe have become the youngest self-made billionaires.
These international expansions and partnerships with large companies show that Stripe is a company with a lot of potential. Investing in Stripe stocks can certainly pay off. Don't forget to consider future potential before investing in Stripe shares.
The Future Value of Stripe
The payment services industry is not necessarily exciting or challenging for many people. At first glance, it often appears as a dusty industry that operates mostly in the background. However, recently, the business financial services industry has shown that it is an interesting sector to invest in.
Companies like iDeal, PayPal, and Adyen have already shown that investing in this sector is very attractive, and Stripe has similar prospects.
In addition, Stripe continues to explore how it can expand its services, especially in mainland Europe.
As an individual investor, you can invest in Stripe by buying Stripe shares on the stock exchange where the company is listed. Currently, Stripe is not yet publicly traded, but there are rumours that the company will go public soon.
First, open an account with a reliable stockbroker.
Activate your account by uploading a copy of your passport and proof of address.
You can then deposit money from your bank account directly into your stock account.
Select the Stripe stock and enter the amount you want to invest.
Then press "buy" to send the order to the stock exchange.
Is it wise to invest in Stripe?
People are increasingly paying online, and this trend has only accelerated with the COVID-19 pandemic. The payment options offered by Stripe provide the necessary advantages, such as scalability, security, and low costs. What makes Stripe a popular choice for businesses is its strong customer service and the ease with which everything can be set up.
In addition, Stripe offers many payment options like AliPay, Apple Pay, and even Bitcoin. As a result, the company processes transactions from customers spread across 120 countries and from large companies such as Amazon, Google, and Microsoft.
However, it is important to keep a close eye on the competition: companies can easily switch to another provider when they receive a more attractive offer.
Author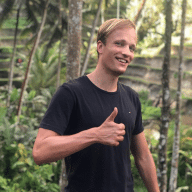 About
When I was 16, I secretly bought my first stock. Since that 'proud moment' I have been managing trading.info for over 10 years. It is my goal to educate people about financial freedom. After my studies business administration and psychology, I decided to put all my time in developing this website. Since I love to travel, I work from all over the world. Click here to read more about trading.info! Don't hesitate to leave a comment under this article.