How to buy Nestlé shares?
The Swiss multinational Nestlé is a company that processes food and beverages. This company is the largest food company in the world. The company's headquarters are located in the Swiss town of Vévey, located in the canton of Vaud. Are you considering an investment in Nestlé? In this article you can read how best to buy Nestlé shares!
Do you want to buy Nestlé shares? You can directly trade in Nestlé stocks with one of these reliable brokers:

| Brokers | Benefits | Register |
| --- | --- | --- |
How can you actively invest in Nestlé?
Nestlé is a huge multinational with interests in all kinds of other companies. As an active speculator, you can continually respond to the latest news. For example, if the company takes over another party, you can immediately open an investment position on it.
A good party where you can respond to price fluctuations in the company Nestlé is Plus500. At Plus500, you can open a trading position on both a rising and falling price by using CFD's. Do you want to try the possibilities for free? You can do this by opening a demo! With the button below, you can open an account directly with Plus500:
What is Nestlé's stock price?
Do you want to know how Nestlé's stock price is developing? The chart below shows the price at which you can buy and sell Nestlé CFD shares. Click the button to open an investment in the company right now.
Nestlé's history
In 1886, the brothers George and Charles Page founded the Anglo-Swiss Milk Company. In the same year Henri Nestlé founded the company Farine Lactée Henri Nestlé. A merger of these companies in 1905 created Nestlé. At first, the company offered condensed milk and infant milk. Soon the company decided to expand the product line. In 1920, the company began producing chocolate. This is still one of the most important products of Nestlé.
The Second World War immediately had a negative impact on the company's profits. For example, profits fell from $20 million in 1938 to $6 million in 1939. However, that was also the time when a successful product was brought to market. Nescafé was an important drink for the American soldiers. During the Second World War, the production of this new product increased. Even after the Second World War, the company managed to grow considerably.
Companies acquired by Nestlé
In the years after the Second World War, several companies were taken over. In 1947, Nestlé merged with Maggi, a company that makes soups and spices.  Other acquired companies include the British food production company Crosse & Blackwell (1950), the Swedish frozen food producer Findus (1963), and the Swiss manufacturer of canned food and beverages Libby's (1971).
The company decided to start selling other food products as well. In 1974, the Swiss company Alcon was acquired. This is a global medical company that specializes in eye care products. Even after 1990, several companies were taken over. The period 1990-2011 was a period of international growth for Nestlé.
When Nestlé acquires another company, it is smart to consider what the impact of this will be on the company's results. Do you think the acquisition will have a positive effect on Nestlé's share price? Then it might be smart to buy the shares.
Nestlé's product
What products are manufactured by Nestlé? Nestlé makes milk derivatives (such as milk powders), baby food, animal food, (instant) coffee, ice cream, chocolate, chocolate milk, cereals, yoghurt, pasta, spring water and broth.
Acquisition of Starbucks' rights
In 2018, Nestlé paid $7.2 billion for the rights to Starbucks. From that moment on, the company could sell products under the Starbucks brand name. Following this deal Nestlé enters the retail market. Since the deal the company can sell Starbucks coffee outside the US. For example, Starbucks coffee can be sold in supermarkets and cafes. This acquisition will make the company an even bigger player in the coffee market.
Do you think this has been a good move? Then you can consider an investment in Nestlé.
Author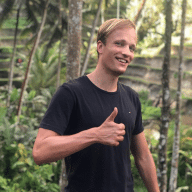 About
When I was 16, I secretly bought my first stock. Since that 'proud moment' I have been managing trading.info for over 10 years. It is my goal to educate people about financial freedom. After my studies business administration and psychology, I decided to put all my time in developing this website. Since I love to travel, I work from all over the world. Click here to read more about trading.info! Don't hesitate to leave a comment under this article.