How to buy Oracle Corporation shares?
Oracle is an American software company active in cloud computing. The company will most likely take over the well-known TikTok, which will, of course, benefit the company's profitability. Would you like to know how you can invest in Oracle yourself by buying the stocks? In this article we discuss how you can buy Oracle Corporation shares yourself.
Where can you buy Oracle stocks?
Do you want to buy Oracle shares? You can directly trade in Oracle stocks with one of these reliable brokers:

| Brokers | Benefits | Register |
| --- | --- | --- |
How can you actively invest in Oracle Corporation?
The Oracle share price has actually been moving upwards since 2001. This upward trend is due to the fact that the company is successfully managed and cleverly anticipates the latest trends. An active investment in Oracle stocks can be attractive, as the share price can still fall sharply in between. You can benefit from this by actively speculating.
With the CFD broker Plus500 you can also open short positions on Oracle shares: with a short position you achieve a positive result when the price falls. You can also use leverage to increase both your potential profit and your potential loss. Would you like to try the possibilities of active trading for free with an unlimited demo? Use the button below to open a free demo:
What is Oracle's stock price?
Are you curious about the development of Oracle's stock price? In the graph below you can directly consult the current CFD price of Oracle stocks:
About Oracle
The head office of US software company Oracle Corporations is located in Redwood, California. Oracle Corporation sells database software and technology, enterprise software products and cloud-engineered systems.  The company is best known as a supplier of Oracle's proprietary database system. In addition to databases, the company is also a supplier of business software developed by the company. This business software is supplied under the name Oracle E-business Suite.

Company history
The company was founded in 1979 by Larry Ellison, Bob Miner and Ed Oates. The name of the company at that time was Software Development Laboratories (SDL). Larry Ellison had read an article about the IBM-system-R database. He failed to make the database developed by Oracle compatible with IBM's system-R database. The error codes of that database were kept secret by IBM.
In 1979 the name of the company was changed to Relational Software, Inc. (RSI). In 1983, the name of the company was changed to Oracle System Corporation. That name was more in line with the Oracle database developed by the company, which was the company's main product. From 1995, the name of the company was Oracle Corporation.
Companies acquired by Oracle
Oracle has acquired several software companies. In 2005 PeopleSoft, a company that develops and supports administrative software, was acquired. By buying Siebel, Oracle bought itself a place in the CRM market. Other companies that were acquired are Hyperion (2007), Bea Systems (2008) and Sun Micro Systems (2009). An amount of 7.4 billion dollars was paid for the acquisition of Sun Micro Systems.
Founded in 1988, the cloud software company NetSuite, which mainly works for American small and medium-sized enterprises, was acquired in 2016. This acquisition strengthens the cloud applications of both companies. Oracle's ambition is to increase the percentage of turnover generated by cloud services.
Do you think Oracle will be able to achieve a greater presence in the cloud market? In that case, it might be interesting to invest in Oracle by buying the shares.
Takeover of video app TikTok
The White House regards the Chinese video app TikTok as a security risk because data from American users can be shared with the Chinese Communist Party. President Trump announced in September 2020 that he supports the plan for a deal between Oracle and TikTok owner Byte Dance.
According to Trump, all questions about national security have been answered by Oracle: security is 100% after the takeover. According to Trump, the company TikTok is safe when it is controlled by Oracle and the American supermarket chain Walmart.
Do you think the takeover of the TikTok video application will contribute to Oracle's business results? In that case, it may be smart to buy Oracle stocks.
Author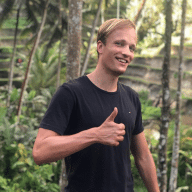 About
When I was 16, I secretly bought my first stock. Since that 'proud moment' I have been managing trading.info for over 10 years. It is my goal to educate people about financial freedom. After my studies business administration and psychology, I decided to put all my time in developing this website. Since I love to travel, I work from all over the world. Click here to read more about trading.info! Don't hesitate to leave a comment under this article.