How to buy Roblox stocks (2023) – invest in Roblox
Do you want to invest in Roblox shares? The company is capitalizing on an active trend and could therefore be a good investment. In this article, we discuss how to buy Roblox stocks.
Do you have confidence in Roblox's future plans? Then it may be attractive to buy the stocks for the long term. However, do your research first and determine if this is the best time to invest in Roblox stocks.
Are you curious where you can buy Roblox shares at a low cost? The table below shows you which brokers you can trade Roblox shares with:
| Brokers | Benefits | Register |
| --- | --- | --- |
| | Buy Roblox without commissions. Your capital is at risk. Other fees may apply. | |
| | Speculate with CFD's on increasing & decreasing prices of Roblox! 82% of retail CFD accounts lose money. | |
| | Benefit from low fees, an innovative platform & high security! | |
| | Speculate on price increases and decreases of Roblox with a free demo! | |
What is the current stock price of Roblox?
Are you curious about the current stock price of Roblox shares? The chart below shows you how Roblox shares perform. Additionally, you can use the buy and sell buttons to start trading Roblox shares.
Company information of Roblox
Below are the key company details of Roblox.
Analysis of Roblox
Before deciding whether to buy or sell Roblox stocks, it is important to thoroughly analyse the share. In the overview below, you can see how Roblox has developed over the past period.
Stock prices of the last 5 days
The table below shows you the stock prices of Roblox for the last 5 days:
What will Roblox's stock do in 2023?
Curious about what analysts think Roblox will do in 2023 and the years that follow? We have combined the predictions of analysts with Alpha Vantage data. Keep in mind that this figure is only a prediction about the future stock performance of Roblox and that this prediction may not come true.
Growing market: the online gaming and user-generated content market is still growing rapidly.
Many users: Roblox attracts many young users, which creates strong communities of developers, further accelerating the growth of the platform.
User-generated content: because users create their own content, a diverse range of experiences can be offered. This keeps users engaged, which is positive for Roblox.
Revenue: the company offers developers various ways to make money, such as virtual currencies and in-game purchases. This allows Roblox to monetize their platform.
Innovation: Roblox is known for its high level of innovation in development tools and support.
Virtual currency: most of the revenue comes from in-game purchases made with virtual currency.
Blockchain integration: Roblox is experimenting with NFTs, which could be a smart move given the hype around crypto.
What are the risks of investing in Roblox stocks?
Dependency on key developers: If important developers decide to leave Roblox, it could put pressure on the company's results.
Supervision: It can be a challenge to supervise user-generated content. In the case of safety problems, Roblox can face negative publicity or even fines. Additionally, most users are young, which makes moderation even more important.
Competition: Roblox faces a lot of competition from other gaming platforms.
US focus: Roblox is mainly known within the US and has little market share abroad.
Trends: Young users often switch to a new trend quickly. This is a big risk for the future results of Roblox.
Declining sales: After the pandemic, people spend less time on their computers, which is not good for Roblox's results.
What are the biggest competitors of Roblox?
Minecraft: With Minecraft, players can build a virtual world. This game has a loyal user base.
GameMaker Studio: Developers can create games for different platforms with this tool.
Unity: With this game engine, developers can create and share games across multiple platforms.
Fortnite: This battle royale game is popular among a young audience and attracts large numbers of players.
What should you look out for when investing in Roblox stocks?
When buying stocks, it's important to thoroughly research the situation first. For example, study whether the company operates in a growth market: is there a good chance that the company's activities will increase in value in the future? In the case of Roblox, the answer is likely yes: gaming becomes increasingly popular, and the target audience is also becoming broader.
Of course, there are many companies active in the gaming industry. Therefore, before buying Roblox stocks, it's essential to research if the company can keep up with the competition. Roblox seems to keep up with the competition by offering a certain level of accessibility. This allows people with little gaming experience to get started as well. Additionally, the platform is offered for free, which makes further growth possible.
Good timing is key when buying Roblox stocks. Your investment results can fluctuate greatly depending on your strategy. The price of Roblox stocks doubled after the IPO in 2021, only to decline by more than 70% afterwards.
About Roblox
Roblox is a platform for playing platform games where players go on adventures and try to reach higher levels. Users can create their own levels, but they can also try the worlds of other users. This means that Roblox is not only a gaming system for playing games, but also for creating games and meeting new people.
Because Roblox is a fairly accessible game, the company can easily attract new players. Gaming is becoming increasingly popular and is no longer just for nerds. Investing in Roblox can therefore capitalize on a growing trend.
A free platform with lucrative earnings
Roblox is a gaming system that is free to use for players. All you have to do is create an account, where you indicate your username, date of birth, and optionally your gender.
Within the game there are different themes that can be used to build worlds, from fantasy to action and from fighting to scavenger hunts. All of this is done with simple and recognizable characters.
Roblox makes money from advertising revenue and in-game purchases. The game uses fictional money in the form of Robux. This revenue model is proven effective: the popular game Fortnite developed by Tencent also operates on this model. This could make it interesting to invest in a company like Roblox.
The target audience of Roblox
In the past, video games were mainly intended for children, but nowadays, many age groups like to game.
With over 200 million active users per month on the platform, it's not surprising that many types of people use the platform.
How to invest in Roblox?
Step 1: Open an account with a reliable stockbroker, so you can start trading stocks right away.
Step 2: Deposit money from your bank account to your stockbroker account.
Step 3: Select the Roblox share and enter the amount you want to invest. Then press buy to send the order to the stock market.
Should you buy Roblox stocks?
Gaming is a growth market, but there is also a lot of competition. The young target audience often switches to a new trend, which can cause Roblox to lose many users in a short period of time. This makes an investment in Roblox shares quite risky. Therefore, consider whether an investment in Roblox fits your risk tolerance.
Author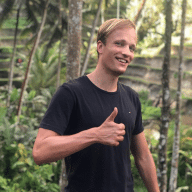 About
When I was 16, I secretly bought my first stock. Since that 'proud moment' I have been managing trading.info for over 10 years. It is my goal to educate people about financial freedom. After my studies business administration and psychology, I decided to put all my time in developing this website. Since I love to travel, I work from all over the world. Click here to read more about trading.info! Don't hesitate to leave a comment under this article.