How to buy SpaceX stocks? Investing in SpaceX shares (2023)
Elon Musk, the founder of SpaceX, believes that in the future, millions of people will live on Mars. If he is correct, SpaceX stocks could become very valuable. But can you actually invest in SpaceX shares, and what is the best stockbroker to buy space stocks? In this article, you will learn everything you need to know about investing in this interesting company.
Can you buy SpaceX stocks? IPO
At the time of writing (2023), you still cannot buy SpaceX stocks. The company SpaceX is still completely private: Elon Musk has indicated that he will only take the company public when it becomes profitable. However, there is a trick that allows you to invest indirectly in SpaceX.
The company Alphabet (Google) has invested $1 billion in SpaceX. In exchange for this substantial investment, the company received 10% of the shares. This means that you can indirectly take a stake in SpaceX by buying Alphabet stocks. Keep in mind that by investing in Alphabet you only receive a small piece of SpaceX and a massive piece of Alphabet.
Bank of America has also made a significant investment in SpaceX: an amount of $250 million. The position of the company is now likely worth $1 billion.
Another alternative is to invest in a company like Virgin Galactic. Elon Musk is not the only company launching rockets into the air. But where can you actually invest in SpaceX & other space stocks?
Where can you invest in SpaceX stocks?
In the overview below, you can see which brokers allow you to buy SpaceX stocks directly:
| Brokers | Benefits | Register |
| --- | --- | --- |
| | Buy SpaceX without commissions. Your capital is at risk. Other fees may apply. | |
| | Speculate with CFD's on increasing & decreasing prices of SpaceX! 82% of retail CFD accounts lose money. | |
| | Benefit from low fees, an innovative platform & high security! | |
| | Speculate on price increases and decreases of SpaceX with a free demo! | |
Why can investing in SpaceX be interesting?
The future of humanity
Elon Musk is not the only one who believes that we will live on other planets in the future: for example, Jeff Bezos, the founder of Amazon, invests a lot of his money in Blue Origin. He believes that in the future, millions of people will work in space.
If this is true, SpaceX is at the beginning of a larger development. An investment in space travel could be equal to an investment in the internet, decades ago.
Cost savings & relatively sustainable
Another reason why investing in SpaceX can be appealing is the unique features of the produced rockets. SpaceX has developed a reusable rocket: a rocket that can land again after launch. This is a unique feature which reduces the cost of launching a rocket by 30%!
When you consider that the number of rocket launches is increasing, this technology is worth its weight in gold. Additionally, SpaceX can launch many more rockets within the same budget, and therefore learn more. Elon Musk doesn't believe in failure, but in learning.
Contracts with NASA
The good relationship with NASA also makes investing in SpaceX interesting. NASA recently awarded a significant contract worth $1 billion for the delivery of space cargo.
It used to be unthinkable for a commercial spacecraft to be able to use the ISS, but this changes rapidly. The commercialization of space travel seems to be a fact.
Starlink: great potential
Personally, I find the company that arises from SpaceX, Starlink, even more interesting. Starlink has licences for launching more than 50,000 satellites. The company is trying to make satellites smaller, which can lead to significant cost savings. With Starlink, the company wants to provide internet to hard-to-reach places.
There is a good chance that Starlink will be separated from SpaceX in the future. However, an IPO could take a while: Starlink has not been profitable so far.

What are the risks of SpaceX & space stocks?
A hobby for rich people
For now, investing in space travel falls somewhat into the category of "fun hobbies for rich people". Flamboyant personalities with big dreams show what they can achieve with their money.
The economic model of these kinds of companies is often limited. When the costs (and environmental pollution) of rockets decrease, this may change. However, space tourism is still far away: a week on Mars or a flying spaceship are still a distant future.
Sustainability
The biggest problem with commercial space flights is sustainability. One pleasure flight into space uses as much fuel as 100 intercontinental flights. Sustainability is becoming increasingly important in many countries. Therefore, it is questionable whether these activities will be allowed in the future: in aviation, you see that flights are already being cancelled due to sustainability concerns… so what would happen with space flights?
Highly speculative
The last disadvantage of speculating on SpaceX stocks & other space stocks is their high speculative nature. Virgin Galactic is already tradable on the stock market, and you can see that this stock is mainly popular among younger, private investors.
The stock price is very unstable and rose to enormous heights in 2020 and 2021, only to completely collapse later on. An investment in SpaceX would also be highly speculative and certainly not suitable for everyone.


What are the goals of the different space companies?
Virgin Galactic
Virgin Galactic is the space company of Richard Branson. Richard Branson's goal is to sell tickets for a spaceflight. You can buy a ticket for $450,000, so if you're rich enough, you can experience a few minutes of weightlessness.
Blue Origin
Jeff Bezos is also participating in the space race, and he founded Blue Origin in 2000. Unlike Virgin Galactic, Blue Origin is not publicly tradable: he sold a large amount of Amazon shares to support the developments within the company. It is the goal of Blue Origin to make space travel more affordable, so that millions of people can work in space.
What are SpaceX's future plans?
Men on Mars: Elon Musk's goal is to establish a colony on Mars. The company hopes this will be possible in 2025…
Commercial spaceflights: SpaceX already earns money by sending cargo, but wants to add tourism to the mix. SpaceX aims to send its first tourists into space in 2023.
When will SpaceX go public?
Personally, I don't expect SpaceX to go public soon. The company is still in development, and Elon Musk has stated that he will only take the company public when it is profitable.
The question is what will happen first: men on Mars or SpaceX on NASDAQ…
Should you buy SpaceX stocks?
Personally, I wouldn't buy SpaceX stocks. SpaceX is a very speculative investment that doesn't really fit with the current spirit of the times. Sustainability is becoming increasingly important, and it seems like a waste of fuel. Additionally, there is a lot of uncertainty about the company's business model.
Tip: if you want to see for yourself how SpaceX sends the first people to the International Space Station, you should watch the exciting documentary Return to Space on Netflix!
What do you think? Will SpaceX be an interesting investment when it goes public?
Author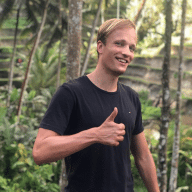 About
When I was 16, I secretly bought my first stock. Since that 'proud moment' I have been managing trading.info for over 10 years. It is my goal to educate people about financial freedom. After my studies business administration and psychology, I decided to put all my time in developing this website. Since I love to travel, I work from all over the world. Click here to read more about trading.info! Don't hesitate to leave a comment under this article.