How to buy Square shares?
Square is a payment application that is gaining popularity: Some experts even believe that the company will replace PayPal in the future. An investment in Square by buying the shares can therefore work well. In this article, you can read how & where you can best buy Square stocks. You can also find the current stock price of Square shares on this page.
Do you want to buy Square shares? You can directly trade in Square stocks with one of these reliable brokers:

| Brokers | Benefits | Register |
| --- | --- | --- |
Square is certainly an interesting stock to keep an eye on. At launch, a stock was worth just over $12 and a few years later the stock is valued at almost $200. Therefore, an investment in Square has worked out well!
However, the price has not only risen: Investors, for example, are worried about competitors. When users switch to a competitor's payment service, the company can run into trouble. By actively speculating on Square's stock price, you can benefit from this kind of development.
A good application with which you can speculate on Square CFD shares is the Plus500 trading platform. You can open a demo for free so you can try the possibilities without risk immediately:
Is Square's stock price going to rise even further? In this graph you can see how the Square CFD share is developing. The buttons allow you to immediately open an investment position whenever you are ready:
About Square, the Company
A San Francisco, California-based U.S. company, Square, Inc. is a financial service, merchant services and mobile payments company. The company, which mainly provides services to small businesses, markets hardware and software payment products.
The first app and service of this payment company appeared on the market in 2010. Square allows you to receive pin or credit card payments via your tablet or phone. The company's small card readers can be inserted into tablets and smartphones.
In addition, the company creates an app that allows companies to accept payments. The company, which operated in Canada in 2014 in the U.S. and Japan, provided $30 million in payment traffic that year. Later, the company also became active in Europe.

History of the company
The founders of the company, founded in 2009, are Jack Dorsey and Jim Kelvey. In 2009, Jim Kelvey wanted to sell glass taps and fittings for a sum of 2000 dollars. Because he could not accept a credit card as a means of payment, the sale did not go through.
That event inspired him to set up the square company together with his friend Jack Dorsey. His friend Jack Dorsey was one of the founders of Twitter. The company Square started in a small office in the city of Saint Louis in the state of Missouri. Because of the company's four sided card readers, the company is called Square.
Square goes public
The company went public in 2015. The then loss-making Square was listed on the New York Stock Exchange (NYSE). At the first listing, the value of the share was $9. That was lower than the range of 11 to 13 euros that the company had expected. In 2020, Square's stock price has risen sharply. The share is obviously not affected by the economic crisis.
Payment company Square buys bitcoins
In October 2020, the payment company Square executed a remarkable transaction. The company bought 4,079 bitcoins with a total value of $50 million. The company does so because, according to the company, cryptocurrencies are a powerful economic tool. In addition, the company believes that by buying these bitcoins, an opportunity is offered to the world to participate in a global monetary payment system. Providing that opportunity fits with the purpose of this payment company. Jack Dorsey, one of Square's founders and CEO, thinks the bitcoin will eventually become the only currency in the world.
Author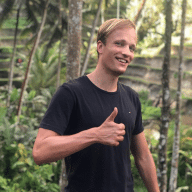 About
When I was 16, I secretly bought my first stock. Since that 'proud moment' I have been managing trading.info for over 10 years. It is my goal to educate people about financial freedom. After my studies business administration and psychology, I decided to put all my time in developing this website. Since I love to travel, I work from all over the world. Click here to read more about trading.info! Don't hesitate to leave a comment under this article.