How to buy Square shares (2023)? – invest in Square
Square is a popular payment application: some experts even believe that the company will replace PayPal in the future. Investing in Square by buying stocks can therefore be appealing. In this article, you can read how and where to buy Square shares. You will also find the current stock price of Square on this page.
How to buy Square stocks?
Do you have confidence that Square will beat PayPal? Then a long-term investment in Square shares can certainly be worth a consideration! The company still innovates regularly. For example, it is now possible to borrow up to $200 within the application. These loans must be repaid within four weeks, and users pay interest on them. This allows Square to generate an additional source of income.
It appears that Square wants to offer more financial services through the application. Users can now also buy and sell bitcoins, and it is also possible to invest in stocks. If Square can retain its users, this can certainly be positive for the future price developments of the stock.
Do you want to buy Square stocks? Then do so with a reliable and cost-effective broker:
| Brokers | Benefits | Register |
| --- | --- | --- |
| | Buy Square without commissions. Your capital is at risk. Other fees may apply. | |
| | Speculate with CFD's on increasing & decreasing prices of Square! 82% of retail CFD accounts lose money. | |
| | Benefit from low fees, an innovative platform & high security! | |
| | Speculate on price increases and decreases of Square with a free demo! | |
What is the stock price of Square?
Will the stock price of Square continue to rise? In the chart, you can see how the Square share develops. With the buttons, you can open an investment position directly:
Company details of Square
Below, you can see the most important company details of Square.
Analysis of Square stocks
Before you decide whether to buy or sell Square shares, it is essential to analyse the stock first. In the overview below, you can see how Square has developed over the past period.
Stock prices of Square over the last 5 days
In the table below, you can see the stock prices of Square from the last 5 days:
What will the price of Square do in 2023?
Are you curious about what analysts think Square will do in 2023 and the years after that? We have combined the forecasts of analysts using data from Alpha Vantage. Please keep in mind that this figure is only a prediction about the price development of Square, and that this prediction does not have to come true.
Why can it be smart to buy Square stocks?
Innovative: Square is active in payments processing and uses the latest technology to make it run smoothly.
Strong financial position: Square is profitable, and its results are improving.
Growth potential: Square can expand into new markets and improve its position.
Diversification: the company offers more than just payment processing. With Square Capital, for example, the company provides loans for small businesses.
Dependency: Square's revenue is dependent on small businesses, which are vulnerable during economic crises.
Competition: Large players like PayPal, Stripe, and Shopify can make it difficult for Square.
International: Compared to its competition, Square is not very active outside the countries borders.
Concentration: The majority of the company's profits come from a few activities, which makes Square vulnerable.
Financial risk: When consumers are unable to repay loans, Square may lose money.
Who are Square's biggest competitors?
PayPal: Perhaps the most well-known online company for processing payments.
Stripe: This company offers online tools for processing payments.
Shopify: This Canadian company makes it easy to set up an online store.
Adyen: This Dutch company facilitates both online and in-person transactions.
Step 1: You need an account with a stockbroker that allows trading in Square shares.
Step 2: Activate your investment account by verifying your identity and depositing money into your broker's account.
Step 3: Select the Square share and enter the amount you want to invest. Don't forget to thoroughly research the company's plans for the future.
Step 4: You can now buy Square shares directly. It is also possible to buy the shares at a certain price with a limit order.
About Square
The San Francisco-based company Square is active in financial services. The company provides payment products primarily for small businesses.
The first app and service of this payment company appeared on the market in 2010. With Square, you can use your tablet or phone to perform pin or credit card payments. The small card readers made by the company can be inserted into tablets and smartphones.


What services does Square offer?
Accept payments: small businesses can accept credit card payments with Square.
Manage finances: Square can be used for sending invoices and managing payroll.
Lending: users can borrow between $500 and $250,000 on the platform.
Square Cash: the peer-to-peer payment system allows for quick money transfers to friends and family.
Online sales: users can create a website to sell products by using the Square Online e-commerce platform.
History of Square
The company was founded in 2009 by Jack Dorsey and Jim Kelvey. In 2009, Jim Kelvey wanted to sell glass faucets and fittings for $2,000, but he couldn't accept credit card payments. This inspired him and his friend Jack Dorsey, who was one of the founders of Twitter, to start Square. The company was initially based in a small office in St. Louis, Missouri, and was named after the square card readers it developed.
Square's IPO
The company went public in 2015. The then unprofitable Square was listed on the New York Stock Exchange (NYSE). At the initial listing, the share price was $9, lower than the $11 to $13 range that the company had expected. In 2023, the stock price of Square has risen significantly.
Square buys Bitcoin
In October 2020, the payment company Square made a notable transaction. The company bought 4,079 bitcoins worth $50 million in total.
The company did this because it believes that cryptocurrencies are a powerful economic tool. Jack Dorsey, one of Square's founders and CEO, thinks that bitcoin will eventually become the world's only currency.
Should you buy Square stocks?
Square's mobile payment system is of high quality and makes it possible to process payments with a smartphone or tablet. Furthermore, it's positive that Square offers other services such as payroll management and even marketing.
Square has also earned a good reputation among investors due to its significant growth. It's also interesting that crypto can be used for payments within the Cash app.
However, if you consider investing in Square stocks, you should also be careful. The company faces competition from other tech companies and is heavily dependent on small businesses. Therefore, you should evaluate whether Square shares fit into your current financial situation.
Author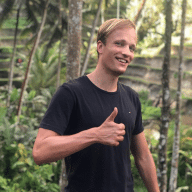 About
When I was 16, I secretly bought my first stock. Since that 'proud moment' I have been managing trading.info for over 10 years. It is my goal to educate people about financial freedom. After my studies business administration and psychology, I decided to put all my time in developing this website. Since I love to travel, I work from all over the world. Click here to read more about trading.info! Don't hesitate to leave a comment under this article.