How to buy Starbucks shares?
Even people who do not like coffee know the Starbucks brand well. It is admirable that the company succeeds in getting people exited to pay a few euros or dollars for a cup of coffee. They have succeeded in creating a strong brand that makes huge profits every year. Do you want to invest in Starbucks shares yourself? In this article we look at how you can buy Starbucks stocks yourself.
Do you want to buy Starbucks shares? You can directly trade in Starbucks stocks with one of these reliable brokers:

| Brokers | Benefits | Register |
| --- | --- | --- |
How can you actively trade in Starbucks?
As an active investor or speculator, you can benefit from all the price developments of Starbucks shares. When bad news comes out, the price of a Starbucks share can fall sharply. A good example of this can be found in the share price development of the competing company Lucky Coffee: this company turned out to have committed accounting fraud, which caused the share price to drop dramatically.
With a broker like Plus500 you can take a long or short position on Starbucks shares by using CFDs. With a short position, you speculate on decreasing stock prices. Plus500 also offers leverage, allowing you to trade CFD Starbucks shares with a small amount of money. Would you like to try the possibilities for free? Then open a free demo account directly with this broker:
What is the Starbucks stock price?
Do you want to know how the Starbucks share is performing? Then it can be interesting to keep an eye on the stock price. On this page you will find the graph with the latest stock market developments. You can also use the buttons to open a CFD position directly.
Is it smart to invest in Starbucks?
It is never wise to buy a share blindly. It is therefore wise to first examine whether it is wise to buy Starbucks shares.
The powerful brand image is a good reason to invest in Starbucks. People think of more than just coffee when they come here for a drink. It's an office for some people and a second living room for others. This intangible value is difficult to express in terms of value. In any case, it is difficult to just copy it. There are also costs for switching to a competitor because of the loyalty programme they have successfully rolled out. This also reduces the chance that a competitor will be able to hijack the company's customers.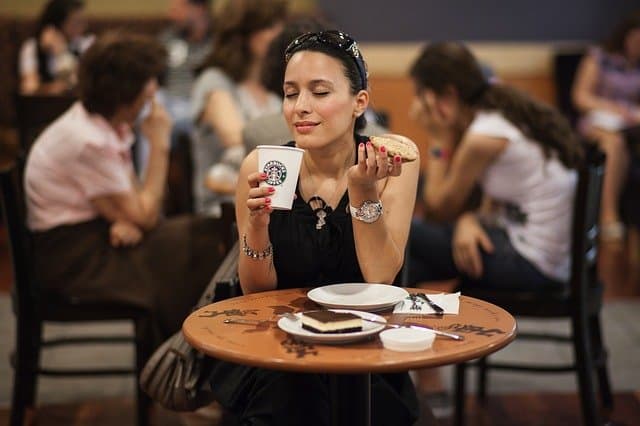 However, Starbucks may have a hard time with the new generation. Millennials think it is important for products to be organic. This is the case at Starbucks, as the company takes great care to produce its coffee sustainably. However, many young people also prefer to buy locally from a small company. Of course, Starbucks doesn't fit in here and will have to appeal to the young generation in other ways.
The company tries to innovate by making it possible to collect coffee. During a pandemic, this is of course very useful. However, it is questionable whether Starbucks customers really come for coffee alone. The brand distinguishes itself precisely because it is an extra place where people can feel at home.
A good reason to buy Starbucks stocks is the high-growth potential. Especially in China, the company can build up a larger customer base. The population there is becoming more and more prosperous and there is, of course, a lot of profit to be made here.
The steps for investing in Starbucks
Before you buy your first Starbucks share, you need to go through some essential steps. Firstly, it is important to consider whether you should invest at all. If you can't afford to lose any money, you should leave this site. After all, you should only invest with money you don't need right away.
When you have money left to invest, you may decide to invest part of it in Starbucks. To achieve this, you first need to have an account with a broker. A broker is a company that can buy and sell shares on your behalf. Would you like to know at which company you can buy shares? Then click here to compare the best brokers.
After you have opened an account, you can easily find the stock via the search function. Then you have to fill in how many shares you want to buy. You also have to consider whether you want to buy the share directly with a market order. Alternatively, you can use a limit order. With a limit order, you only buy the share when a certain price is reached. In some cases, it can be smart to apply a stop loss: you automatically close the investment at a certain loss.
After you have opened the investment, it is wise to evaluate it regularly. See how the company is doing and come up with an exit strategy.

About the Starbucks company
The name Starbucks will undoubtedly sound (very) familiar to most people on this planet. It is the world's largest chain of coffee houses after all. The vast majority of these coffee houses can be found in the United States and neighbouring Canada.
More and more Starbucks branches are systematically being opened in other parts of the world. A visit to one of Starbucks locations does not only allow you to enjoy a nice cup of coffee, but also a wide range of other beverages and sweet delicacies. The Starbucks shares are listed on the NASDAQ as SBUX.
The world's largest coffee house chain
Starbucks generates the majority of its turnover with its coffee mixes and various other coffee-based beverages combined with milk, sugar and ice cream. Various branches have been set up for roasting Starbucks coffee beans. These are factories in Kent, Washington, York, Pennsylvania, Carson Vally, Nevada and Amsterdam.
Contrary to what many people think, it is not compulsory to visit one of the Starbucks branches to enjoy the delicious Starbucks coffee. In fact, Starbucks beans can be purchased in the various branches and in many other shops. This way it is also possible to enjoy a delicious cup of coffee at home.
The history of Starbucks
For the opening of the first Starbucks plant, we have to go back in time, to 1971. It was then in the American city of Seattle that the first branch was set up by three partners. They were Jerry Baldwin, Zev Siegl and Gordon Bowker.
Contrary to what many people suspect, the first Starbucks shop did not just sell quality coffee beans. In addition, equipment was also offered for sale to make the coffee. During the first year, the coffee beans were bought in. This was done at Peet's Coffee & Tea, which was also very well-known. Sometime later, however, Starbucks decided to buy its coffee beans directly from the coffee farmers.
An important milestone took place in the year 1982. At that time, entrepreneur Howard Schultz chose to buy into Starbucks. During a visit to the Italian fashion city of Milan in 1982, he had the idea of selling coffee and espresso drinks at Starbucks branches.
From that moment on, it was no longer just possible to buy loose coffee beans. In itself a good plan, but the three original founders didn't like it. They wanted the company to remain faithful to its (original) core activities. However, Howard Schulz was convinced of his plan and chose to set up his chain of coffee shops in 1985 under the name 'II Giornale'.
A year earlier, the three founders of Starbucks had taken over the well-known coffee bean vendor Peet's Coffee & Tea in 1984. In 1987, the three would eventually sell Starbucks to Schulz's company. The latter chose to keep the name Starbucks, after which all his branches were immediately given the new name. In addition, the company quickly expanded with new branches. The first Starbucks businesses that saw the light of day outside Seattle were in Vancouver and Chicago.
Starbucks is proud to call itself the world's largest chain of coffee shops. There are an incredible number of people around the world who love coffee and the other beverages on sale at Starbucks locations, making them consistently popular. What's more, Starbucks locations are strategically located near busy residential areas and business centres.
Despite the enormous popularity of Starbucks beverages, there are also some red flags to consider as potential investors in Starbucks shares. In the past, in fact, it was already apparent that there were illegal tax arrangements in various countries. Such cases could damage the reputation of the company and the potential of the Starbucks stocks. The share price can then be dented. As an active investor, you can, of course, benefit from this.
Author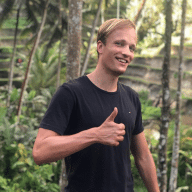 About
When I was 16, I secretly bought my first stock. Since that 'proud moment' I have been managing trading.info for over 10 years. It is my goal to educate people about financial freedom. After my studies business administration and psychology, I decided to put all my time in developing this website. Since I love to travel, I work from all over the world. Click here to read more about trading.info! Don't hesitate to leave a comment under this article.