How to buy UiPath stocks (2023) – invest in UiPath
In the future, automation will become increasingly normal. UiPath is an example of a company that contributes to this trend. Are you interested in buying UiPath stocks? In this article, you can read about the strengths and weaknesses of investing in UiPath shares.
How to buy UiPath stocks?
Do you have confidence in UiPath's plans for the future? Then it may be attractive to buy UiPath stocks for the long term. However, make sure to conduct sufficient research and determine whether this is the best time to invest in UiPath shares.
In the table below, you can see where you can best invest in UiPath stocks:
| Brokers | Benefits | Register |
| --- | --- | --- |
| | Buy UiPath without commissions. Your capital is at risk. Other fees may apply. | |
| | Speculate with CFD's on increasing & decreasing prices of UiPath! 82% of retail CFD accounts lose money. | |
| | Benefit from low fees, an innovative platform & high security! | |
| | Speculate on price increases and decreases of UiPath with a free demo! | |
What is the current stock price of UiPath?
Are you curious about the current price of UiPath stocks? In the graph below, you can see how UiPath shares are performing. Moreover, with the buy and sell buttons, you can start trading UiPath stocks directly.
Company information of UiPath
Below, you can find the most important company information of UiPath.
Analysis of UiPath
Before deciding whether to buy or sell UiPath, it is essential to analyse the stock thoroughly. In the overview below, you can see how UiPath has performed over the past period.
Stock prices of the last 5 days
In the table below, you can see the stock prices of UiPath of the last 5 days:
What will UiPath's stock price do in 2023?
Are you curious about what analysts think UiPath will do in 2023 and the years after that? We have combined the predictions of analysts with the data from Alpha Vantage. Keep in mind that this number is just a prediction about the stock price of UiPath and that this prediction does not necessarily have to come true. Therefore, always conduct your research!
Growing market: The market for robotic work processes is growing rapidly and can help companies limit costs.
Loyal customers: The company has a growing customer base, mainly among medium-sized and large companies.
User-friendly: UiPath is known for its user-friendly interface.
Integration: UiPath's tools are easy to integrate with other business tools, which allows the company to attract new customers.
Innovation: UiPath strongly innovates in the field of AI, which can have a positive effect on the stock price in the future.
What are the risks of investing in UiPath stocks?
Intense competition: UiPath faces strong competition from similar companies such as Automation Anywhere and Blue Prism.
Dependency on a few large customers: a large portion of UiPath's revenue comes from a few large customers. Losing these customers would be bad for profitability.
Dependency on other parties: UiPath is dependent on other technical companies for the integration of its software.
Regulation: new technology-related regulations could put pressure on the company's profitability in the future.
What are UiPath's biggest competitors?
Automation Anywhere: this American company is also an RPA provider and offers various automation options.
Blue Prism: this company in the United Kingdom specializes in the development of automation.
Pegasystems: another American company that focuses on RPA.
How can you invest in UiPath?
Step 1: first, open an account with a reliable stockbroker that allows you to invest in the American stock market.
Step 2: deposit money into your securities account. Decide how much you want to invest in UiPath stocks.
Step 3: open an investment position in UiPath stock. Enter the amount you would like to invest and click buy to send the order to the market.
About UiPath
UiPath is a software company specializing in the development of automated work processes. The company makes it possible to automate rather monotonous tasks as much as possible.
UiPath was founded in 2005 in Bucharest, the capital of Romania. The company's headquarters is now located in New York City, and it also has branches in other major cities such as Washington DC, London, Paris, Singapore, and Tokyo.
Companies are constantly investigating how to reduce their production costs. By using robots, products can be produced at lower costs. This trend is likely to continue, which could make it interesting to invest in a company like UiPath.


UiPath's IPO
In 2020, UiPath intended to go public in the United States. This was made possible after the company gained a lot of trust from American investors. UiPath ranked high in Forbes' lists and received accolades such as Best Tech Company of the Year and Fastest Growing Enterprise of the Year. In December 2020, Bloomberg reported that UiPath had received approval to participate in the technology exchange NASDAQ.
Do you think UiPath can continue to achieve high-growth rates? If so, it may be interesting to invest in UiPath by buying its shares.
During its initial public offering, the stock price rose sharply to $80. Since then, the share price has fallen significantly. I am curious to see if UiPath can turn the tide and set a new all-time high.
Is it wise to invest in UiPath?
Investing in UiPath can definitely be rewarding. The company is the market leader in RPA, which makes it one of the most valuable AI startups. RPA is a form of artificial intelligence that tracks the way users use ERP and CRM applications.
The algorithm can then come up with faster and smarter ways to automate certain tasks. This can save companies a lot of money and reduce the number of errors made.
You can also see that UiPath is very popular with government agencies and financial enterprises. The company's algorithms can be used, for example, to execute compliance tasks at banks more quickly. It is certainly interesting to follow the developments within this company: investing in UiPath shares by buying them can turn out well. Always research if the stocks fit well within your current investment strategy.
Author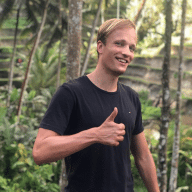 About
When I was 16, I secretly bought my first stock. Since that 'proud moment' I have been managing trading.info for over 10 years. It is my goal to educate people about financial freedom. After my studies business administration and psychology, I decided to put all my time in developing this website. Since I love to travel, I work from all over the world. Click here to read more about trading.info! Don't hesitate to leave a comment under this article.