What is Bitvavo?
Are you not sure what Bitvavo is? Then you've come to the right place! Here you can what Bitvavo is & how you can trade on this exchange yourself.
What is Bitvavo?
Bitvavo is the largest and cheapest crypto exchange based in the Netherlands. Bitvavo is active in the entire European Union and accepts international customers as well.
A crypto exchange is a place where you can exchange fiat money into cryptocurrencies such as Bitcoin or Ethereum. Opening an account with Bitvavo is completely free. When you open an account with Bitvavo using the button below, you will also pay absolutely no transaction fees on your first € 1000:
What can you do at Bitvavo?
You can use Bitvavo to quickly buy cryptocurrencies. At Bitvavo it is possible to add money to your account using bank transfer or iDEAL. You can then convert your hard-earned euros to any of the over 150 cryptocurrencies offered.
One of the advantages of Bitvavo are the low costs: these are never higher than 0.25%!
All in one solution
A big advantage of Bitvavo is that it is an all-in-one solution for cryptocurrencies. In a way, you can consider Bitvavo to be your bank, but exclusively for cryptocurrencies.
You can use your account at Bitvavo for trading cryptocurrencies. It is also possible to store your cryptos at Bitvavo and keep a balance there.
The Bitvavo platform is reliable: they do everything they can to make the exchange as secure as possible. Click here to read how Bitvavo ensures its reliability.
Who are behind Bitvavo?
Bitvavo was founded in 2017 by Jelle de Boer and Tim Baardse. Meanwhile, the company has grown considerably and its headquarters can be found at Herengracht 250. Would you like to get in touch with Bitvavo? Then you can send an email to [email protected].
Would you like to know more about Bitvavo?
On Trading.info you can find several articles that can help you on your way with Bitvavo:
Frequently asked questions about Bitvavo
In my experience, Bitvavo is a good trading platform. At Bitvavo, you can deposit money to your account and buy bitcoins and other cryptocurrencies without much effort. Big advantages of this provider are the user-friendly software, low transaction fees and high reliability. In the Bitvavo review you can read my findings with Bitvavo in more detail.
Bitvavo is a reliable & secure party that is also registered with the Dutch bank. They are insured by Coinbase Costudy up to an amount of $255 million. This means that even if something goes wrong, they can take care of the losses.
Bitvavo is a large company based in the centre of Amsterdam. The company makes sure that you, as a user, can always trade cryptos quickly and safely. They do this by constantly improving the platform, offering customer service and expanding the range of cryptocurrencies.
Bitvavo has over a million users in the Netherlands! This confirms once again that Bitvavo is the largest crypto exchange in the Netherlands.
Yes, Bitvavo is an exchange or crypto exchange. This means that you can buy and sell Bitcoins and other cryptocurrencies at Bitvavo.
Author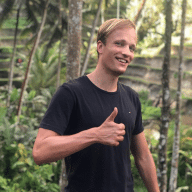 About
When I was 16, I secretly bought my first stock. Since that 'proud moment' I have been managing trading.info for over 10 years. It is my goal to educate people about financial freedom. After my studies business administration and psychology, I decided to put all my time in developing this website. Since I love to travel, I work from all over the world. Click here to read more about trading.info! Don't hesitate to leave a comment under this article.