What are the advantages of Bitvavo?
Are you considering buying bitcoins and other cryptocurrencies at Bitvavo? In this article we will discuss the biggest advantages of Bitvavo's trading platform. Are you also curious about the disadvantages of Bitvavo? Then read this article.
Don't have an account with Bitvavo yet? Open an account now for free & pay no transaction fees on your first €1000 of transactions:
Advantage 1: low transaction fees
A big advantage of buying & selling Bitcoins and other cryptocurrencies at Bitvavo is the low transaction fees. At Bitvavo, you will never pay more than 0.25% in fees, and this percentage can go down even more when you trade high volumes.
Are you curious about Bitvavo's fee structure? Then read this article & discover how the fee structure at Bitvavo works.
Advantage 2: trade from as little as 5 euros
Cryptos are accessible to everyone at Bitvavo. It is possible to buy bitcoins for an amount of €5. This allows you to buy cryptos periodically (e.g. every month) for a small amount.
Advantage 3: reliable exchange
Bitvavo does everything in their power to keep your crypto assets safe. For example, Bitvavo's wallets are insured up to an amount of 255 million euros. Because you are trading with a Dutch company that is registered with the Dutch bank, you can be sure that the company has to meet strict requirements. In our article about the reliability of Bitvavo we will discuss this in more details.
Advantage 4: usability
Another major advantage of Bitvavo is the user-friendliness of the platform. Some crypto exchanges make the buying and selling of bitcoins unnecessarily complicated. At Bitvavo, you can actually buy bitcoins with just a few clicks.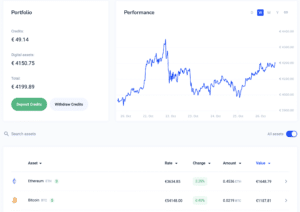 Advantage 5: earning money with staking
Another advantage of Bitvavo is that it allows you to earn money by staking. With staking you periodically receive interest over your cryptos. At Bitvavo, this staking can yield up to 10.
Advantage 6: professional support
Another advantage of Bitvavo is their reachability. You can reach the support team of Bitvavo by means of their live chat and email. Their support is available in multiple languages such as English, Dutch, French and German.
Do you want to read more about Bitvavo?
In this Bitvavo review, you can read everything you need to know about trading cryptos with Bitvavo. You can also read the Bitvavo manual: there, we discuss in detail how buying & selling cryptos works.
Author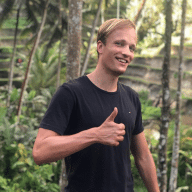 About
When I was 16, I secretly bought my first stock. Since that 'proud moment' I have been managing trading.info for over 10 years. It is my goal to educate people about financial freedom. After my studies business administration and psychology, I decided to put all my time in developing this website. Since I love to travel, I work from all over the world. Click here to read more about trading.info! Don't hesitate to leave a comment under this article.