How to buy Galapagos shares (2023) – invest in Galapagos stocks
Galapagos is a Dutch-Belgian pharmaceutical company that develops various promising medicines. Are you considering an investment in Galapagos stocks? In this article, you will learn how to invest in Galapagos shares!
When you want to buy Galapagos shares, it is wise to research how the company performs. If the medicines being developed by Galapagos are approved, the company can achieve high profits. However, if this does not happen, the stock price can suffer a significant blow.
Additionally, carefully compare Galapagos' medicines with those of its competitors. If the competition brings better, new medicines to the market, Galapagos' market share may decrease. One advantage of investing in Galapagos stocks, is the fact that people need medicine even during economically challenging times. As a result, the stock price is less sensitive to macroeconomic developments.
Are you looking for a reliable broker to buy Galapagos shares? Then check out the table below to compare different providers:
| Brokers | Benefits | Register |
| --- | --- | --- |
| | Buy Galapagos without commissions. Your capital is at risk. Other fees may apply. | |
| | Speculate with CFD's on increasing & decreasing prices of Galapagos! 82% of retail CFD accounts lose money. | |
| | Benefit from low fees, an innovative platform & high security! | |
| | Speculate on price increases and decreases of Galapagos with a free demo! | |
Promising medicines: Galapagos has several promising medicines in development that can generate additional income upon approval. Galapagos works on medications for cancer and autoimmune diseases, among others.
Collaborations with other pharma companies: Galapagos collaborates with other major pharmaceutical companies to develop and sell new medicines. This provides Galapagos with access to more resources and helps the company diversify its risks.
Strong management: Galapagos has a strong management team that understands the necessary steps to bring new medicines to the market.
What are the risks of investing in Galapagos stocks?
Development risk: Developing new medicines is costly and risky. There is no guarantee that the medicines will be successful in clinical trials or approved by the FDA.
Competition: Galapagos faces competition from other pharmaceutical companies developing drugs for the same diseases. If these companies succeed in bringing a good medicine to market earlier, Galapagos may lose market share.
Regulations: The regulations for developing and bringing medicines to market are stringent. These regulations increase the costs of developing new medicines.
Who are Galapagos' biggest competitors?
AbbVie
Amgen
AstraZeneca
Bristol-Myers Squibb
Eli Lilly
Gilead Sciences
Johnson & Johnson
Merck & Co.
Novartis
You can invest in Galapagos shares through a modern online broker. An equity broker is a company that facilitates the trading of Galapagos shares. Click here to compare the most reliable stockbrokers directly.
Once you have opened and activated an account, you can start investing in Galapagos. Select the Galapagos stock within the trading platform and enter the amount you want to invest. Then, choose the amount you would like to invest and decide between a market order or a limit order. You can also use a stop loss if you want to automatically close the investment at a certain loss.
Congratulations, you have now opened your first investment in Galapagos shares! Remember to log in regularly to evaluate your investment results.
What does the company Galapagos do?
The Belgian-Dutch pharmaceutical research company Galapagos specializes in the discovery and development of new medicines. The company develops medicines for conditions such as rheumatism, psoriasis, Crohn's disease, and cystic fibrosis. Its headquarters are located in Mechelen, Belgium, with additional locations in Leiden, the Netherlands, and Romainville, France.

Company History
Galapagos was founded in 1999 as a joint venture between the Dutch biotechnology company Crucell and the Belgian pharmaceutical company Tibotec. In 1999, the company was named Galapagos Genomics and later changed its name to Galapagos BV.
Listing of Galapagos on the stock exchanges
The company's shares are listed on the stock exchanges Euronext Brussels and Amsterdam (since May 2005) and NASDAQ (since May 2015). The stock is traded under the abbreviation GLPG on these exchanges.
Companies Acquired by Galapagos
In 2006, the company Proskelia in Romainville, France, was acquired. This acquisition provided the company with R&D operations and products for musculoskeletal conditions such as osteoporosis and bone metastasis.
In 2010, the company acquired GSK's state-of-the-art research centre in Zagreb, Croatia. The research centre was renamed Fidelta and now operates as a service division of Galapagos.
Selling Medicine in partnership with Gilead
In 2017, Galapagos announced that, after the approval of the medicine, it would sell the drug filgotinib in collaboration with partner Gilead Sciences. This medicine is used for the treatment of rheumatism.
Before investing in Galapagos shares, it is wise to research medicines that are yet to be approved. If a new medicine with significant potential is approved, it can give a significant boost to the company's performance. In that case, investing in Galapagos shares may be worth considering.
Expansion of collaboration with Gilead
In July 2019, Galapagos entered into a collaboration agreement with Gilead Sciences. This agreement grants Gilead Sciences exclusivity and insight into all major medicines being developed by Galapagos. Gilead Sciences paid 3.5 billion euros for this collaboration agreement.
Gilead Sciences acquired Galapagos stocks, increasing its stake from 12.3% to 29%. Thanks to this collaboration, Galapagos can remain an independent company, and it creates opportunities for the discovery and development of new medicines.
Do you think this collaboration will be favourable? Then it may be wise to buy Galapagos shares.
2019: Galapagos stock price skyrockets
The expansion of the collaboration with the American company Gilead, known for its HIV/AIDS medications, has a positive effect on the stock price of Galapagos. After the announcement of this news on July 15, 2019, the Galapagos stock price skyrocketed.
Whether it is advisable to buy Galapagos stocks depends largely on your personal situation. Galapagos is an example of a high-risk, high-reward investment. When Galapagos introduces a new successful medicine to the market, the stock price can increase significantly. However, developing medicines is expensive, and if there are no successful outcomes, the Galapagos stock price can also come under pressure.
Take the time to research the different medicines being developed by Galapagos. By doing so, you will know in which stages the company is and how likely it is that Galapagos will bring a new product to the market. Then, determine whether an investment in Galapagos shares aligns with your current risk profile.
Author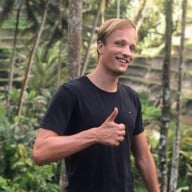 About
When I was 16, I secretly bought my first stock. Since that 'proud moment' I have been managing trading.info for over 10 years. It is my goal to educate people about financial freedom. After my studies business administration and psychology, I decided to put all my time in developing this website. Since I love to travel, I work from all over the world. Click <a href="/about-us/">here</a> to read more about trading.info! Don't hesitate to leave a comment under this article.