How to buy Galapagos shares?
Galapagos is a Dutch-Belgian pharmaceutical company that develops various promising medicines. Are you considering investing in Galapagos? In that case you should first read how best to buy Galapagos shares!
Do you want to buy Galapagos shares? You can directly trade in Galapagos stocks with one of these reliable brokers:

| Brokers | Benefits | Register |
| --- | --- | --- |
How can you actively trade in Galapagos?
It is also possible to actively trade in Galapagos CFD shares. You can do this at an online broker such as Plus500. At this broker you can speculate on both rising and falling prices. This allows you to open an trading position even when new medications are rejected. Use the button below to open a free demo with Plus500:
What does the Galapagos company do?
The Belgian-Dutch pharmaceutical research company Galapagos specializes in the discovery and development of new medicines. For example, the company develops medicines against rheumatism, psoriasis, Chron's disease and cystic fibrosis.  The company is headquartered in Mechelen (Belgium). The company also has branches in Leiden (the Netherlands) and Romain-ville (France).
Company history
The company was founded in 1999. It was created through a joint venture between the Dutch biotechnology company Crucell and the Belgian pharmaceutical company Tibotec. In 1999, the name of the company was Galapagos Genomics and later the name was changed to Galapagos BV.
Listing of Galapagos on the stock exchanges
The shares of this company are listed on the stock exchanges Euronext Brussels and Amsterdam (as from May 2005) and NASDAQ (as from May 2015). The shares are listed on these stock exchanges with the abbreviation GLGP.
Companies acquired by Galapagos
The company Proskelia in Romainville, France was acquired in 2006. Through this acquisition, the company acquired R&D operations and products against musculoskeletal disorders such as osteoporosis and bone metastasis.
In 2010, the company took over GSK's state-of-the-art research centre in Zagreb, Croatia. The name of this research centre was changed to Fidelta which is now a service division of Galapagos.
Selling medicines together with partner Gilead
Galapagos announced in 2017 that it will sell the drug filgotinib together with partner Gilead Sciences after registration of the drug. This is a medicine for rheumatism. If approved for commercial sale, the drug will be sold in 8 European countries.
Before investing in Galapagos shares, it is wise to do some research into medicines that still need to be approved. When a new drug with a lot of potential is approved, it can give a big boost to the company's results. You can then consider buying Galapagos shares.
Expanding cooperation with Gilead
Galapagos signed a cooperation agreement with Gilead Sciences in July 2019. This agreement gives Gilead Sciences exclusivity and right of access to all major medicines developed by Galapagos. Gilead Sciences paid €3.5 billion for this cooperation agreement.
By purchasing Galapagos shares, their stake in the company was increased from 12.3% to 29%. Thanks to this cooperation Galapagos can remain an independent company. Moreover, this cooperation creates space for the discovery and development of new medicines.
Do you think this cooperation is going to be beneficial? In that case, it might be smart to buy Galapagos shares.
The expansion of the cooperation with the American company Giead, known for its medicines against HIV/AIDS, has a positive effect on the share price of Galapagos. Following the announcement of this news on 15 July 2019, the price of Galapagos stocks is skyrocketing. The rheumatism drug, developed together with Gilead, is likely to be approved for commercial sale soon.
Author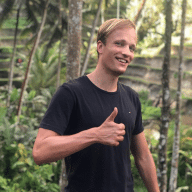 About
When I was 16, I secretly bought my first stock. Since that 'proud moment' I have been managing trading.info for over 10 years. It is my goal to educate people about financial freedom. After my studies business administration and psychology, I decided to put all my time in developing this website. Since I love to travel, I work from all over the world. Click here to read more about trading.info! Don't hesitate to leave a comment under this article.