How can you buy Air France-KLM shares?
Air France-KLM is a cooperation between two major airlines. Together, they are the largest airline in terms of turnover and they are in second place when it comes to transporting large quantities of cargo. But what is the best place to buy Air France-KLM stocks? And what is the current Air France-KLM stock price? In this extensive analysis you will read everything you need to know about Air France-KLM shares.
Do you want to buy Air France-KLM shares? You can directly trade in Air France-KLM stocks with one of these reliable brokers:

| Brokers | Benefits | Register |
| --- | --- | --- |
How can you actively invest in Air France-KLM?
You can actively invest in Air France-KLM yourself by buying and selling stocks. At the broker Plus500 you can actively trade in this CFD share for as little as $100. The great thing about this broker is that you can open both long and short trading positions. When you open a short position you can obtain a positive result when the stock price falls. This allows you to invest in the company under all market conditions.
With Plus500 you can try this way of investing completely free of charge and without risk by using a demo. With the button below you can open a free demo account with Plus500:
What is the current stock price of Air France-KLM?
Are you curious about the current stock price of Air France-KLM? Below you can view the latest CFD price data of the company. You can also place an order directly using the buy and sell buttons.
Investing in Air-France KLM during the corona pandemic
The coronavirus has a major impact on the operating results of Air-France KLM. During the lockdown, the entire fleet was on the ground and even now far fewer tickets are being sold. The Dutch and French governments have promised billions in support. Nevertheless, the future of the company is still uncertain: a long-term investment in Air-France KLM is therefore very risky at the moment.
However, it may be a good time to actively invest in the price development of Air-France KLM. When Pfizer released the news that the vaccine showed promising results, the price immediately rose by tens of percent in one day. The share is therefore still of interest to the active speculator.
About Air France-KLM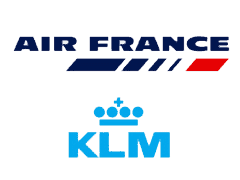 In 2018, Air France-KLM carried a total of 101,4 million passengers. Air France-KLM is part of SkyTeam, which includes many other well-known airlines. This makes it one of the largest networks of air hubs in the world. Together, the companies carry more than 384 million passengers on more than 13,000 daily flights.
The shares of Air France-KLM are listed in Amsterdam, Paris and New York. Air France-KLM makes money in three ways:
Carriage of passengers
Carriage of freight
Carrying out repairs
Air France-KLM ranks first in the world for the transport of cargo. The combination of Air France Industries and KLM Engineering & Maintenance is also doing well in the field of maintenance. They not only maintain their aircraft, but also those of more than 150 other parties.
Do you think that this huge airline will continue to grow in the future? Then it may be attractive to invest by buying shares in Air France-KLM.
Before you buy Air France-KLM shares, it is important to carry out a proper analysis. It is wise to check what the company's strengths are.
Two brands
Air France-KLM operates two separate brands, Air-France and KLM. This allows the company to respond perfectly to both the French and Dutch markets. Both brands resonate well with a different target group and by letting them exist, the company can attract many passengers.
Economies of scale
Because the companies have merged, a lot of cost savings have been made. As a result, processes are better optimized and both companies can learn from each other. Do you think this will lead to better results at Air France-KLM? Then it might be interesting to buy the shares.
A growing target group
Worldwide, the level of prosperity is increasing. As a result, more and more people are taking the plane to go on holiday. When the total number of passengers increases, the sales market increases. As a result, Air France-KLM has more options to sell flights, allowing the company to make more profit.
Too big to fail
Small businesses simply go bankrupt when the business is not doing well. This does not seem to work as it does for Air France-KLM. When the company got into trouble because of the corona pandemic, both the Dutch and the French authorities jumped in. This reduces the risk of an investment in the company. However, when the government proceeds with nationalization in the future, you still run the risk of losing a lot of money with your investment in Air-France KLM.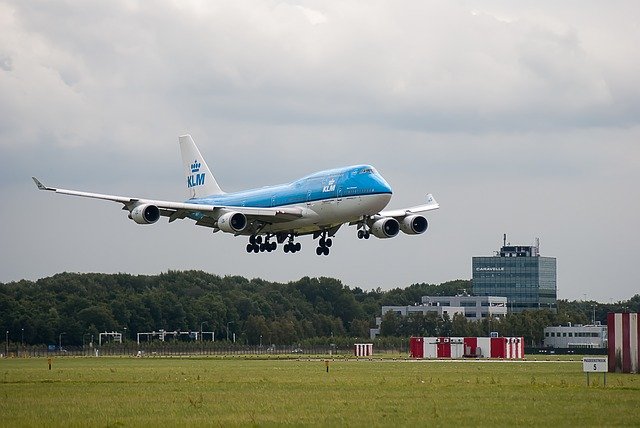 Risks of Air France-KLM stocks
Shares are never without risk. At Air France-KLM, too, there are a number of threats that need to be taken into account. In this section you can find an overview of the different risks of investing in Air France-KLM.
Oil prices
A major risk to the share price of Air France-KLM are oil prices. Aeroplanes use a lot of oil. When oil prices rise, the costs for Air France-KLM therefore increase considerably. This puts pressure on the company's profit margin. When oil prices rise, you often see that the share price of an airline like Air France-KLM falls.
The environment
More and more attention is being paid to the environment. Flying is not exactly a sustainable way of travelling. Governments are therefore increasingly trying to discourage flying. At the same time, governments are encouraging alternative means of transport like the train.
At the moment, flying is still heavily sponsored. Kerosene, for example, is not taxed worldwide. If this changes in the future, it could increase the price of flying considerably. Governments are also considering introducing additional taxes on flies. This could reduce the number of people taking the plane.
At the same time, sustainability is also an opportunity for a company like Air France-KLM. They capitalize on this by constantly improving the environmental friendliness of the processes within the company. They also offer passengers the opportunity to compensate their emissions.
In 2021, a new flight tax will be introduced in the Netherlands: passengers will then have to pay an extra tax on each flight ticket. This could put further pressure on the share price of Air France-KLM.
Flight shame
Airlines are also fighting the trend of flight shame. Flying shame is a feeling of shame that people get when they go somewhere with an aeroplane. The negative consequences of flying are becoming more and more obvious and, as a result, whole groups of people are renouncing flying. Air France-KLM will have to deal with this in a smart way. After all, flying must not obtain the reputation smoking has these days.
Competition
Competition is also a major risk for Air France-KLM. Air France-KLM distinguishes itself by offering a better service than many other airlines. Yet the low-cost airlines often offer tickets much cheaper. Many people tend to look at the price and here Air France-KLM can lose customers.
KLM responds to this by, for example, making check-in baggage optional on long flights. This allows ticket prices to be lowered for people travelling without baggage. Do you think these kinds of strategies are sufficient to stay ahead of the competition? Then it may be attractive to buy Air France-KLM stock.
Infrastructure constraints
The growth of Air France-KLM is limited by infrastructure. In some countries there is simply not enough space to execute more flights. Residents often protest against further expansions of airports. As a result, the number of flights cannot grow even though the demand may still increase.
Pandemic
Problems with the global economy as a whole may put severe pressure on the Air France-KLM share price. This can be seen, for example, during the corona pandemic in 2020. Because people can fly much less, KLM can barely fill up its aircraft. As a result, the company loses millions every day. Airlines such as Air-France KLM are also vulnerable to such developments in the future.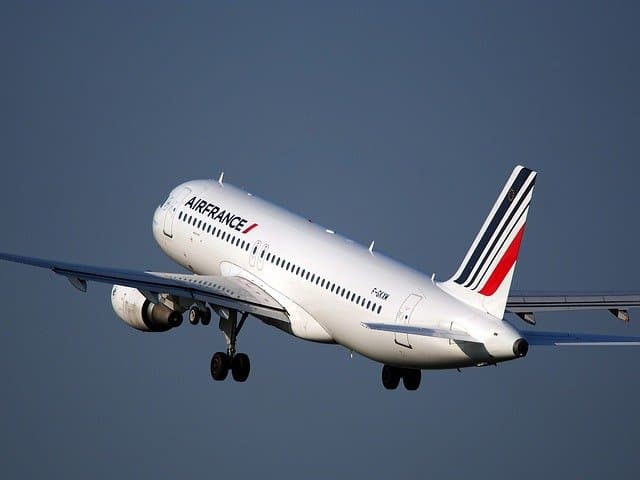 Major influence of governments
Both the Dutch and French authorities are major shareholders in Air France-KLM. Moreover, in 2020 both governments gave State aid to the company to guarantee its survival during the corona pandemic. As a result, the influence of these governments within the company is growing strongly. Many left-wing political parties want to restrict air traffic: this is obviously not good for the company's profitability. It is therefore important to keep an eye on these developments when you want to buy Air-France KLM shares.
Dilution
Air-France KLM has a weak financial position due to the corona- pandemic. As a result, the company may have to issue new shares. In any case, Air-France KLM will have to take out new loans. All this leads to dilution and a reduction in future profitability. Investing in Air-France KLM is therefore risky.
Decrease in business travellers
During the coronary pandemic, more and more companies discovered that it is perfectly possible to hold meetings online. Even after the pandemic, people are expected to fly less often for work meetings. Business class tickets, on the other hand, bring a lot of income for an airline such as Air-France KLM. This trend is therefore worrying for the future of the company.
History of Air France-KLM
Air France – KLM is a French-Dutch multinational airline operating under French law with headquarters in Roissy-Charles de Gaulle Ariport near Paris.
In 2003, on 30 September to be precise, Air France-KLM was created by a merger between Air France and KLM. An entirely new structure was created under a new holding company, Air France-KLM, which consists of the two airlines, namely KLM and Air France. This in turn includes a number of regional and budget airlines.
It is intended that the Air France and KLM brands will be retained for a few decades before they may both be merged into a single brand name to be known worldwide. In order to complete the merger at that time, the combination had to give up a few airport slots at both Schiphol and Paris by order of the European Commission.
Head office
The head office of the new holding company is in Paris, but KLM will continue to operate under Dutch law. In this way, landing and overflight rights can be maintained.
As a result of the acquisition, KLM also joined SkyTeam, an alliance of cooperating airlines. Air France was already a member before the merger.
The future of aviation in Europe
According to experts, there is only room in European airspace for three major airlines and one or two cheaper airlines. The rest of the smaller airlines will merge or be taken over by the larger ones to survive.
At the end of 2007, Air France-KLM took over the entire Belgian VLM. VLM will continue to operate as an independent company. Martinair was also fully taken over later in 2008.
Belonging to the Air France-KLM holding company are:
Air France, including Brit Air, CityJet, Régional and Transavia.com France
KLM, including KLM CityHopper, Transavia.com and the rest of the Transavia.com France shares.
Air France-KLM Cargo including Air France Cargo, KLM Cargo, Martinair Cargo.
In addition, the holding company is still partial owner of Kenya Airways, Alitalia, Airlinair, CCM Airlines, Air Tahiti, Air Mauritius, Royal Air Maroc and Air Calédonie.
Do you think that all these brand names contribute to the results of Air-France KLM? Then it might be interesting to invest in the shares!
Author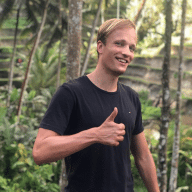 About
When I was 16, I secretly bought my first stock. Since that 'proud moment' I have been managing trading.info for over 10 years. It is my goal to educate people about financial freedom. After my studies business administration and psychology, I decided to put all my time in developing this website. Since I love to travel, I work from all over the world. Click here to read more about trading.info! Don't hesitate to leave a comment under this article.