How to buy Tilray stocks?
The Canadian-based company Tilray (TLRY) was founded in 2013. This Canadian/American company produces cannabis and pharmaceuticals. When the company was founded, the objective was to be able to sell legal cannabis products in the US. Do you think they will be able to achieve this goal? Then investing in Tilray by buying stocks is a wise move! On this page you can see directly where to buy Tilray shares. You can also consult the current stock price of Tilray shares here.
Where can you buy Tilray stocks?
Do you want to buy Tilray Stocks shares? You can directly trade in Tilray stocks with one of these reliable brokers:

| Brokers | Benefits | Register |
| --- | --- | --- |
How can you actively invest in Tilray?
Active investment in a share like Tilray can be very attractive. The share has been very volatile during the last period. You can cleverly respond to this by selling on the upside and buying in the downside. In that way, huge drops in the stock price are no problem at all! By opening a short position you can even respond to falling prices. With a short position you get a positive result when the Tilray share price drops.
A good party to try active CFD trading is Plus500. Use the button below to open a free account with this broker:
What is Tilray's current stock price?
Are you curious about the current price of Tilray stocks? Understandable! After all, the fluctuations are fascinating. The graph below shows the current CFD price of Tilray stocks. You can also use the buttons to open a position on the share.
Is it smart to invest in Tilray?
An investment in Tilray stocks can certainly be interesting. The cannabis market as a whole is very interesting and could grow strongly in the coming years. Especially now that more and more American states allow cannabis for recreational use, companies like Tilray can strongly increase their sales. In Europe, too, the company has built up a good position thanks to the facility in Portugal.
At the same time, the laws are still constantly being adapted and developed, as a result of which there is still a great deal of uncertainty about Tilray's future potential. Besides this uncertainty, the illegal cannabis markets are still a strong competitor to the Canadian Tilray.
It is therefore important, when considering an investment, to remember that the cannabis market is still very young. There is a great deal of uncertainty about the future of the Tilray company. Buying stocks in the company is therefore certainly not without risk.
Milestones in the history of Tilray
The first milestone for Tilray was the approval by the GMP (Good Manufacturing Practices) system of the company's cannabis products. This approval was obtained in 2016. At that time, the company was the first company with an approval to produce cannabis in North America.
A second milestone for the company was the IPO: in July 2018 the company was listed on the famous NASDAQ.
A third milestone was Tilray's major breakthrough in September 2018. Tilray was then the first company to obtain permission to export cannabis to the United States. The cannabis was used in clinical trials.
The signing of a deal with Sander Pharmaceuticals in November 2018 was also a milestone for the company. After signing the deal, Tilray could trade its cannabis products around the world. Do you think the legalization will continue and that it will be possible to buy cannabis products in more and more countries? Then it might be attractive to invest in Tilray stocks.

More and more states in North America have legalized cannabis for medical and recreational use. Medical use will be permitted in 30 out of 50 states by 2018. As a result, recreational cannabis use is permitted in 10 states and in Columbia. As a result of that legalization, the market for cannabis is booming and that has had an impact on share prices in recent times. The ongoing legalization of cannabis gave a clear boost to the price of North American cannabis stocks in 2018. Now that it is clear that the legalization is not progressing at the same pace everywhere, many prices have fallen again. This does not alter the fact that the marijuana market is huge: the potential is definitely there!
Do you think that further legalization will lead to an increase in share prices? In that case, it could be very interesting to buy Tilray shares from a broker.
In 2018, Tilray will be in second place on a list of the best cannabis stocks. The company went public in July 2018. In September 2018, the share price rose by no less than 380%. This is a share that symbolizes the rise in the price of cannabis stocks in 2018.
However, these huge increases proved to be unrealistic. The share therefore fell sharply from a valuation of almost USD 150 in 2018 to just a few dollars in March 2020. It seems that under the hype, Tilray's stock price was overvalued. Do you think that there will be another attractive buying moment in the future? Then you can certainly consider investing in Tilray stocks.
Active investors can also benefit from this kind of huge fluctuation. By speculating on price movements, you can benefit from both rising and falling price movements.
Tilray is active in many countries
Tilray is constantly expanding its activities. The company can be found in Australia and New Zealand, Canada, Europe and Latin America.
Tilray was the first company to legally export cannabis from North America to Australia and New Zealand. The company is now one of the main suppliers of cannabis for medical purposes.
In Canada, Tilray was one of the first companies to be given permission to legally produce cannabis. Today, the company is the leading supplier of medical cannabis in Canada. Tens of thousands of patients in Canada have access to cannabis thanks to Tilray.
Tilray was the first company to legally export cannabis from North America to Europe. The Portuguese Government granted the company a cultivation licence. Cannabis grown in Portugal is intended for the European market. In several European countries the cannabis is now available from pharmacies.
In Chile Tilray imports, produces and distributes cannabis. The company plans to distribute its cannabis throughout Latin America.
Author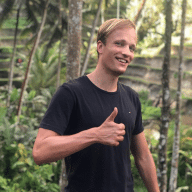 About
When I was 16, I secretly bought my first stock. Since that 'proud moment' I have been managing trading.info for over 10 years. It is my goal to educate people about financial freedom. After my studies business administration and psychology, I decided to put all my time in developing this website. Since I love to travel, I work from all over the world. Click here to read more about trading.info! Don't hesitate to leave a comment under this article.