How to buy AMD shares (2023)? – invest in AMD stocks
AMD designs processors and has been competing with the well-known company Intel for a long time. Despite being the smaller sibling, AMD manages to keep up quite well. Buying AMD stocks can therefore be a good decision at the right time. Are you curious about how to invest in AMD stocks? On this page, you can read everything you need to know about AMD stocks!
How to buy AMD stocks?
Do you want to buy AMD stocks? You can do this through a so-called broker. A broker is a party that enables retail investors to buy and sell stocks. It is important to choose a party where you can trade AMD stocks at low fees.
Below, you can see which brokers are the best for investing in AMD stocks:
| Brokers | Benefits | Register |
| --- | --- | --- |
| | Buy AMD without commissions. Your capital is at risk. Other fees may apply. | |
| | Speculate with CFD's on increasing & decreasing prices of AMD! 82% of retail CFD accounts lose money. | |
| | Benefit from low fees, an innovative platform & high security! | |
| | Speculate on price increases and decreases of AMD with a free demo! | |
What is the current stock price of AMD?
Do you want to know what the current price of the AMD stock is? Below, you can see a graph with the price of AMD shares. You can also use the buttons to directly open a position in the stock.
Company data of AMD
Below, you can see the most important company data of AMD.
Analysis of AMD stocks
Before deciding whether to buy or sell AMD shares, it is important to analyze the stock. In the overview below, you can see how AMD has developed over the past period.
Stock prices of the last 5 days
In the table below, you can see the stock prices of AMD of the last 5 days:
What will the price of AMD do in 2023?
Are you curious about what analysts think AMD will do in 2023 and the years after? We have combined the forecasts of analysts using data from Alpha Vantage. Keep in mind that this figure is just a prediction of the price development of AMD and this prediction does not have to come true.
Why can it be interesting to invest in AMD stocks?
Competition with Intel
AMD has overtaken Intel on more and more fronts thanks to the powerful Ryzen and EPYC processors. The increase in AMD's market share can be a good reason to invest in the company.
Innovation
There are plenty of reasons why investing in AMD shares can be attractive. A good reason to invest in AMD stocks, is the fact that they regularly innovate. Did they just release a new product that you have confidence in? Then it may be wise to buy AMD shares.
Crypto & mining
Favorable developments in the crypto market can also be attractive. The company thinks along with miners and constantly brings new processors to the market which can help with these activities. When more people start mining, the demand for processors rises, which is of course favorable for AMD.
Collaborations with large companies
It is also interesting that AMD collaborates with other major companies such as Microsoft and Baidu. For example, Microsoft uses processors for the cloud and Baidu also uses the processors for its data centers.
Financial performance
AMD has consistently posted profitable numbers in recent years, and the stock price has risen significantly. Remember, however, that past performance is not a guarantee of future results.
Competition
A major risk of buying AMD stocks is the fierce competition. AMD, for example, has to compete with Intel and Nvidia, where Intel has dominated the GPU market in the past and Nvidia dominates the GPU market.
Other, new companies such as Radeon and Firepro are also active in the graphics processor market. These companies are a competitive force as they provide high-quality processors at competitive prices.
Dependency on a few key customers
AMD is highly dependent on a few major customers for a large part of its revenue. For example, AMD provides chips for the Xbox and PlayStation. Losing such large customers can have a major impact on the company's results. This happened, for example, in 2012 when AMD lost Dell as a customer.
Declining demand for computers
Another risk for an investment in AMD stock is that the demand for computers worldwide decreases. This is likely due to more people using other devices. When fewer processors are needed, AMD will have to look for other markets to sell their processors.
What are the biggest competitors of AMD?
How to invest in AMD stocks?
Research: Take the time to thoroughly research AMD stocks before considering an investment.
Open an account: You will need an account with a reputable stock broker to buy AMD shares.
Deposit funds: Determine the amount you want to invest in AMD shares and deposit this amount into your investment account.
Select AMD stock: You can easily find AMD stock within the investment platform by using the search function.
Buy AMD shares: Enter the amount you want to invest and press buy to send the order to the stock market.
Evaluate your investment: After your investment is opened, it may be wise to keep a close eye on it. You can sell your AMD shares at any time.
Predicting the AMD stock price
Demand for processors
The first factor that is important when analyzing AMD stock is the overall demand. When the economy performs well and the global demand for processors increases, this is positive for the AMD stock price. However, there are also other important factors at play.
Technological developments
When investing in AMD stocks, it is important to keep a close eye on technological developments. When AMD introduces new techniques to the market, this can give the stock price a boost.
Compare products with competitors
When investing in AMD shares, it is important to follow the latest developments. Major competitors such as Intel, IBM, and Nvidia constantly introduce new products to the market.
If AMD's new products are better, this can have a favorable effect on the stock price and you may consider buying AMD shares. If the products are less good, it may be better to refrain from investing in AMD stocks for a while.
AMD has built a strong position within the semiconductor industry and produces reliable CPUs and GPUs. By focusing on innovation, AMD regularly introduces new, improved products. The company has also established valuable collaborations with companies such as Microsoft and Samsung.
However, there are also risks associated with investments in AMD stocks. For example, the company is highly dependent on one specific industry for its results. Additionally, the competition in the CPU and GPU market is strong, which puts constant pressure on AMD to produce new products.
It is therefore recommended to closely monitor the company's new products. This allows you to determine whether it is worth buying AMD shares. Always research whether AMD stocks fit within your risk profile.
Author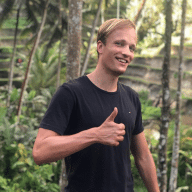 About
When I was 16, I secretly bought my first stock. Since that 'proud moment' I have been managing trading.info for over 10 years. It is my goal to educate people about financial freedom. After my studies business administration and psychology, I decided to put all my time in developing this website. Since I love to travel, I work from all over the world. Click here to read more about trading.info! Don't hesitate to leave a comment under this article.