What are the best mobile stock investment apps (2023)?
Are you curious about the best investing apps of 2023? In this article, I will discuss my favourite trading apps that allow you to invest online in assets such as stocks, ETFs, and cryptocurrencies. In my top 10 list, you will find the best trading apps you can use to buy & sell stocks.
What are the best mobile investment apps of 2023?
In the overview below, you can see my favourite mobile apps of 2023. In the rest of this article, you can read more about the features of the different mobile applications.

| Brokers | Benefits | Register |
| --- | --- | --- |
| | Buy without commissions. Your capital is at risk. Other fees may apply. | |
| | Speculate with CFD's on increasing & decreasing prices of ! 82% of retail CFD accounts lose money. | |
| | Benefit from low fees, an innovative platform & high security! | |
| | Speculate on price increases and decreases of with a free demo! | |
eToro is my favourite all-around investment app. You can invest in 3000+ different stocks, ETFs, and cryptocurrencies on eToro without commissions. Moreover, it is possible to actively speculate on price increases and decreases with derivatives. New users can also try the possibilities for free with an unlimited demo.
I'm also a big fan of the Copy Trading feature, which allows you to copy other successful traders within your account. However, there are also some downsides to the eToro application: you can only open a dollar account, and you will pay $5 in transaction fees when you withdraw money. Do you want to know more about eToro? Click here to read the review or open an account directly! (74% of retail investor accounts lose money when trading CFDs with this provider. You should consider whether you can afford to take the high risk of losing your money.)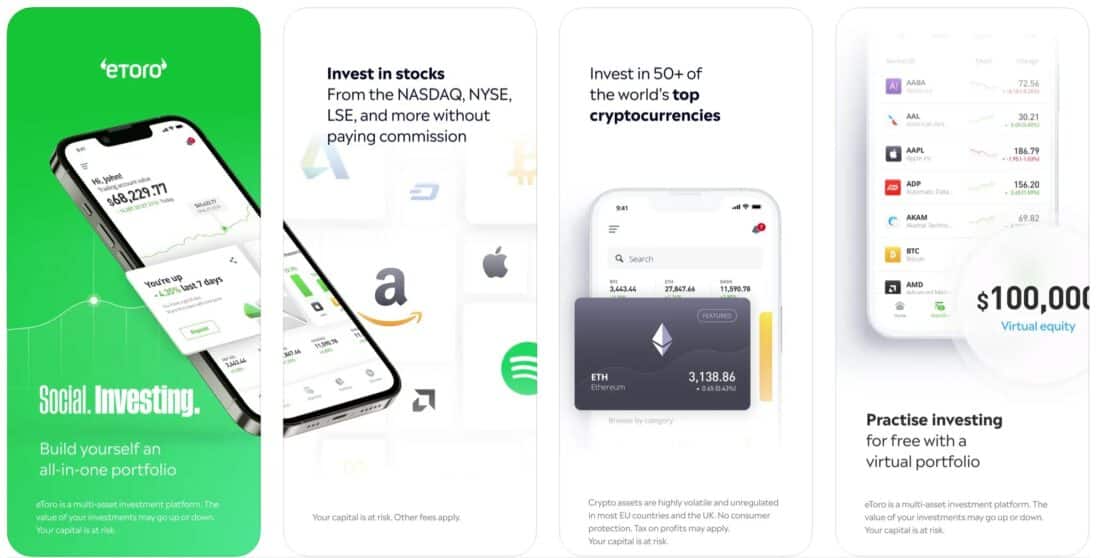 2. Plus500 – best trading app
In my opinion, Plus500 is the best CFD trading application. With CFDs, you can speculate on price increases and decreases of, for example, stocks, commodities, currency pairs, index funds, and cryptocurrencies. By using leverage, you can open a large position with a small amount of money. Plus500 also allows you to speculate on a declining price: this is called short selling.
Plus500 is especially suitable for the more advanced investor who enjoys actively engaging with the stock market. In my review, you can read more about Plus500. Before you begin, it is recommended to first try the possibilities for free with a demo:
3. Freedom24 – invest in IPOs with this mobile app
The investment application of Freedom24 cannot be left out from this list. Unique to Freedom24 is that you receive interest (3%) on money you deposit into your account. It is also appealing that as an investor at Freedom24, you can participate in IPOs. An IPO is an initial public offering, which is the moment a stock gets listed on the exchange. This makes investing with Freedom24 particularly interesting if you are interested in participating in the stock market launch of large companies.
Click here to read my review of this platform or open an account with Freedom24.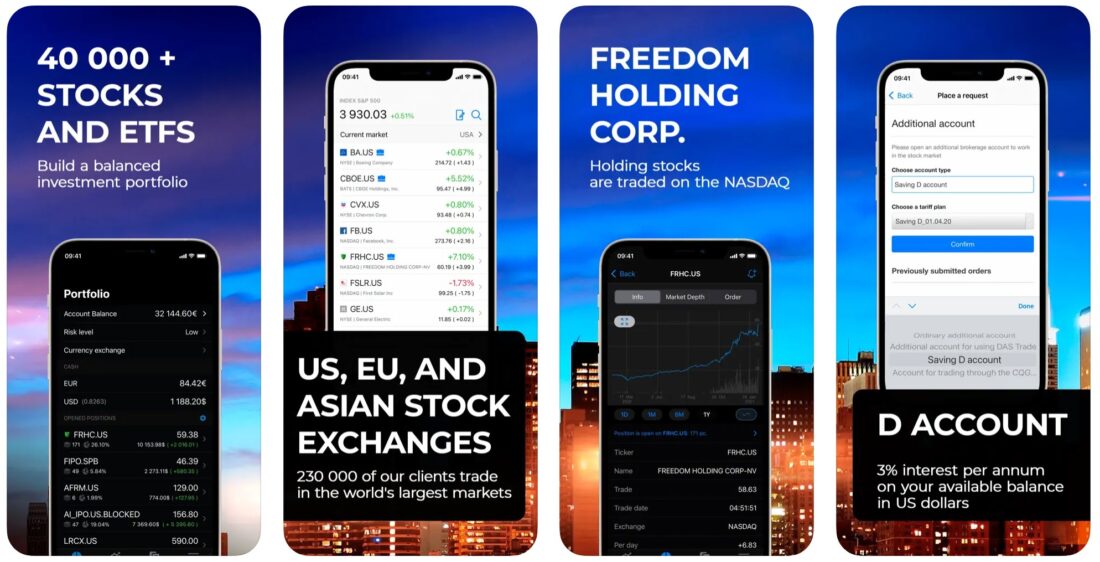 4. Trade Republic – application which a free stock
With Trade Republic's investment app, you can invest in more than 8,000 different stocks, ETFs, and cryptocurrencies. The Trade Republic application is user-friendly, and as a new member, you receive a free share immediately.
I am particularly a fan of the savings plan they offer: with this plan, you can invest in a selection of stocks for only €1 per month. With €100, you can already invest in 10 stocks, which makes it easy to apply diversification. Furthermore, It is beneficial that you can invest outside normal trading hours. Click here to read my review or open an account directly.
5. Bitvavo – best crypto application
I use the Bitvavo crypto application to buy and sell Bitcoins & Ethereum. A big advantage of this crypto app is its high level of user-friendliness. You can buy and sell cryptocurrencies in no time. Moreover, at Bitvavo, you can trade in over 175 different cryptocurrencies, which meants there is plenty of choice.
Bitvavo is one of the cheapest European crypto applications: you never pay more than 0.25% in transaction fees. In 2023, Bitvavo has introduced a new scheme in which your balances are protected up to €100,000 under certain conditions in case of theft. Do you want to know more about Bitvavo? Click here to read the extensive review or click here to open an account & pay no transaction fees on your first €1000 in trades.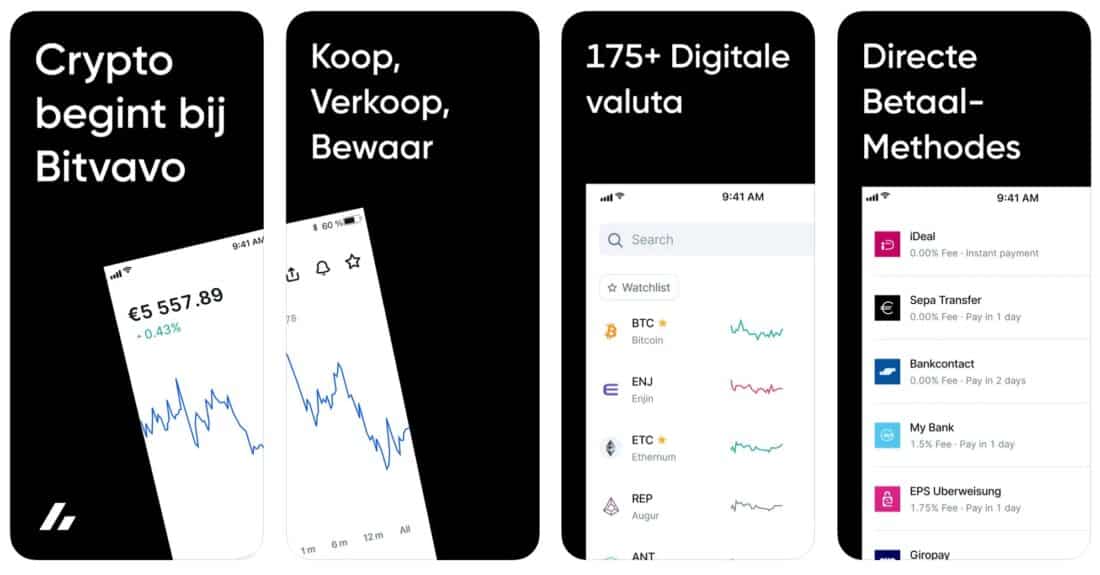 6. DEGIRO – best stocks & ETF application
DEGIRO is perhaps one of the most well-known brokers: this is not surprising given that they come up in dozens of studies as one of the best brokers to invest with. DEGIRO also keeps up with the times and has introduced a modern investment app. With the application, you can track the latest price developments and place orders directly on the stock exchange.
Unfortunately, at DEGIRO, you cannot invest in stocks without commissions: for example, you pay €3 for European shares. However, under certain conditions, you can invest in ETFs from the core selection without transaction costs. In my review you can read more about DEGIRO, and by clicking here you can open an account directly.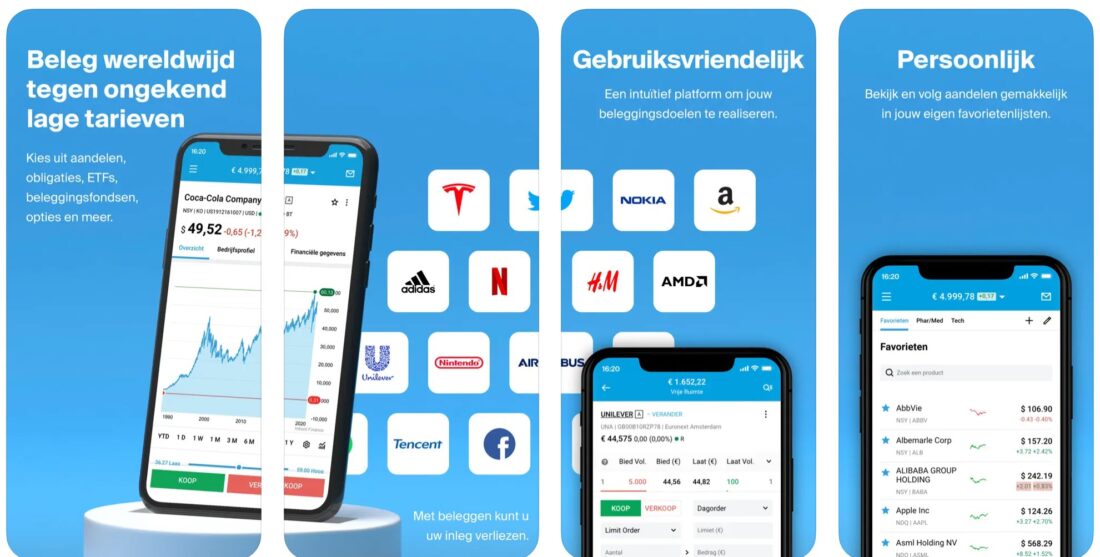 7. BUX Zero – best 'free' mobile investing app
BUX Zero aims to make investing as accessible as possible for beginners. In my opinion, they have succeeded: the BUX Zero application is user-friendly and allows you to trade in familiar stocks and ETFs. The total selection of investment options is somewhat limited compared to some other brokers, but for many investors, the options at BUX will be sufficient.
Click here to read about my experiences with BUX Zero or open an account directly & receive a free share after depositing!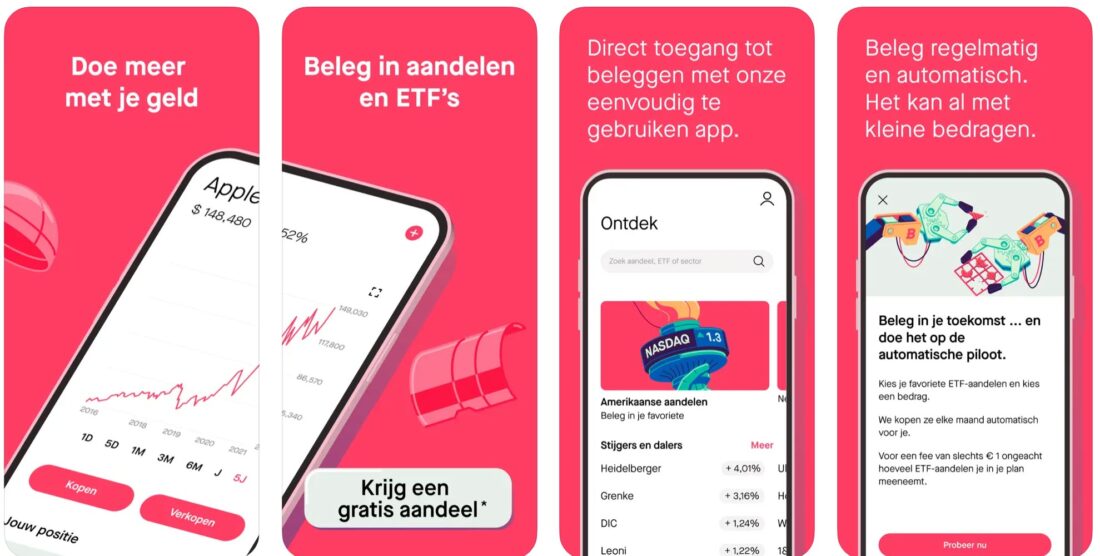 8. Peaks – investing with your spare change
Peaks is an application that allows you to automatically invest your spare change. You can link the application to your bank account and then automatically invest small amounts. When you make a payment of, for example, $1.20, Peaks rounds this amount up. It then automatically invests $0.80 in an index fund.
Although I am a fan of the concept, the high costs of investing with your spare change at Peaks make it less attractive. With small amounts, you pay $1 per month. A better alternative would be to invest a fixed, monthly amount in an ETF; discover here how this works.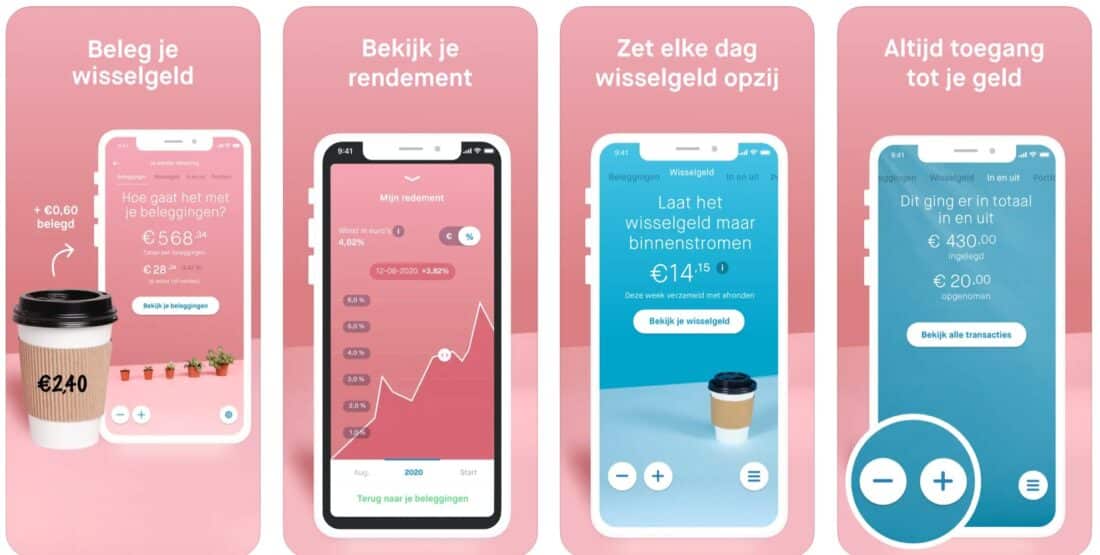 9. MEXEM – a high-quality investment app
Another investment app you can use is the stock application from MEXEM. MEXEM uses the well-known Traders Workstation, which is globally recognized as one of the best investment programs in the world. The software itself is of high quality, and you can perform complex analyses with the extensive tools.
MEXEM is also a relatively affordable broker: for example, when buying and selling Dutch shares, you pay a minimum of $1.80. This means that MEXEM can be slightly more affordable than DEGIRO.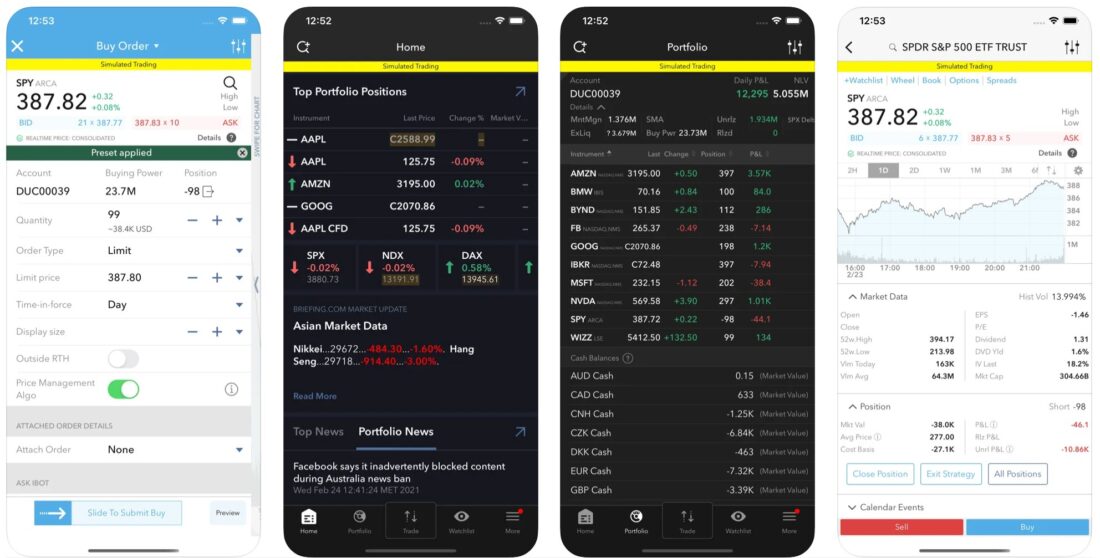 10. Capital.com – application with the most extensive offering
Capital.com has a trading application that is interesting for the active trader. At Capital.com, you can trade in thousands of different securities with CFDs. Since 2023, it is also possible to invest in stocks without paying commissions in Europe.
An advantage of Capital.com is that you can trade in hard-to-reach markets. Within the application, for example, you can speculate on the price movements of the Russian rubble or the developments of Russian stocks. Capital.com can therefore be a good choice for the serious trader: read my detailed review here or open a free (demo) account directly.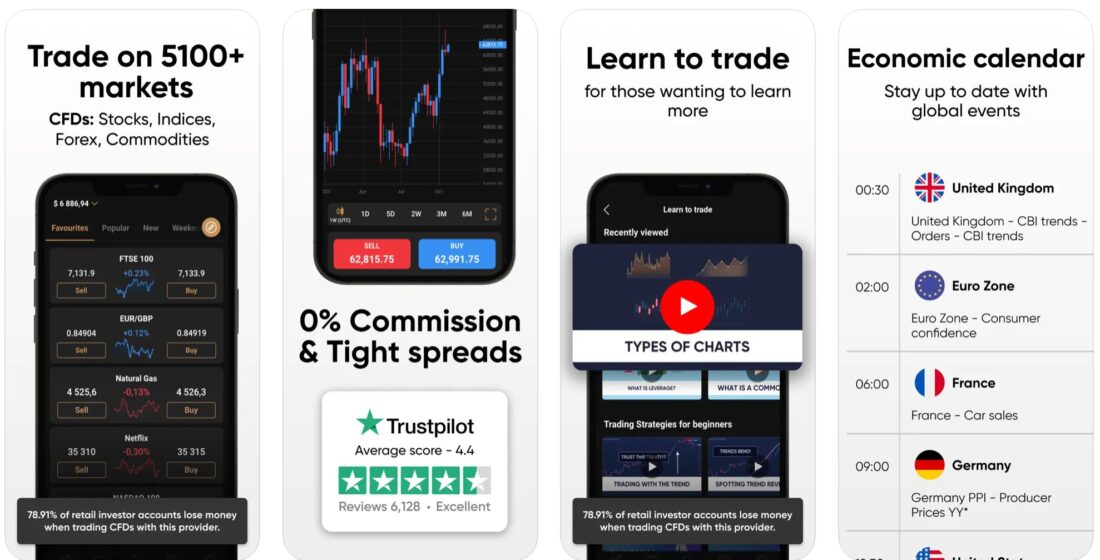 What should you look for when selecting a stock trading application?
Reliability: not all investment applications on the market are equally reliable. There are many scams: therefore, research well whether the party behind the investment application can be trusted.
Costs: in addition to transaction fees, also investigate hidden costs well. In my article on free investing, I show how some 'free' brokers still charge hidden costs.
Features: for novice investors, a simple investment application may be sufficient. More demanding investors may want to invest in 'exotic' markets. Therefore, research whether the app offers enough opportunities for your needs.
Features: some applications offer only one function, which is buying and selling stocks. With other stock trading applications, you can perform complex analyses or follow other investors.
Is mobile investing the future?
I, personally, believe 100% that mobile investing is the future. I already see that almost 80% of visitors to this website use a mobile device. It is therefore not surprising that more and more people use their mobile phones to trade in, for example, stocks. I think that in the future, the majority of investments will be executed using a mobile device.
Do you also want to be able to invest everywhere and always? Then open an account with your favourite app today! Can't decide? It is always possible to open an account with multiple brokers.
Frequently asked questions about investing with an app
Unfortunately, there is no one objectively best mobile investing application. Everyone who invests has different priorities. Therefore, it is recommended to make a list of what you find important: by doing so, you can discover which investment application suits you best. Personally, I use Bitvavo for crypto and DEGIRO for buying and selling stocks.
Investing with a mobile application has several advantages. You can trade at any time of the day, which allows you to react to the latest price developments. Additionally, you can receive notifications immediately after price developments.
However, there are also pitfalls; according to research, people who trade infrequently often achieve the best results. A mobile application actually invites investors to be constantly trade, which can lead to psychological pitfalls, especially for beginners. Therefore, invest responsibly and remember that you can lose money!
If you want to start investing as an absolute beginner, an application like Trade Republic can be helpful. Trade Republic is user-friendly, and the options are limited.
Nowadays, you can examine the latest stock market prices with almost any investment app. Personally, I use the eToro application to check examine the latest stock prices. eToro is easy to use due to its user-friendly interface.
Author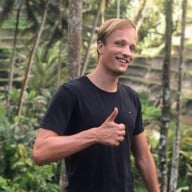 About
When I was 16, I secretly bought my first stock. Since that 'proud moment' I have been managing trading.info for over 10 years. It is my goal to educate people about financial freedom. After my studies business administration and psychology, I decided to put all my time in developing this website. Since I love to travel, I work from all over the world. Click <a href="/about-us/">here</a> to read more about trading.info! Don't hesitate to leave a comment under this article.