Capital.com review & experiences (2023): is this a reliable broker?
Capital.com is an interesting broker for anyone who wants to actively trade in CFD stocks, commodities, cryptos & ETFs! Capital.com was founded in 2016 but has grown tremendously since its inception and now has over 300,000 active customers. In this extensive review, we investigate whether it is appealing to trade with Capital.com.
Capital.com summary
Capital.com is a reliable broker where you can actively trade thousands of different stocks. You can only trade in CFDs at Capital.com, which makes the broker unsuitable for novice traders. Capital.com is suitable for the active trader who wishes to speculate on rising and falling prices with an user-friendly platform.
Do you want to try the possibilities of Capital.com for free? Then use the button below to open a demo immediately:
| | |
| --- | --- |
| License: | FCA, CySEC, ASIC & NBRB |
| Founded in: | 2016 |
| Minimum deposit: | $20 |
| Broker type: | CFD-broker |
| Products: | Stocks, crypto, forex, ETFs & commodities |
| Free demo: | Yes |
What are the pros of Capital.com?
No hidden costs: commission-free trading & low spreads
Over 5000 stocks to trade
You can trade in exotic trading products
MetaTrader4 is also available
You can already deposit money from $20 with credit card
Customer service by telephone
What are the cons of Capital.com?
You can only trade in CFDs at Capital.com
The software is decent, but not extensive
How does trading at Capital.com work?
We start the Capital.com review with a small guide so that you immediately understand how to start trading with this broker.
Step 1: Open an account
Before you can trade with Capital.com, you must first open an account. Opening an account at Capital.com is easy: you can open an account with your Facebook or Apple account.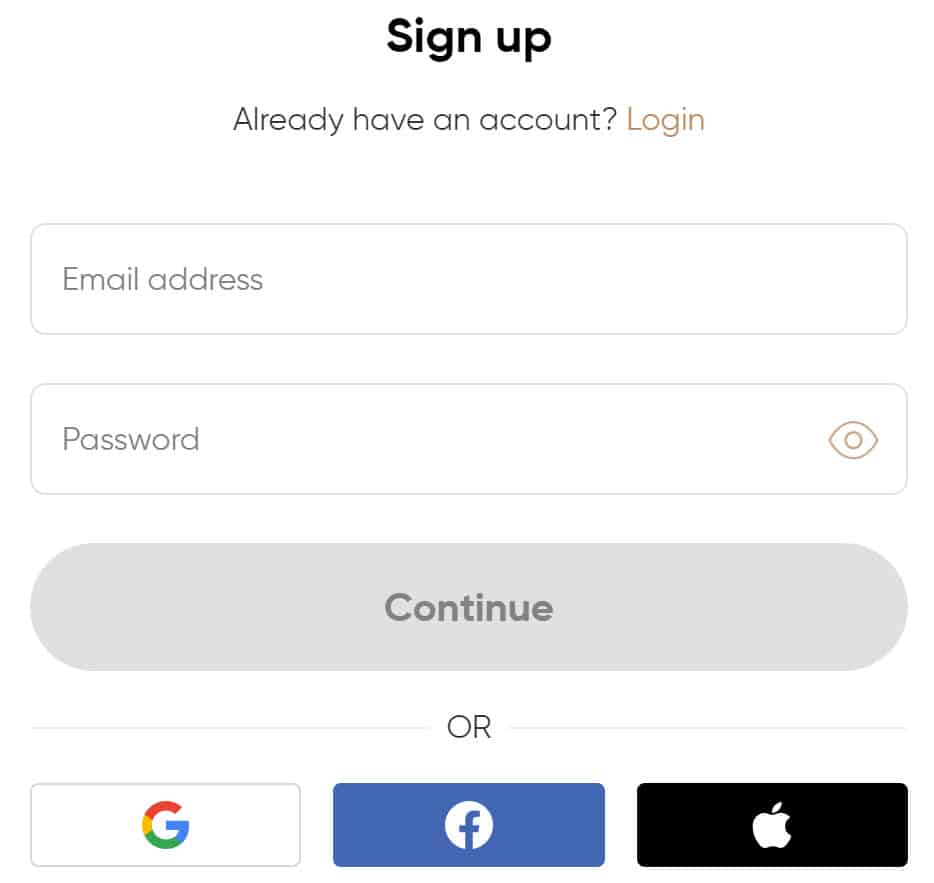 After you have opened an account, you can immediately get started with the demo mode. With the demo, you can test strategies and discover if Capital.com is right for you. If you want to trade with real money, you still have to go through a few verification steps:
You must upload a copy of your ID
You must upload proof of your address
These steps are required, since Capital.com is overseen by CySEC in Europe. According to European rules, financial institutions must verify that customers really exist and that the money they use has been obtained legally.
Step 2: deposit money at Capital.com
After your account has been approved, you can deposit money directly into your Capital.com account. Depositing money is a positive point within this review: you can start trading from $ 20 with this broker. In addition, all known payment methods are available, such as:
Credit card
Apple Pay
PayPal
Bank transfer
Instant Bank Payment
With most payment methods, the money is immediately added to your account. You can then immediately start trading!
How does CFD trading work?
After opening an account, you can start speculating at Capital.com. Some traders do not understand what CFD trading is; that is why I would like to explain CFD trading in this part of the article.
With CFDs, you do not trade directly in the underlying security. You don't buy a share; instead, you buy a contract on a share. The price development then determines whether you make a profit or loss.
When trading CFDs, you can use two unique options:
Short selling: you speculate on falling prices
Leverage: you can open a larger position with a small amount
CFD's are risky financial products. If you use them wisely, you can quickly achieve a high return. However, many traders fail to achieve a positive return; therefore only trade with money in CFDs that you can really miss. Click here to read in more detail how CFDs work.
How reliable is Capital.com?
Capital.com is regulated by several parties. Within Europe, the broker is supervised by CySEC which is the Cypriot financial regulator. Capital.com must therefore adhere to the high standards of the European Union, which is a good sign for its reliability.
As with many other brokers, your funds at Capital.com are also stored separately. This prevents you from losing all your money if Capital.com goes bankrupt.
Capital.com is also affiliated with the Investor Compensation Scheme, which means that if something goes wrong, you do not lose all the money in your account. At the time of writing, this guarantee amounts to €20,000.
What can you trade in at Capital.com?
I am enthusiastic about the range of CFD trading products at Capital.com. You can actively speculate on a wide range of trading products.
Stocks
You can of course trade in British and American shares at Capital.com. With this broker, however, it is also possible to trade in more exotic stocks. It is for example possible to trade in CFD stocks listed on the Russian or Japanese stock exchange. I didn't count them manually, but you can trade over 5000 stocks at Capital.com!
This also allows you to speculate on the price movements of smaller companies, which can be interesting.
Forex
Capital.com started as a Forex broker, and you notice this immediately: the fees on Forex trading are low and you can trade in some unique currencies. At Capital.com you can, for example, speculate on the price development of the Russian Ruble or the Turkish Lira. These currencies sometimes make significant jumps, which you can capitalize on by using leverage.
Cryptocurrency
You can also speculate in a handful of cryptos at Capital.com. Personally, I am not a big fan of CFDs on cryptos: the leverage is limited, and the costs are often relatively high. If you want to trade in cryptos, you can also consider Bitvavo. At Bitvavo you never pay more than 0.25% in fees, and you can hold the cryptos for a longer period.
ETFs & indices
With Capital.com you can also speculate on the price movements of the well-known indices: for example, the S&P 500 and the NASDAQ. What is unique is that you can also trade in thematic indices such as a crypto index or the corona antivirus index. It is wise to research carefully which stocks are included in these indices before you open a position.
The thematic indices are interesting as they respond to current trends. For example, during the war between Russia and Ukraine, Capital.com introduced a special oil portfolio.

Commodities
At Capital.com you can also trade in various commodities like gold, silver and oil. Capital.com also offers a few unique commodities like aluminium or orange juice. The leverage for trading in commodities is 1:10, allowing you to take a large position with a small amount of money.
What are the costs at Capital.com?
I have of course also extensively researched the costs for this review. Capital.com doesn't charge annoying, hidden fees. For example, I didn't find any costs for:
Depositing and withdrawing money
Opening an account
Not using an account (inactivity fee)
Converting currencies
This is of course a very positive point within this review: many other brokers charge  annoying, hidden costs. Yet Capital.com also has to make money, and they do this by charging a spread and financing costs.
The spread
Capital.com makes money by building in a difference between the buy and sell price of a security. Most spreads at Capital.com are dynamic: this means that the transaction costs are not fixed. When there is a high volume, the spread is usually lower than when there are, for example, too few buyers.
In general, Capital.com offers attractive spreads. On April 14, 2022, at 6:00 PM local time in Bogota Colombia, the following charges were calculated:
On a barrel of oil, the spread was $0.04
On a Philips share, the spread was $0.08
Over EUR/USD pair, the spread was $0.00007
On Bitcoin/USD, the spread was $110
Capital.com generally charges low and competitive spreads. It is wise to always check the costs before opening a position, as they are dynamic and can therefore fluctuate greatly.
Capital.com does not charge fixed commissions. As a result, you can also trade with a small amount, since your costs are relative to the amount you trade with.
Financing costs
When you use CFDs, part of the position is financed by the broker. If you decide to keep the position open overnight, financing costs are often charged. This is not always the case, sometimes the broker pays you a fee for holding a position.
Financing costs at Capital.com are at an attractive level. An extra positive thing is that at Capital.com you only pay financing costs over the leveraged part of your position and not on the part of the position you finance with your money.
On crypto, the leverage is 1:2 for example. When you open a position with €1000, you only pay financing costs over €500.
Although financing costs are reasonable at Capital.com, it is important to keep a close eye on them. Due to the financing fees, Capital.com is especially suited for short-term trading and certainly not for long-term investing.
The trading platform reviewed
Most traders will use Capital.com's online platform. Within the platform, you can immediately follow the latest trends with the discover option. You can see what other Capital.com users are trading in, and you can also consult the latest news.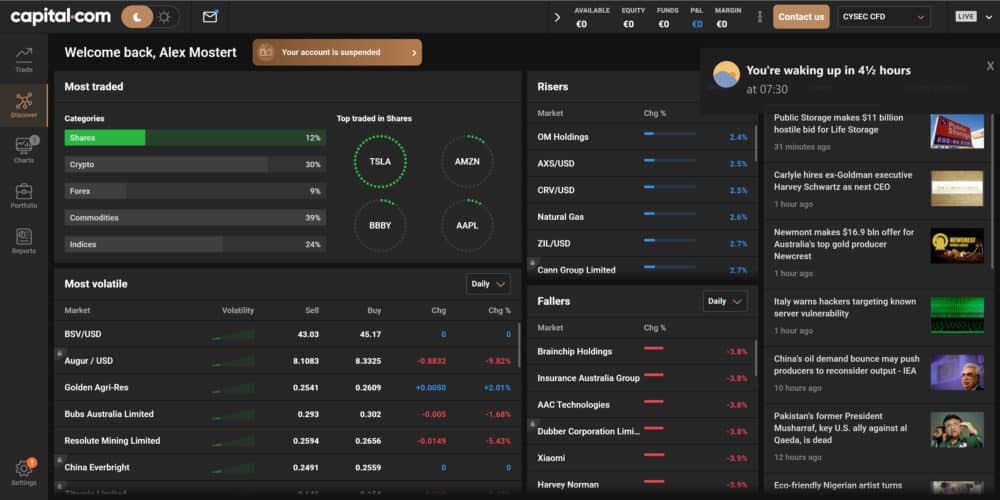 If you want to trade in a specific security, you can press trade. Here, you can quickly find a specific share or other trading product using the search function. You can then use the chart to perform extensive analyses: at Capital.com you can use a wide range of technical indicators.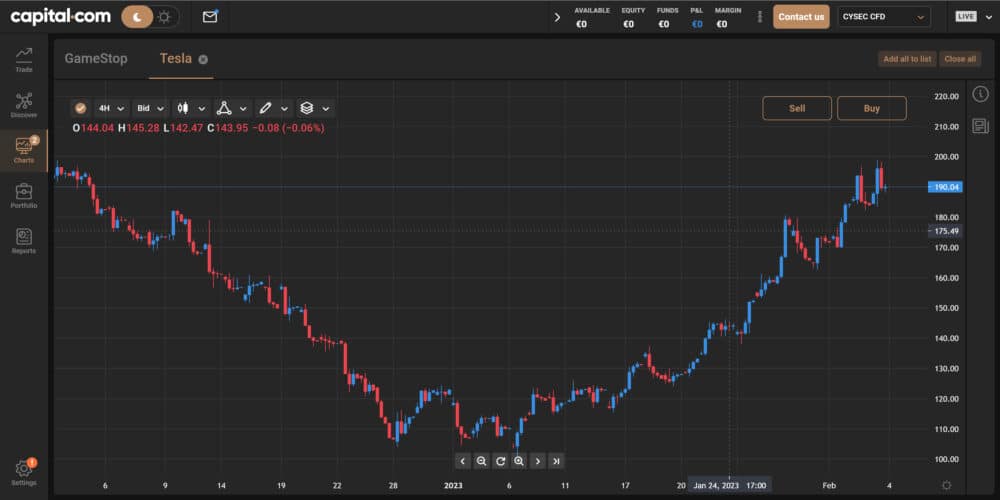 When you would like to open an order, simply press the buy (speculate on a rising price) or sell (speculate on a falling price) button. You can then use some useful functions within the user-friendly order screen:
Buy at price: set a price at which you open a position.
Close at loss: close your position automatically at a certain loss.
Close at profit: close your position automatically at a certain profit.
Before opening a position, don't forget to check the market info. In the market info section you see the applied leverage, spread and calculated financing costs.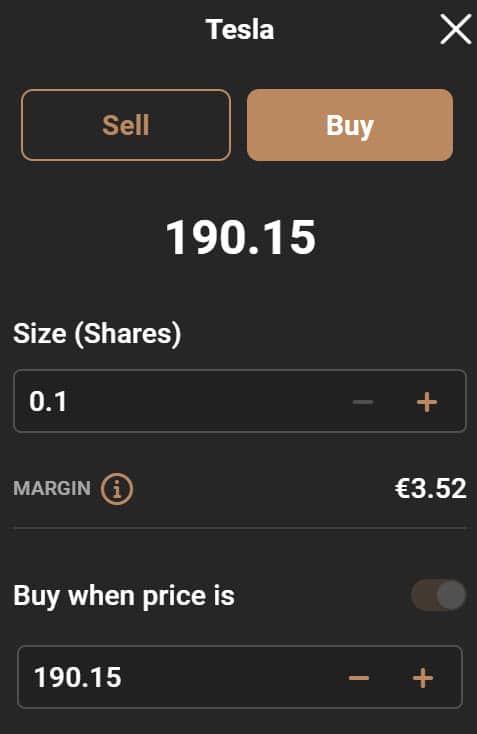 The Capital.com software does what you would expect: the web trader is user-friendly, and you can quickly find the securities you want to trade in. However, Capital.com is not the most comprehensive trading product: copy trading and physical stock investing are not available.
MetaTrader 4
More professional traders often prefer the MetaTrader platform. A big advantage of Capital.com is that you can get started with the MetaTrader. Within MetaTrader, you can put multiple screens next to each other and perform more complex analyses. You have to physically download MetaTrader, and this software is definitely not suitable for the novice trader.
Mobile application
You can also use the excellent mobile application at Capital.com. The mobile application allows you to open and manage positions in a user-friendly way.
Interestingly, you can also use the Investmate application with your Capital.com account. Investmate is designed for novice traders and teaches you useful information that you can use for your trades.
Customer service Capital.com
Another advantage of Capital.com is that you can reach customer service in English at +44 20 8089 7893. This ensures that your problems can be solved quickly.
Experiences other users
Capital.com scores well on Trustpilot with an average score of 4.3. This is a good sign: most users are satisfied with the services offered by the broker.
Capital.com review conclusion
Capital.com is a fairly new party that can certainly be interesting for the new trader. I find Capital.com especially intriguing because you can trade in markets that are often difficult to access. For example, you can speculate on a fall of the Turkish Lira or Russian Ruble and since you can use leverage, this can lead to significant gains (or losses!).
Do you want to test the options without risk? Open a free demo at Capital.com:
However, Capital.com is a bit limited, since you can only actively trade with CFDs. If you prefer to physically buy stocks and ETFs, DEGIRO or BUX might be a better choice.
Frequently Asked Questions about Capital.com
Some brokers charge extra costs if you do not trade for a while. Fortunately, this is not the case with Capital.com: you can decide not to use your account for years without it costing you a cent.
You can easily & quickly withdraw the money in your account by pressing withdraw money within your account. You can enter the amount you want to withdraw into your bank account. Kindly note that you can only withdraw the money in your account to a bank account under your name.
Capital.com processes withdrawal requests quickly: funds are normally sent within 24 hours. It then depends on your bank how long it takes for the money to arrive.
Capital.com's main office is located in London. However, Capital.com is an international company and has offices in 9 different countries.
Capital.com is a 100% legal broker. Capital.com is supervised by various parties, which means that the company has to meet strict requirements.
Author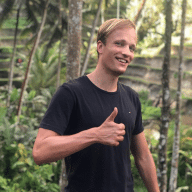 About
When I was 16, I secretly bought my first stock. Since that 'proud moment' I have been managing trading.info for over 10 years. It is my goal to educate people about financial freedom. After my studies business administration and psychology, I decided to put all my time in developing this website. Since I love to travel, I work from all over the world. Click here to read more about trading.info! Don't hesitate to leave a comment under this article.