How to buy China Mobile shares ?
Do you want to invest in the largest Chinese telecom company? You can do that by buying China Mobile shares! With a strongly growing market, an investment in China Mobile can work out well. On this page you can read everything you need to know about China Mobile shares. You can also request the latest price data here.
Do you want to buy China Mobile shares? You can directly trade in China Mobile stocks with one of these reliable brokers:

| Brokers | Benefits | Register |
| --- | --- | --- |
How can you actively invest in China Mobile?
More and more people are choosing to actively invest in China Mobile shares. As an active investor, you can respond better to the latest developments. For example, is there a recession in China? Then China Mobile may not be able to grow as fast as originally intended. With active trading, you can respond to this immediately.
But which party is the best for active trading in China Mobile? A good party for this is Plus500. With Plus500 you can try CFD trading for free with the unlimited demo. Because the user-friendly software allows you to place orders quickly, you can always adjust your positions to your liking. Use the button below to open an account with Plus500:
What is the current stock price of China Mobile?
Are you curious about the current stock price of the company China Mobile? In the graph below you can consult the CFD price of China Mobile. You can also choose to open a position directly.
About China Mobile
In China, several companies are active in the field of telecommunication services. China Mobile is the largest of these companies. In 2018, China Mobile was ranked 53rd in a list of the world's largest companies. Established in 1997, the company is mainly active in China where it controls 70% of the mobile market. By the end of 2017, China Mobile had 887 million customers, 650 million of whom use the 4G network. It also had 113 million broadband customers by 2017.
 History of China Mobile
At the end of the 1990s, there were many small provincial telephone companies in China that were too small to operate nationwide. This created the need for a larger telephone company. The investment bank Goldman Sachs succeeded in bringing together about ten provincial telephone companies, which led to the creation of China Mobile in 1997. When the company was founded in Hong Kong, the name of the company was also China Telecom (Hong Kong) Limited. The name China Mobile was given to the company in 2000, after which it has carried the official company name China Mobile Limited since 2006.
China Mobile has been working with Vodafone since 2002. Vodafone bought a small interest of a few percent in China Mobile. In the meantime, Vodafone has sold this interest again, but Vodafone still works with China Mobile.
China Mobile started looking for new customers outside China. An interest in True Corporation was acquired in 2014. This company offers mobile phone services in Thailand, giving China Mobile access to a new market.
When China Mobile manages to build up a large position in another country, this can have a positive influence on the share price. Do you think China Mobile will be able to expand further? In that case, it may be wise to buy China Mobile stocks.

Strong growth in data traffic
China Mobile started offering data traffic in 2014. In the first year, the number of customers was already 10 million, which represents approximately 10% of the number of customers. In the following years, data traffic increased substantially, while the use of telephony decreased. In 2013 costumers called for an average of 486 minutes per month while in 2017 customers called an average of 366 minutes per month. Today, data is the largest contributor to China Mobile's revenue.
China's growing prosperity will only increase the market within the country. The demand for faster services and more data will therefore continue to rise. Do you think China Mobile can respond well to this? In that case, you can certainly consider investing in China Mobile.
Author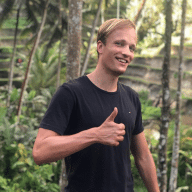 About
When I was 16, I secretly bought my first stock. Since that 'proud moment' I have been managing trading.info for over 10 years. It is my goal to educate people about financial freedom. After my studies business administration and psychology, I decided to put all my time in developing this website. Since I love to travel, I work from all over the world. Click here to read more about trading.info! Don't hesitate to leave a comment under this article.