How to buy Italian shares (2023)? - invest in Italy
Italy is of course known for its delicious pizzas and pastas. At the same time, the country is not known for a high degree of economic stability. However, for investors who are not afraid of taking on higher risks, it may be interesting to invest in Italian stocks. In this article, you will learn how and where to buy the best Italian shares.
Where can you buy Italian shares?
If you want to invest in Italian stocks for the long term, it is wise to first research whether the Italian economy is currently performing well. If this is the case, you can consider an investment. In the table below, you can see which brokers allow you to buy Italian stocks:
| Brokers | Benefits | Register |
| --- | --- | --- |
| | Buy Italian shares without commissions. Your capital is at risk. Other fees may apply. | |
| | Speculate on price increases and decreases of Italian shares with a free demo! | |
| | Benefit from low fees, an innovative platform & high security! | |
| | Speculate with CFD's on increasing & decreasing prices of Italian shares! 86% of retail CFD accounts lose money. | |
Investing in the Italian stock exchange
The main stock exchange in Italy is the Borsa Italiana located in Milan. You can, of course, choose to buy individual Italian stocks, but it may also be interesting to invest in the entire stock exchange at once.
Within the FTSE MIB, you will find the 40 largest Italian stocks. With an investment in this index, you will invest in companies such as Ferrari, UniCredit and Fiat Chrysler, among others. The companies within the index represent 80% of the total value of the Italian Stock Exchange. The weighting of each individual stock within the index may not exceed 15%.
The best way to invest in the FTSE MIB is to buy an ETF on the index. An ETF is a security that can be traded in the same way as a stock. An ETF aims to track an index accurately. You can read more about investing in ETFs in this article.
Tip: you can find the opening hours of the Milan stock exchange in this article!
How to buy Italian shares?
Step 1: open an account with a reliable broker
Before you can invest in the Italian stock exchange, you need an account with a broker. A broker is a party that can buy or sell shares on your behalf.
Step 2: select stocks
When you start investing on your own, you will first need to select a stock that you want to buy. You can use various analyses for this:
After you are sure you would like to buy a certain Italian stock, you can place the order.
Step 3: buy Italian shares
For placing an order, you can use two types of orders with most brokers:
Market order: you buy the stock immediately at the available price.
Limit order: you buy the stock at a specified price.
After you have placed the order, it may take a while before it is actually executed. Don't forget to evaluate your investment regularly.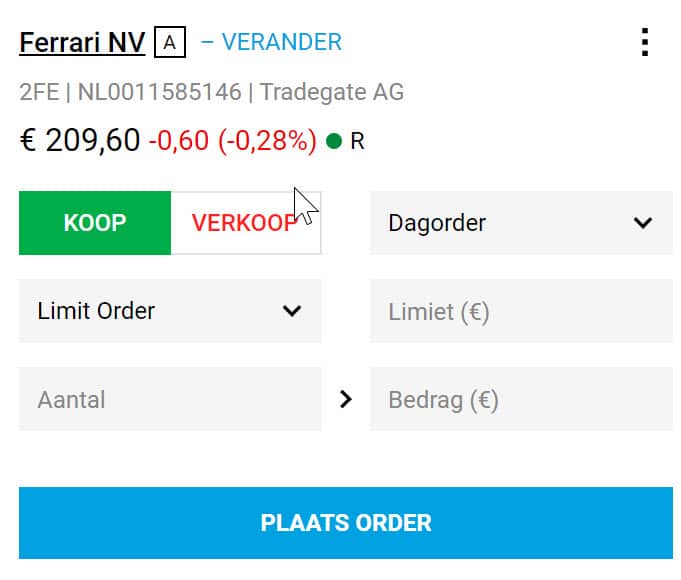 Why can investing in Italy be interesting?
Italy is one of the largest economies in the world: with a GDP of 2.1 trillion dollars, it is the third-largest economy in the eurozone.
Innovation and R&D: developing new technologies is central to the Italian economy.
Personnel: the education level is high in Italy, while salaries are relatively lower than in France and Germany.
Political policy: the government is trying to create a better investment climate, which is positive for investing in Italy.
Logistics hub: due to its location, Italy is the perfect country to connect North Africa, the Middle East, and Central Europe.
What are the best Italian shares?
The best Italian stocks are those that provide the highest return. However, it is difficult to say indicate stocks these are, and this can also vary greatly over periods. Occasionally a stock that performs poorly for a year can generate a much higher return over ten years. Therefore, research which stocks fit perfectly within your investment portfolio. And never forget; you can lose money with investing!