How to buy Prada SpA shares?
The Italian luxury fashion house Prada specialises in leather handbags, shoes, ready-to-wear clothing, perfumes, travel accessories and other accessories. The headquarters of this luxury fashion house are in Milan, Italy. Would you like to invest in Prada yourself? This article will show you how & where to buy Prada shares.
How can you invest in Prada stocks?
One good broker where you can invest in Prada is eToro. At eToro, you do not pay any commissions, which also makes it attractive to actively trade the stock. Moreover, you can try the possibilities for free with a demo. Use the button below to immediately open an account at eToro:
Where can you buy Prada stock?
Do you want to buy Prada shares? You can directly trade in Prada stocks with one of these reliable brokers:

| Brokers | Benefits | Register |
| --- | --- | --- |
Company history
In 1913, the company was founded by brothers Mario and Martina Prada. Animal goods were sold in the Fratelli Prada leather goods shop. English steamer trunks and handbags were also imported.
Miuccia Prada inherited the company in 1978 and decided to start making backpacks. The first backpacks were launched in 1979. The backpacks became a commercial success. Miuccia Prada and her business partner Patrizio Bertelli then sought wholesale accounts for their bags in luxury department stores and boutiques around the world. In 1983, Prada opened a second boutique in the centre of the Galleria Vittorio Emanuele.

International expansion
In 1983, the expansion of the company began. Locations were opened in prominent shopping streets in Paris, London, Madrid and New York City.
In 1984, a shoe line was launched and in 1985 the classic Prada handbag appeared on the market. In 1989, a ready-to-wear collection for women was launched. These were designs with narrow waist lines and narrow belts. The sumptuous fabrics, clean lines and basic colours increased Prada's popularity.
Its originality made Prada one of the most influential fashion houses. The Prada brand became a premium status symbol in the 1990s.
Complaint about Prada: Black Face
In December 2018, there were complaints that new accessories and displays in Prada shops would contain black-face images. Prada was forced to remove the accessories and display from its shops. Outrage spread online when a New Yorker in a Facebook post accused Prada of using "Sambo-like images." Prada decided to remove the products. In a tweet, Prada said it abhors all forms of racism and racist images and that it never intended to offend anyone.
This kind of news that tarnishes Prada's reputation can put pressure on its stock price. Therefore, if you want to invest in Prada, it is important to follow the latest news closely. In this way, you can avoid losing a lot of money when the stock price takes a nosedive.
In January 2021, Prada announced that it had become a profitable company again by the end of 2020. This is partly due to the strong recovery in China. Sales have now fully recovered. In January 2021, sales are at the same level as before the start of the pandemic. In the last two months of 2020, the company's stocks rose to the highest price since 2015. This growth is likely to continue in 2021. Buying Prada shares is therefore definitely worth considering.
Author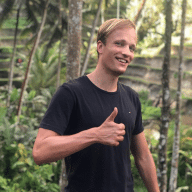 About
When I was 16, I secretly bought my first stock. Since that 'proud moment' I have been managing trading.info for over 10 years. It is my goal to educate people about financial freedom. After my studies business administration and psychology, I decided to put all my time in developing this website. Since I love to travel, I work from all over the world. Click here to read more about trading.info! Don't hesitate to leave a comment under this article.