Investing with an investment simulator
It is not wise to jump straight into the deep end as a novice investor: fortunately, nowadays it is possible to use an investment simulator to try out investing entirely without risk. In this article we look at how to use the investment simulator and how to make your first investment with it.
Use the free trading simulator
You need special software for trading in CFD shares and commodities. This software is often supplied by a broker. At the broker eToro you can easily train your investment skills by trading with a fictitious starting amount of $100.000.
Before we explain how you can invest with this software, we will first look at where you can use it.
Navigate to the demo or simulator within the software
Create an account by choosing your mail and password
Getting started with the simulator
As soon as you have downloaded the software package and created your account, you can start trading immediately. It is important to know that everything you do in the simulator with demo money is risk-free: you can never lose real money if you haven't deposited money yourself.
On the left-hand side of the screen you will see an overview of the securities in which you can trade. You can choose between CFD stocks, Forex (currencies), commodities, index funds (FTSE, Dow Jones) and EFTs. For each security you see the buy and sell price, for which you can trade the security in question.
The purchase price is the price for which you can buy the security. When you press buy, you speculate on a price increase. However, within the simulator you can also sell the security. When you press sell or short, you speculate on a price decrease.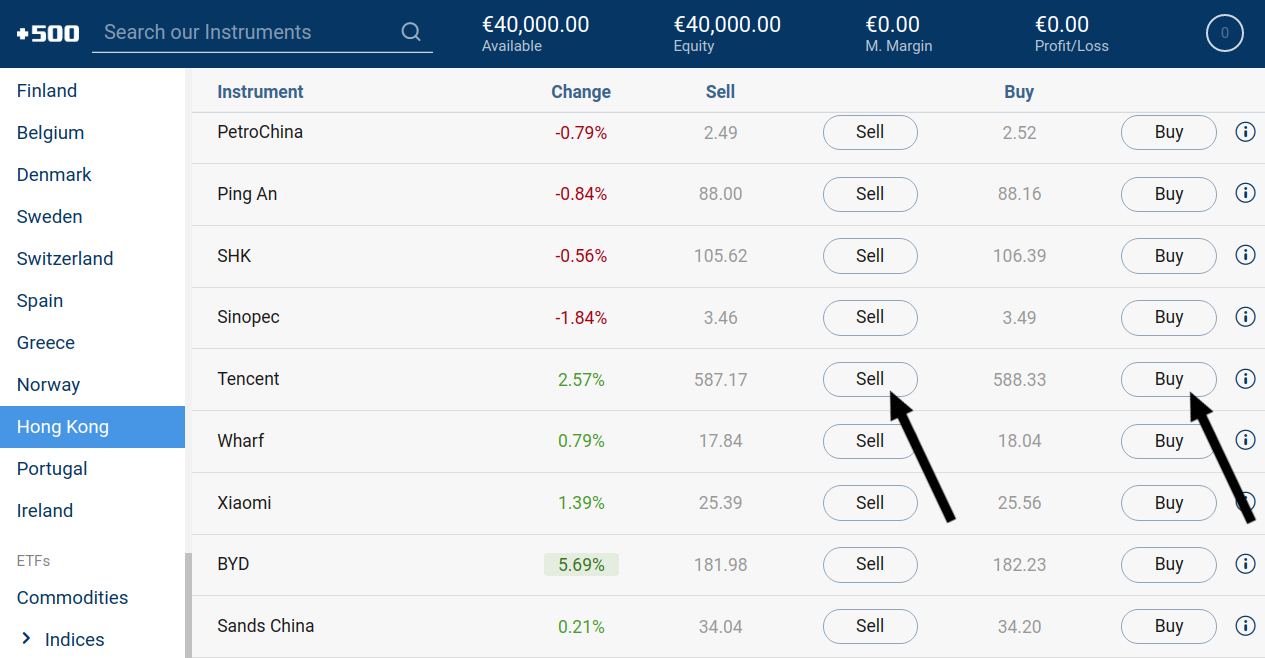 Illustrative prices
Make your first investment
To open your first trading position, all you have to do is press the buy or sell button. As soon as you have made a choice, you can choose an amount for which you want to take the position. In addition, it is wise to set a value at which you automatically take your loss.
A major advantage of the trading software is the fact that it is also possible to place a so-called order. With an order, the position only opens once a certain price has been reached. When you see a pattern in the chart, you can profit by buying the CFD share at the lowest price or by selling the CFD share at the highest moment.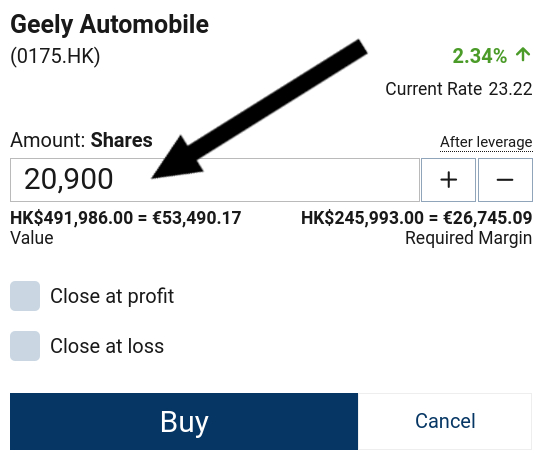 Illustrative prices
What is an investment simulator?
Chances are that you have used a simulator before. An example of a popular simulator is Fifa. With Fifa, you simulate as if you were a football player and you can participate in the Premier League. Actually, an investment simulator can be compared to this. With an investing simulator, you can buy and sell shares with a fictitious amount of money.
A trading or investment simulator is very attractive. After all, with a simulator, you can try out the possibilities without any risk. This allows you to apply all kinds of different strategies and see what works and what does not. When you are sure that you can invest well, you can open an account with a real broker.
What makes a simulation good?
Not all simulations are equally good. There are various factors that determine whether a stock simulator is strong. When you are looking for a strong & reliable stock exchange simulator, you should make sure that:
Market conditions correspond to real conditions.
The range of securities on offer is extensive enough
Useful analysis options are available
The software is user-friendly
Not all simulations are therefore equally useful. It is therefore wise to first thoroughly investigate which simulation best suits your wishes.
What are good trading simulations?
Below we will discuss six strong trading simulations that try to replicate the stock trading one on one.
Plus500: for CFD trading
Plus500 is the perfect match for the active trader who wants to simulate trading in CFDs. Plus500 offers CFD trading on all major stocks, index funds and currencies. With CFDs, you can place orders on both rising and falling markets. This method of trading is ideal for anyone thinking about becoming a day trader.
Plus500 is a broker itself. Are you satisfied with the results within this simulation? Then you can immediately deposit money and start trading. The results you achieve within the simulation are 100% equal to the results you would achieve in real life. This makes the simulation very useful. Use the button below to open a free demo at Plus500.
Wall Street Survivor: discover investing in a playful way
A drawback of the Plus500 simulator is that you have to figure it all out yourself. This is not the case with Wall Street Survivor. Wall Street Survivor is a free package where you can playfully discover how investing in stocks works.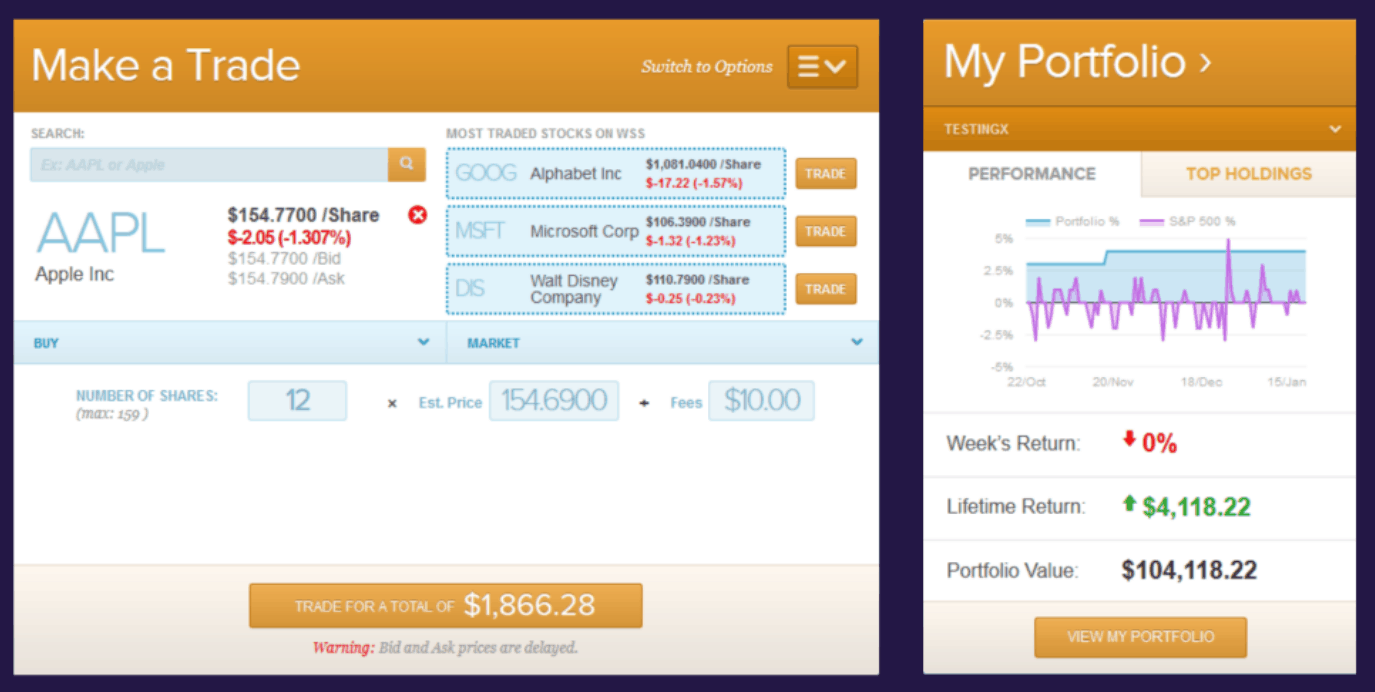 Within the website you can follow the basic investment courses for free. You will also receive a virtual account with $100.000 and some videos to help you invest. The website also organizes competitions. When you achieve good results, you have a chance to win thousands of dollars. That way you can win a nice starting capital by practising.
Within the website you can also take out a subscription. With the subscription, you get access to many extensive courses. This is ideal if you want to learn more about investing in shares. The emphasis at Wall Street survivor is more on building a portfolio and investing for the long term. All in all, Wall Street survivor is a fun simulation for any investor who wants to learn more:
eToro, just like Plus500, is a party where you can trade with demo as well as real money. At eToro you can simulate investing in real shares. This gives you many extra opportunities to try out the investment simulation.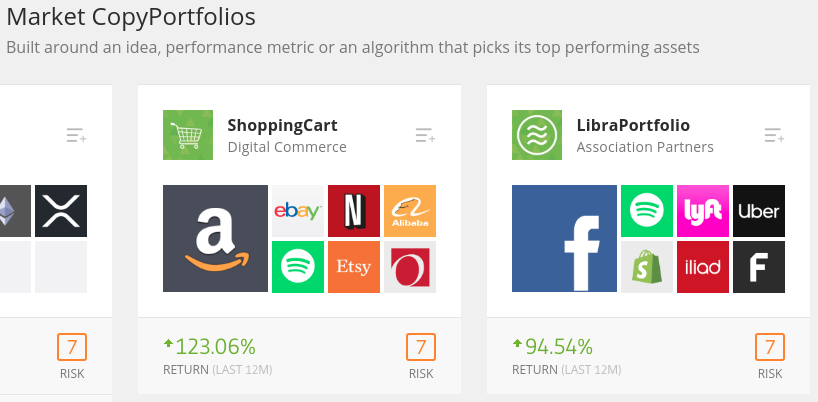 At eToro you can easily track other investors
A handy extra functionality is the social platform. With the social platform, you can discuss specific shares with other investors. This way you can share your strategy or vision and see if other people can add something to it. At eToro, it is even possible to follow other investors. The investments they make are then automatically opened within your account.
Are you satisfied with the results achieved within the simulation? Then you can choose to deposit real money at any time.
HowTheMarketWorks
Another powerful simulator is HowTheMarketWorks. On this website you get many possibilities… for no money at all! The website offers an abundance of useful tutorials and information that can help the novice investor get started. This makes the site also very suitable for teachers who want to introduce their students to the stock market.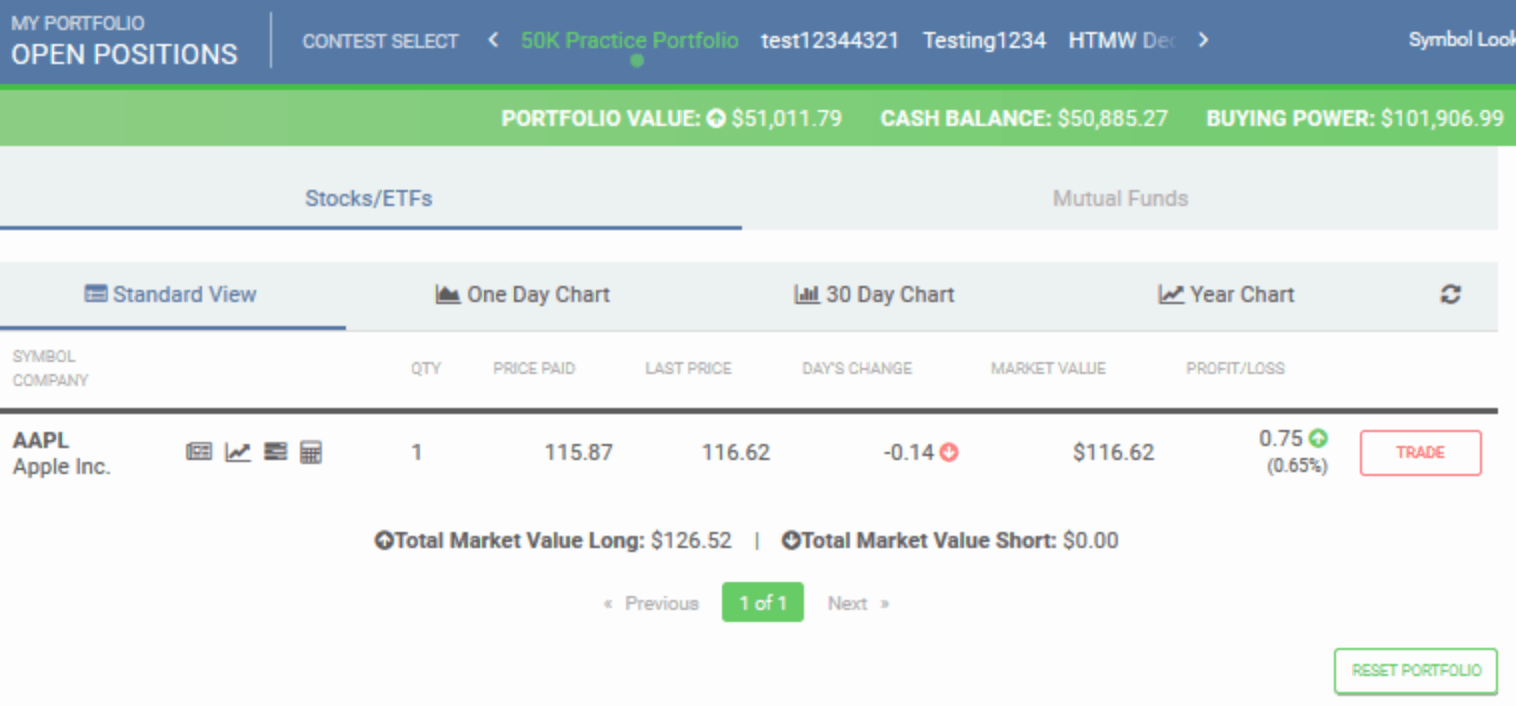 Still, it is a mistake to assume that HowTheMarketWorks is only suitable for the novice investor. You can also invest in all kinds of advanced securities. Think for example of options or futures on commodities. Especially fun is the fact that you can set up competitions with your group of friends.
Would you like to learn more about stock trading and would you like to set up your competition? Then open a free account at HowTheMarketWorks:
Marketwatch
At Marketwatch you can build a portfolio. You select your shares and then you can see how your basket of shares is performing against the baskets of other players. At Marketwatch you can make use of advanced options. Think for example of a stop loss order with which you can limit your losses as much as possible.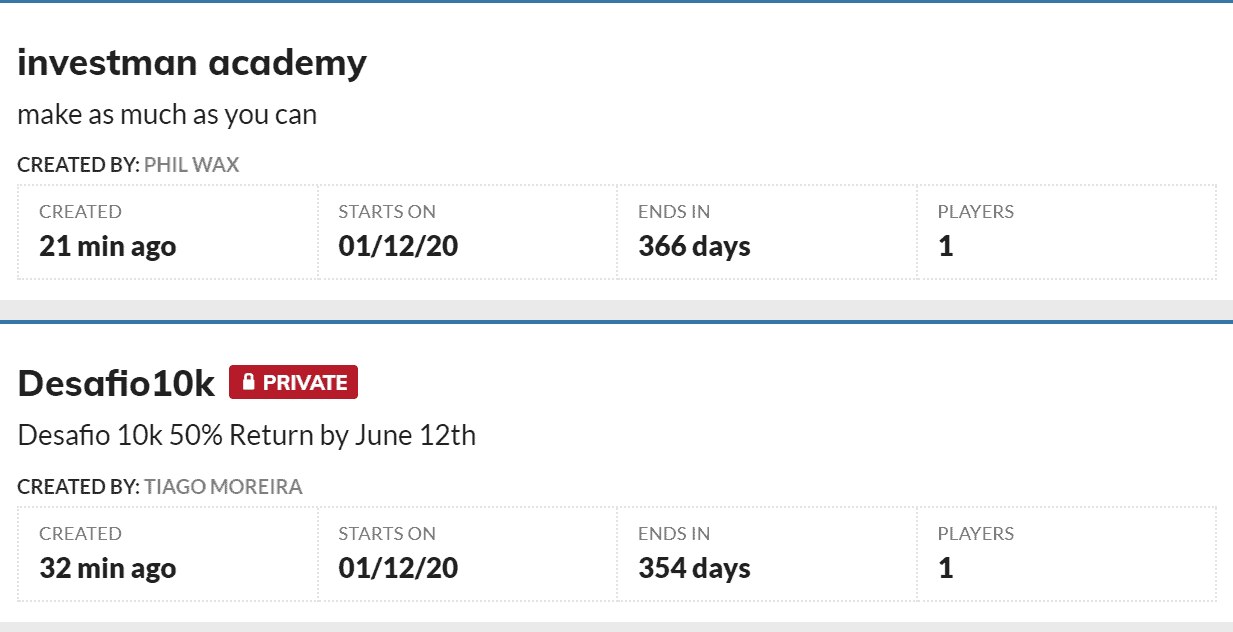 The social aspect of Marketswatch is noteworthy. You can communicate with other players so that you can learn one-on-one from the best investors. You also have the possibility to start matches and you can choose to start a watchlist. With a watchlist, you can keep track of alternative portfolios and use this information to improve your investments.
What should you pay attention to in an investment simulation?
Many investors take the results within an investment simulation or share simulation too literally. They assume that the strong results they achieve in the simulation will also happen in real life. In practice, this can be disappointing.
After all, trading with fake money is always more comfortable than investing with real money. People do strange things when they see their money slowly disappear. You need a lot of emotional stability and confidence for this.
When things are going well within an investment simulator, it is important to remain calm. Do not start investing huge amounts of money right away and try investing with a small amount of money first. In this way you will automatically discover whether the real results match those within the simulator.
Starting for real?
As soon as you understand how the investment simulator works, you can start investing with real money. Many investors discover that investing with real money feels different. This is because emotions play a more important role than when you trade with fictitious money. You can read more about this in our article on the psychology of investing.
By practising with the free demo within the simulation you will learn how to handle money and how to make the best investments. Once you have mastered this, you can easily deposit real money and start trading! Click here to see where you can try investing with a free demo.
Author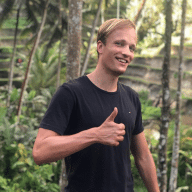 About
When I was 16, I secretly bought my first stock. Since that 'proud moment' I have been managing trading.info for over 10 years. It is my goal to educate people about financial freedom. After my studies business administration and psychology, I decided to put all my time in developing this website. Since I love to travel, I work from all over the world. Click here to read more about trading.info! Don't hesitate to leave a comment under this article.