How to buy Philips shares (2023)? – invest in Philips
Philips is a Dutch multinational that is active in producing various electronic products. Do you want to invest in Philips stocks? On this page, you can see directly where you can buy Philips shares. You can also find the current stock price of Philips here and read an extensive analysis.
Are you considering buying Philips stocks? We have listed the most reliable stock brokers for you:

| Brokers | Benefits | Register |
| --- | --- | --- |
| | Buy without commissions. Your capital is at risk. Other fees may apply. | |
| | Speculate with CFD's on increasing & decreasing prices of ! 82% of retail CFD accounts lose money. | |
| | Benefit from low fees, an innovative platform & high security! | |
| | Speculate on price increases and decreases of with a free demo! | |
What is the current stock price of Philips?
Are you curious about the current price of Philips shares? In the graph below, you can see how the Philips stock price is developing. You can also use the buttons to buy or sell the Philips share directly:
Company information of Philips
Below, you can see the most important company information of Philips.
Stock prices of the last 5 days
In the table below, you can see the stock prices of Philips of the last 5 days:
Strong reputation: Philips has always had a good reputation within the healthcare sector.
Focus on innovation: the company constantly brings new techniques to the market, which can contribute to the further growth of the company.
Diversification: since Philips produces various products and is active in multiple markets, the investment risk is lower.
Sustainability: Philips increasingly focuses on sustainability, which can contribute to the results of the company.
These are the biggest risks of investing in Philips stocks
Dependency on healthcare: a large part of the profits come from the healthcare division, which means problems in this sector can put pressure on profitability.
Competition: Philips faces a lot of competition, which means the company can quickly lose market share in case of issues.
Geopolitical risks: sanctions and new regulations can put pressure on the company's results.
Scandals: Philips suffered significant losses due to issues with ventilation equipment. Such issues harm both the reputation and profitability of the company.
What are the biggest competitors of Philips?
Philips is a company that is active in various electronics sectors, so it has several competitors.
It is important to keep a close eye on the competition. If Philips fails to bring better innovations to the market than its competitors, business results will deteriorate. Therefore, it is critical to research the competition carefully before buying Philips shares.
Currently, Philips has a large market share in Europe. However, the largest part of the revenue comes from America. Emerging markets are also very interesting. In China, the middle class is growing rapidly, which means Philips can increase its profitability. Do you think Philips can keep up with its competitors and conquer new markets? Then it can be attractive to buy Philips shares.
Step 1: Open an account with a reliable broker
You can buy Philips shares from an online broker. A broker is a company that allows you to buy and sell shares. Opening an account with a broker works basically the same as opening an account with a bank.
You fill in some personal details and can immediately start buying and selling shares. Are you curious about which brokers offer Philips shares at favourable rates? Then check out our overview of the best brokers!
Step 2: Select Philips stock
After opening an account with a broker, you can open a position by selecting the Philips stock within the software. You will see a bid and an ask price there. The bid price is the price at which the broker buys the stock and the ask price is the price at which the broker sells the stock.
With a market order, you can then buy Philips shares directly and add them to your investment portfolio. After buying the shares, it is important to regularly evaluate your investment.


The strength of Philips
One of Philips' strengths is its international presence. They sell products in more than 100 countries around the world. In total, over 120,000 people work for the company.
Philips is particularly good at innovating electronics. The company spends a lot of money developing new technologies. Philips also controls seven research centres spread across the world.
Philips has over 110 different production locations spread around the world. This allows Philips to quickly respond to demand for different products. Philips can also save money on transport costs since it can produce its products in multiple locations.
Finally, Philips also succeeds in building a loyal customer base. Many people recognize the brand and are enthusiastic about Philips products. Are you also enthusiastic about Philips? Then you may want to consider investing in Philips shares.
In which markets is Philips active?
Audio and video
Philips has an extensive product line when it comes to audio and visual equipment. They produce various TV, video, and audio products, ranging from huge home cinema systems to small earbuds that play sound directly into your ears. Other examples include storage devices such as USB sticks and even chargers.
Personal Care
Philips also has a range of products in the personal care category. This includes electric toothbrushes and shavers for both men and women.
Household Appliances
Philips also offers various products in the household appliances' category, such as washing machines and dryers. Additionally, you can also find irons and devices that monitor air and water quality.
Healthcare
Many people are not aware that Philips is also active in the healthcare industry. They develop products that can help consumers with asthma or sleep problems. The company also develops medical equipment for medical professionals, such as ultrasound machines for general practitioners.
Because Philips manages different product groups, the risk of investing in the stock is lower. Losses in one sector can be offset by profits in another sector. This was evident during the COVID-19 pandemic, where consumer sales declined, but the healthcare division thrived.
History of Philips
Father Frederik and son Gerard Philips founded the company Philips & Co in Eindhoven in 1891. The company started with the production of incandescent light bulbs. The building where they began this production still exists and is now a museum.
Gerard Philips did a lot of research and laid the foundation for the Philips Natuurkundig Laboratorium (NatLab), later succeeded by the High-Tech Campus. In 1907, the company became Philips' Metal Filament Lamp Factory, followed by the establishment of NV Philips' Light Bulb Factory in 1912.
From Light Bulb Factory to Multinational
Due to increasing global competition, costs had to be reduced. Philips reduced its costs by producing larger units.
Decades ago, Philips was a true phenomenon: the company built entire neighbourhoods and found it essential that its employees were satisfied. This scheme is still a kind of utopia for many socially left-wing people. Unfortunately, due to the rise of international competition, such a social policy was not sustainable.
Is it wise to invest in Philips stocks?
Whether it is wise to invest in Philips stocks strongly depends on the economic situation. Many consumers postpone buying new products when the economy is not performing well.
A good argument for buying Philips shares is the solid risk diversification within the company: Philips has various divisions that produce different products. This allows losses within one division to be offset by profits in another division. Philips also operates in multiple international regions: this makes it possible to conquer an even larger market share, which is another opportunity for the company.
Philips stocks are also interesting for people who want to build an income. Philips' shareholders receive 40% to 50% of the net result in the form of a dividend payout.
However, it is important to keep an eye on any scandals and problems. In the period 2022-2023, the price of Philips stocks declined sharply due to issues with ventilators. Therefore, it is critical to be vigilant when you consider an investment in Philips stocks.
Author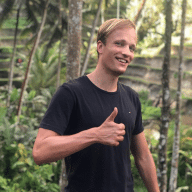 About
When I was 16, I secretly bought my first stock. Since that 'proud moment' I have been managing trading.info for over 10 years. It is my goal to educate people about financial freedom. After my studies business administration and psychology, I decided to put all my time in developing this website. Since I love to travel, I work from all over the world. Click here to read more about trading.info! Don't hesitate to leave a comment under this article.