How to buy Virgin Galactic shares (2023)?
With Virgin Galactic , people with deep pockets ($250,000 for a one-way ticket) can fly around in space for an hour and a half. Do you want to buy Virgin Galactic shares? In this article, you will find everything you need to know before investing in Virgin Galactic stocks.
An investment in a company that is active in commercial space travel can be interesting. The total value of the market is expected to be over $800 billion in a few decades: currently, the market is really in its early stages.
However, it is important to stay sharp: Virgin Galactic is not alone in this space race. Elon Musk's SpaceX and Jeff Bezos' Blue Origin also focus on offering commercial flights into space. Therefore, always consider whether the current stock's price fits the future perspective for the company: Virgin Galactic is not profitable yet.
Do you consider buying Virgin Galactic shares? Then it is wise to do so with an affordable and reliable broker, take a look at the options:
| Brokers | Benefits | Register |
| --- | --- | --- |
| | Buy Virgin Galactic without commissions. Your capital is at risk. Other fees may apply. | |
| | Speculate with CFD's on increasing & decreasing prices of Virgin Galactic! 82% of retail CFD accounts lose money. | |
| | Benefit from low fees, an innovative platform & high security! | |
| | Speculate on price increases and decreases of Virgin Galactic with a free demo! | |
What is the stock price of Virgin Galactic?
Do you want to know how the stock price of Virgin Galactic develops? Understandable! In the graph below, you can see directly at what price you can buy and sell Virgin Galactic stocks:
Company information of Virgin Galactic
Below, you can find the most essential company information about Virgin Galactic.
Analysis of Virgin Galactic
Before deciding whether to buy or sell Virgin Galactic, it is essential to analyse the stock first. In the overview below, you can see how the Virgin Galactic stock has developed over the past period.
Stock prices of Virgin Galactic over the last 5 days
In the table below, you can see the stock prices of Virgin Galactic for the last 5 days:
What will the stock price of Virgin Galactic do in 2023?
Are you curious about what analysts think Virgin Galactic will do in 2023 and the years after? We have combined the predictions of analysts using data from Alpha Vantage. Keep in mind that this number is only a prediction about the stock price of Virgin Galactic and that this prediction does not have to come true.
Pioneer: Virgin Galactic is one of the first companies involved in space tourism.
Strong brand: With the connection to the Virgin Group and Richard Branson, Virgin Galactic has a good reputation.
Interesting market: Space tourism is expected to be particularly popular among the wealthy. Tickets can therefore be sold at high prices.
Diversification: In the future, Virgin Galactic can diversify its activities by offering space flights for other purposes.
What risks should you take into account when investing in Virgin Galactic stocks?
High costs and risks: It is expensive to develop a rocket. Moreover, an accident can permanently damage the company's reputation.
Dependence on technology: Virgin Galactic is entirely dependent on the latest technological developments within the company for its success.
Competition: Virgin Galactic, together with SpaceX and Blue Origin, are engaged in a space race.
Sustainability: Space tourism is harmful to the environment. In times where sustainability is becoming increasingly important, governments can block the activities.
What are Virgin Galactic's biggest competitors?
Blue Origin
Sierra Nevada Corporation
Activate your account by verifying your identity.
Deposit money into your stock account.
Select the Virgin Galactic share.
Determine how much you want to invest in Virgin Galactic.
Then click on buy to immediately open the order.
About the company Virgin Galactic
Virgin Galactic is involved in the development of commercial spacecraft that allows space tourists to take a suborbital space flight. To make this possible, the Spaceship Company, a company owned by Virgin Galactic, has developed the suborbital spacecraft SpaceShip Two.
Virgin Galactic plans to use five of these spacecraft, which were first unveiled to the public in December 2019, to make suborbital passenger flights.

Company history of Virgin Galactic
The space company Virgin Galactic was founded in 2004 by Richard Branson, a British entrepreneur who had previously founded, among others, the airline Virgin Atlantic.
In 2004, the SpaceShip One successfully completed its first test flight, and in 2010, the SpaceShip Two successfully completed its first test flight.
In 2010, the prototype of the VVS Enterprise spacecraft also successfully completed its first test flight. In 2014, the first SpaceShip Two crashed, which killed the pilot. According to Virgin Galactic, the accident did not endanger the program.
In 2018, the first test flight and air-drop landing of the renewed SpaceShipTwo and of the WhitekNightTwo carrier aircraft took place. During several rocket-powered test flights in 2018 and 2019, the altitude of 50 miles was exceeded several times, a height that Virgin sees as the boundary of space.
Virgin Galactic goes public
On October 28, 2019, Virgin Galactic was listed on the New York Stock Exchange. At the introduction of this stock, various analysts saw potential in the share. The price rose to a maximum of over $40 in April 2019. The share price has since dropped significantly. Investing in Virgin Galactic shares is therefore only suitable for investors who do not mind taking big risks.
Many people want to go to space
At the end of March 2020, the space company Virgin Galactic announced that nearly 8,000 people had expressed interest in a space flight. All interested parties must make a down payment of $1,000. A fee of $250,000 must be paid for the space flight. During this flight of approximately ninety minutes, the passengers experience weightlessness for a few minutes.
When enough people make a down payment, the company immediately receives sufficient liquidity. This is also a good sign and can demonstrate that Virgin Galactic can be a profitable enterprise in the future. This makes it potentially interesting to buy Virgin Galactic shares.
Virgin Galactic has the progressive goal of making space tourism accessible to the public. Through collaborations with, among others, NASA, Virgin Galactic can already launch rockets into space.
With increasing protests about income inequality and sustainability issues, Virgin Galactic may face problems in the future. The company also faces competition from other large companies in space travel.
The space industry is still very new: keep in mind that investing in Virgin Galactic stocks is very risky. Therefore, determine whether the shares fit within your investment profile before considering an investment.
Author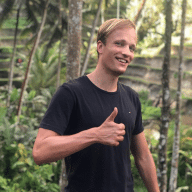 About
When I was 16, I secretly bought my first stock. Since that 'proud moment' I have been managing trading.info for over 10 years. It is my goal to educate people about financial freedom. After my studies business administration and psychology, I decided to put all my time in developing this website. Since I love to travel, I work from all over the world. Click here to read more about trading.info! Don't hesitate to leave a comment under this article.