Bitvavo staking: how does it work at Bitvavo?
When you use staking, you can get an even higher return on your cryptos at Bitvavo. By staking, you actually receive a kind of interest on your cryptos. This amount is then added to your account on a weekly basis. But what is staking and how does it work at Bitvavo?

Tip:
Don't have an account with Bitvavo yet?
Click here
to open an account & pay zero transaction fees on your first €1000!
What is staking?
Staking is a reward you receive for holding a crypto in your wallet. You can actually compare this reward to the savings interest you receive on your bank account. However, there is one big difference: the interest on cryptocurrencies is a lot higher.
Incidentally, you can't stake all cryptocurrencies: this only applies to cryptos that use Proof-of-Stake. You then participate in the approval of transactions, ensuring that the network continues to function properly. Fortunately, at Bitvavo, you can easily see which coins offer staking.
How does staking work at Bitvavo?
Fortunately, Bitvavo makes it easy to stake cryptos. All you have to do to start staking is push one simple button. Under settings, you can indicate that you would like to enable staking.
After you have enabled staking, it will be activated automatically. You will receive an email every week with the amount of money you will receive from staking.
In most cases, you receive your staking rewards in the same cryptocurrency. This allows your crypto portfolio to grow, without you having to spend any money yourself!
How much can you earn with staking at Bitvavo?
At Bitvavo, you can examine how much you can earn with staking in the staking section. There you see the estimated earnings on a yearly basis and you can also see how much you have already received. For example, on Bitcoin, the rate at the time of writing is 0.82% while on Cardano you will receive 5%.
Please note that these percentages can fluctuate. The protocol can change and also Bitvavo can make changes. Fortunately, you always have a good overview of the percentages you can earn with staking.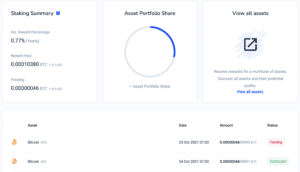 What is the best staking crypto coin at Bitvavo?
The crypto coin with the highest staking percentage, is not necessarily the best crypto coin to buy. If a crypto coin pays out 5% staking but drops 50% in value, you're in for a big loss. At the same time, a coin with 1% staking and a 50% gain can be a lot more attractive.
Therefore, don't just look at the staking percentages. It is more important to execute proper research on the underlying cryptocurrency. In this article you can read more about how investing in different cryptocurrencies works.
Which crypto coins can you stake at Bitvavo?
What are the benefits of staking at Bitvavo?
You can engage in staking at Bitvavo without any complicated equipment and earn an extra return without much effort. All you actually need to do is to hold one or more of the mentioned cryptos in your account.
Moreover, you will support the blockchain of your favourite cryptocurrency. If you were planning to hold on to the cryptocurrency in question anyway, staking can be an attractive option.
What are the disadvantages of staking at Bitvavo?
Don't forget that your cryptos are stored in a wallet on the Bitvavo platform. As you can read in this article, Bitvavo is doing everything they can to protect your cryptos as good as possible. Still, you don't have full control over your assets when you hold them at Bitvavo.
Also, the return on staking at Bitvavo is sometimes disappointing compared to other crypto exchanges. If you want to achieve a higher staking percentage, it may be interesting to [H]open an account at Binance[/go/11/staking].
Is it wise to stake at Bitvavo?
Personally, I make use of staking. If you intend to hold your crypto anyway, it can be a nice additional source of return.
Given Bitvavo's reliability, I think the risk is limited. Therefore, if you don't mind that your cryptos are stored with a third party, you can definitely turn on the staking option within your account.
Frequently asked questions
When you stake at Bitvavo, you remain the owner of your digital currency. It is important to remember that Bitvavo is not a bank and that cryptocurrencies are not as well protected as regular money in your bank account. When there are problems, the state does not cover any potential losses.
It is possible to trade or withdraw your digital currency at any time. So Bitvavo doesn't impose any restrictions when staking.
It is easy to turn off staking at Bitvavo. You do this by navigating to settings and by disabling staking there. There are no further consequences for disabling staking on your account.
Read more about Bitvavo & crypto
Author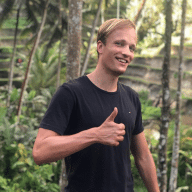 About
When I was 16, I secretly bought my first stock. Since that 'proud moment' I have been managing trading.info for over 10 years. It is my goal to educate people about financial freedom. After my studies business administration and psychology, I decided to put all my time in developing this website. Since I love to travel, I work from all over the world. Click here to read more about trading.info! Don't hesitate to leave a comment under this article.