How to buy Japanese shares? - invest in the Japanese stock market (2023)
The Japanese stock market is the third largest in the world after those of America and China. Despite the size of the Japanese stock market, few internationals are enthusiastic. However, investing in Japan may be attractive in the future. In this article, I discuss in detail how & where to buy Japanese stocks.
Where can you buy Japanese stocks?
Nowadays, you can invest in Japanese stocks with various brokers. In the overview below, you can immediately see which brokers you can use to invest in Japan:
| Brokers | Benefits | Register |
| --- | --- | --- |
| | Buy Japanese stocks without commissions. Your capital is at risk. Other fees may apply. | |
| | Speculate on price increases and decreases of Japanese stocks with a free demo! | |
| | Benefit from low fees, an innovative platform & high security! | |
| | Speculate with CFD's on increasing & decreasing prices of Japanese stocks! 86% of retail CFD accounts lose money. | |
How can you invest in Japan?
Option 1: invest on the Japanese stock market
You can choose to invest directly in the Japanese stock market. Since there are still few people interested in the Japanese stock market, this can be difficult. Not all brokers offer the option to invest in the Japanese stock market.
Option 2: invest through the American stock market
The largest Japanese companies can also be found on the American stock market. This option is therefore the easiest for most investors.
Option 3: invest with an ETF
If you want to invest in the Japanese stock market, you can consider an ETF. An ETF is an investment instrument with which you can track an index. With an ETF, you can invest in numerous stocks at once, allowing you to benefit from an average return on the Japanese stock market. Examples of ETFs in which you can invest are:
iShares Core MSCI Japan: this ETF is listed on the Amsterdam stock exchange and contains over 1200 stocks.
Xtrackers Nikkei 225: this ETF charges only 0.09% in fees and allows you to invest directly in the largest 225 Japanese companies.
Why is investing in Japan interesting?
Plenty of room for growth
Investing in Japan can be very promising: this is because the stock market is not yet in the spotlight. Analysts spend much more time on American stocks than Japanese stocks. However, this seems to be slowly changing. Warren Buffett has, for example, invested heavily in various Japanese companies in 2020.
Compared to other countries, stocks in Japan are also favourably priced. In the chart below from Bloomberg, you can see how the valuation of Japanese stocks compares to stocks from other countries.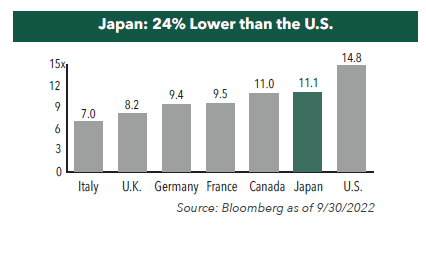 When investing in Japan, it's important to remember that the stock market contains many cyclical value stocks, such as car manufacturers and banks. These stocks perform well when the global economy is booming.
Institutional investors
You'll also notice that domestic institutional investors are increasingly investing in Japan. Previously, Japanese pension funds invested a lot of their assets in foreign stocks. Now that their focus is shifting more towards the domestic market, the way is clear for further increases in stock prices.
Reforms
The reforms implemented by Japan's former Prime Minister Abe gave the business world a significant boost. For example, the central bank bought bonds and shares, and money issuance was stimulated through budgetary stimuli.
Companies are also increasingly listening to shareholders, and capital reserves are more often used for dividend payments and share buybacks. This can give a boost to returns on Japanese stocks.
Japan is definitely a promising market, and it can be interesting to invest a portion of your portfolio in Japan. Especially considering that many Japanese stocks are still significantly undervalued compared to US stocks.
Innovation & modernization
Japan is the market leader in automation and robotics. Japanese producers hold over 30% of the market share. The rise of this appealing sector shows that Japan is once again a player on the world stage.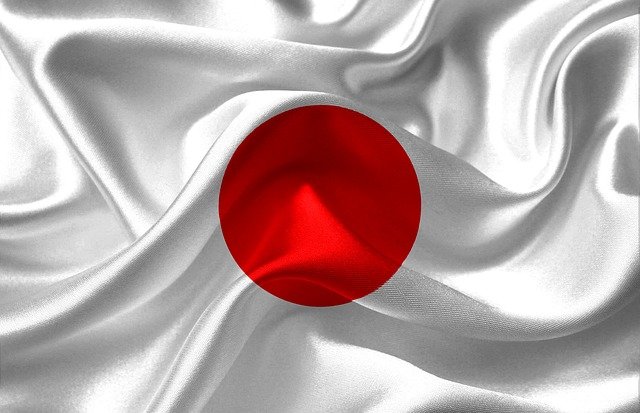 How to buy Japanese shares in three steps?
Before buying your first Japanese stock, there are several steps you need to take. In this article, we'll look at how foreign investors can best invest in Japan.
Step 1: choose a reliable broker
Before you can buy Japanese stocks, you need to choose a reliable broker. Fortunately, most brokers are registered with a regulator and don't do anything strange with your money. Do you want to know which brokers offer the best deals on stock investing? Compare the best brokers directly on our brokers comparison page:
Step 2: select a stock
Now that you have an account with a broker, you have to determine which Japanese stock you should buy. It's advisable to do sufficient research into the company you're considering investing in. It's not just Japan's economy that's decisive for the result: there are significant differences in the performance of different industries.
You can determine whether it's wise to buy Japanese stocks in various ways. You can do this, for example, by applying fundamental or technical analysis. Only when you're sure you want to buy a stock can you place an order.
Step 3: place an order
Placing an order to buy a Japanese stock is usually done quickly. Within your broker's software program, you can generally choose between a market order and a limit order. With a market order, you open the investment position at the best available price, and with a limit order, you only open the investment when a certain price is reached.
After placing an order, you can immediately see how your investment is performing. It's recommended to regularly check how your investments are performing. This way, you can decide whether you want to invest more or less money in Japan.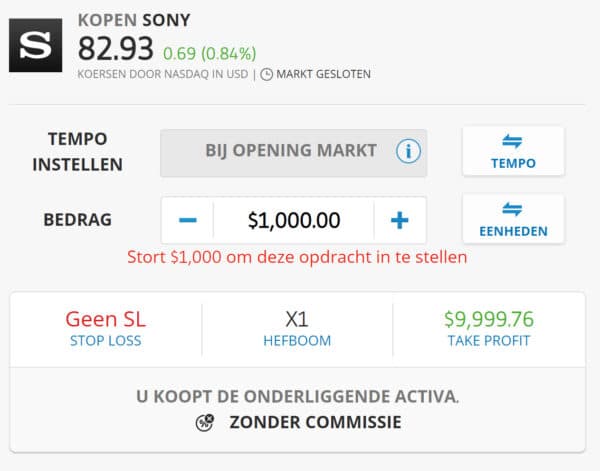 Why did the Japanese economy struggle for so long?
The all-time high of the Japanese Nikkei index dates back to 1989, which was a period of significant decline. The Japanese stock markets rose sharply due to innovative companies such as Toyota, Sony, and Panasonic, which created many jobs. This led to an overly optimistic view, with banks lending money to people who didn't have the creditworthiness for it. At one point, Japan's stock market was even worth more than the stock markets of America and Europe combined!
The Bank of Japan tried to raise interest rates to curb overheating, but it didn't work. In the 1990s, the bubble burst, and a long period of deflation emerged as consumers spent less. This period is also known as the lost decade in popular vernacular.
Limited growth
Japan is a country with structurally low economic growth. The growth was around one percent each year, which is not very high compared to many other countries. This is partly due to the often older population. Older people produce less and cost a country money.
However, when you consider that the older population is growing, and the working population is declining, Japan isn't performing that badly. With that ever-smaller, productive population, they can still make a profit.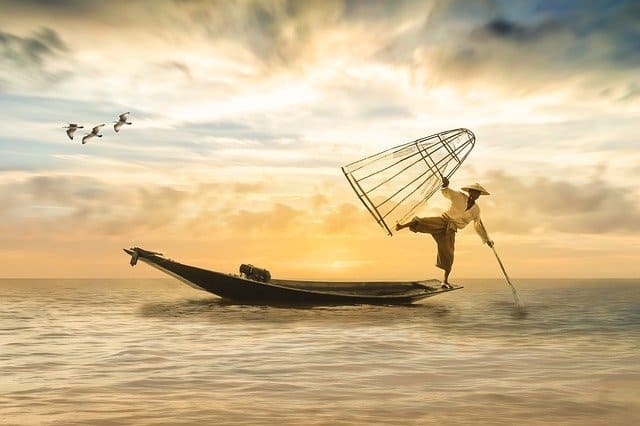 Investing in Japan is now more interesting
In 2012, the Japanese government under the leadership of Prime Minister Abe started with Abenomics. The government kept interest rates low and also began buying bonds and stocks.
Recently, Japan has also relaxed visa rules, which makes it easier for companies to attract migrant workers. This way, despite the ageing population, Japan can still grow its economy. This seems to be working well, as Japan's economy has been growing again recently.
Increasing openness
Another factor that can make investing in Japan more interesting is the fact that the country is becoming more open. In the past, Japan was a fairly closed country. However, nowadays, more and more tourists are coming to Japan. The country has also decided to host the Olympic Games, and in 2025, they will also hold the World Expo in Osaka. Such large international events can attract a lot of attention to a country.
The country is advanced in terms of technology, and there are many appealing companies that may be worth investing in. With these technological developments, they can also work on a larger market abroad.
Innovation
Also, the corporate culture in Japan is changing drastically. In 2015, a new governance code was decided upon within the Tokyo Stock Exchange. In the past, many companies were run inefficiently and traditionally. For example, friends were often given priority in leadership positions and no innovations were implemented within the companies.
This seems to be changing, as Japanese companies raise their prices and are managed better. This changed mentality is resulting in higher profit margins, leading to a further increase in the profitability of Japanese companies.
Famous stock indexes of Japan
Famous stock indexes in Japan include the Topix and the Nikkei. The Topix stands for the Tokyo Stock Price Index, which has existed since 1968. It is a capital-weighted index of around 1,700 stocks listed on the Tokyo Stock Exchange. Therefore, the Topix provides a comprehensive overview of the Japanese stock market.
The Nikkei Index is more well-known internationally. The Nikkei Index consists of 225 liquid stocks and is a price-weighted index. The index was created by a Japanese financial newspaper. The Nikkei is more well-known, but not necessarily better.
Tip:
click
here
for the opening hours of the Japanese stock exchange.
Famous ETFs
Lyxor Japan (Topix)
iShares Core MSCI Japan
iShares Core MSCI Japan Hedged Amsterdam
Which Japanese stocks can you invest in?
Many people ask me what the best Japanese shares are for investments. However, this question is difficult to answer, as it depends on your personal situation. In this part of the article, I will discuss some large Japanese companies in which you can invest via the American stock market.
Nintendo
Nintendo is one of the most successful gaming companies in the world. For example, well over 35 million copies of the latest Mario Kart were sold. Moreover, gaming is becoming increasingly popular, which can make an investment in Nintendo interesting.
Canon
Canon is a successful producer of cameras that sells its products in Japan, Europe, and America. An investment in Japanese Canon can therefore be appealing.
Sony Corporation
Sony is a well-known producer of electronics and game consoles: I bought my first PlayStation when I was young. An investment in Sony can certainly be interesting due to the large number of products they produce.
7-eleven
7-eleven is perhaps the most well-known supermarket chain in Asia. The convenient, small supermarkets have an extensive range of products and are taking over more and more countries.
Mazda
Mazda is known as one of the most reliable car brands. This reputation makes Mazda a potentially interesting investment.
Suzuki
Suzuki is another Japanese car brand in which you can invest. Suzuki's cars are quite small, which makes them perfect for large cities.
Toyota
Japan is known for its diverse car brands. Toyota is also a strong brand which could be an interesting investment.
Panasonic
Panasonic exists since 1918 and produces televisions and technology for cars, among other things.
Pay attention to the Japanese yen exchange rate
When investing in Japanese stocks, it is important to keep a close eye on the exchange rate. If the Japanese yen suddenly loses value against your currency, you will suddenly receive less of your currency for your investment. You can hedge against this risk by, for example, using put options.
You can also invest directly in the value of the Japanese yen. By buying Japanese yen at the right time, you can make a profit on the exchange rate. Do you want to know more about investing in currencies? Then read this article!
Final tips for investing in Japan
When investing in Japan, it is important to do so in a sensible way. Only invest money that you can spare for a while. This prevents you from having to sell your portfolio in a panic.
Another tip is to always have a plan. Don't randomly buy Japanese stocks just because you think it looks cool. Research the stocks and dive into the financial numbers. If the company is performing well and doesn't have high debts, then you can certainly consider buying the stock.