How to buy Dutch shares (2023)? - Invest in Dutch stocks
Would you like to invest in Dutch stocks? Discover how to buy Dutch shars in this manual! In this short guide, you will learn everything you need to know to start investing in Dutch stocks.
How to buy Dutch shares?
Open an account & deposit money, so you can start trading immediately.
Select a Dutch stock and place an order on the stock market.
Where can you buy Dutch stocks best?
Curious about which brokers offer Dutch stocks for trading? In the overview below, you can see which brokers you can use to trade Dutch stocks:
| Brokers | Benefits | Register |
| --- | --- | --- |
| | Buy without commissions. Your capital is at risk. Other fees may apply. | |
| | Speculate on price increases and decreases of with a free demo! | |
| | Benefit from low fees, an innovative platform & high security! | |
| | Speculate with CFD's on increasing & decreasing prices of ! 86% of retail CFD accounts lose money. | |
How to invest in Dutch stocks?
In this short guide, we will briefly discuss how to buy Dutch shares via the internet.
Step 1: select a Dutch stock
There are hundreds of different stocks you can invest in. Therefore, it is important to select a share that you have confidence in. Furthermore, the stock must fit within your personal investment vision and risk tolerance.
It is essential to pay attention to the following factors when selecting a stock:
Price: Is the stock priced attractively? You can look at the ratio between price and profit to determine this.
Future: Is the company active in a sector with a positive future outlook? What is the company's sustainability?
Management: Is the company's management of high quality?
Market conditions: What types of stocks perform the best within the current market climate?
Place the stock order
When you are certain that you want to invest in a stock, you can place a stock order. Fill in the amount you would like to invest in the share and choose the type of order you would like to use:
Market order: With a market order, you buy the Dutch share directly at the currently applicable price.
Limit order: With a limit order, you specify a price at which you want to buy the stock.
With a limit order, you are not always sure whether the stock will actually be purchased. However, you are certain that you will not pay more than you specify.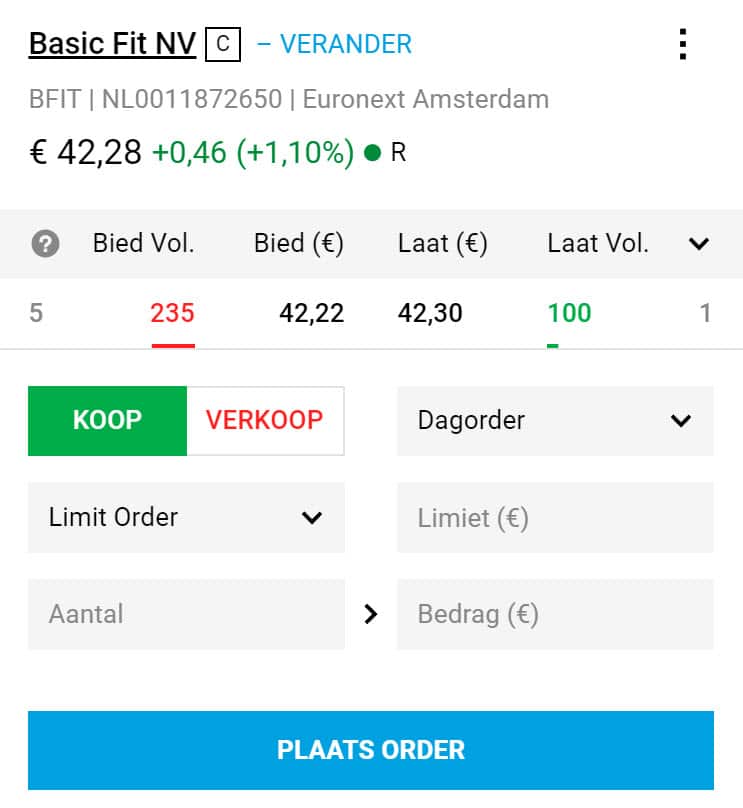 Evaluate your investments
Don't forget to evaluate your investments regularly. Does the stocks still fit within your portfolio and are there no issues with the company?
Investing in Dutch shares with an index/ETF
The AEX is composed of the largest 25 publicly traded Dutch companies. The companies all have their weight: some larger companies therefore have a heavier weight than other smaller companies.
By investing in the AEX, you can add more diversification to your investment portfolio. With an investment in the AEX, you invest in 25 different Dutch shares all at once. You can invest in ETFs on the AEX with a small amount of money in diverse sectors. When one business sector is not performing well, you can offset the negative results with positive results in other sectors.
You can directly invest in the price movements of the AEX with the following ETFs:
iShares AEX UCITS ETF
VanEck Vectors AEX UCITS
In our ETF guide, you can read more details on how to invest in ETFs. You can also read more about investing in the AEX in this article.
In addition to the AEX, you can also invest in the AMX (Amsterdam Midkap Index) and the AScX (Amsterdam Small Cap Index). The smaller Dutch stocks are included in these indices.
How to analyse Dutch stocks?
Before buying or selling a stock, it is wise to first make a good analysis. Within this analysis, you can look at the situation within the sector and within the specific company.
When things are going well for the company, the chances are high that the stock price will rise in the future. When a lot of bad news comes out, the price can go down. You can use a professional analysis strategy:
As a next step, it is important to create a good plan. By creating an investment plan, you eliminate the influence of emotions as much as possible.
It is wise to start with a demo account when trading in stocks. This allows you to try the possibilities without risk. You can open a free demo for trading in Dutch stocks with the button below:
The price of Dutch stocks
In the short term, the value of Dutch stocks is strongly influenced by the news. News related to a certain Dutch company can significantly increase or decrease the value of a Dutch share. Therefore, it is wise to keep a close eye on the news so that you can take advantage of new opportunities.
A good example of a news event that can have a major impact on the value of a stock are rumours of a possible takeover of a company. During a takeover, the shares are often bought above the stock value, which causes the price to increase significantly. However, if the takeover does not go through, the value of the stock can drop again.
Other limiting factors can also influence the stock market trends. For example, the resignation of a CEO can affect the stock value. If people disliked the current CEO, the value of the stock can suddenly rise.
Additionally, do not forget about the influence of the market climate. Sometimes, stocks perform poorly overall, and this typically applies to Dutch shares as well.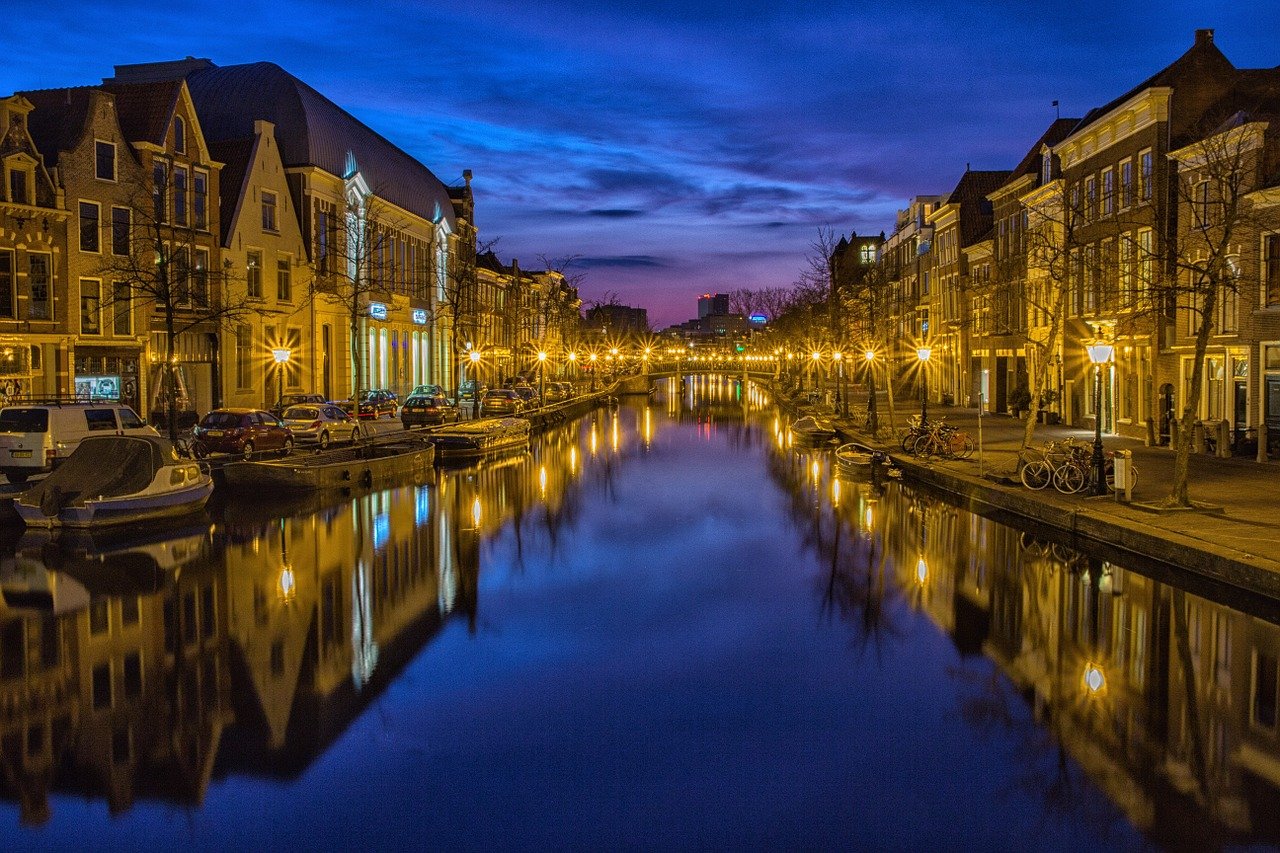 Day trading: pay attention to patterns
You can also engage in day trading of Dutch stocks, by actively investing in their value with the aim of achieving a high return.
If you want to make a profit by trading in Dutch stocks, it is important to pay attention to patterns. For example, determine the general direction of the stock first. If the stock value is mostly increasing, it is wise to buy, and if it is mostly decreasing, it is wise to sell. The trend is your biggest ally as an investor.
To be successful with Dutch stocks, it is essential to time the purchase or sale of the stock correctly. Look for certain levels where the value of the stock is likely to fall back.
What are the best Dutch shares?
Not all Dutch stocks are equally suitable for every investor. Some investors primarily invest to build an income. In this case, it may be wise to buy stocks that pay a stable, annual dividend.
However, these may not be the best Dutch shares for other investors. Some investors do not mind taking more risks and prefer to buy more risky stocks, such as those in the technology sector that focus on fast but uncertain growth.
There is no one best stock. It is especially important to research which type of stock suit you best. This allows you to achieve the best results with your stock investment in the Netherlands!
Some final investment tips
Look beyond Dutch stocks: by investing in different regions, you reduce the volatility of your investments.
Remember that investing is always risky: only invest money that you can truly miss.
Create an investment plan and invest in Dutch stocks with a good future vision. Do not invest in stocks just because you "recognize" them.
Determine for yourself when you want to enter and exit: this reduces the influence of emotions.
What are stocks?
A stock is a type of security that represents ownership in a company. When you buy stocks in a company, you become a part-owner of that company. As a shareholder, you have the right to vote on important decisions at shareholder meetings and may also be entitled to a portion of the company's profits, which are paid out in the form of dividends. Click here to read in more detail what stocks are!
The Dutch stock market is a great place to invest your money
There are many types of Dutch stocks available for purchase, and you can find a variety of companies to invest in. If you are interested in investing in shares, you can research a company you believe in. With a little planning and effort, investing in Dutch stocks can be a great way to secure your financial future.
Researching Dutch stocks
When looking for the best broker to buy Dutch stocks in 2023, it is critical to do your research. Depending on your personal situation, different brokers may be better suited to you. Make a list of the factors that are most important to you, such as:
The transaction fees of the broker
The analysis tools offered by the stockbroker
The broker that provides extensive guidance and education
The broker that is easy to use and requires little effort.